Walter Boudreau : Sax, Drums & Co.

by As told to Réjean Beaucage / November 5, 2003

---
Maestro's Choice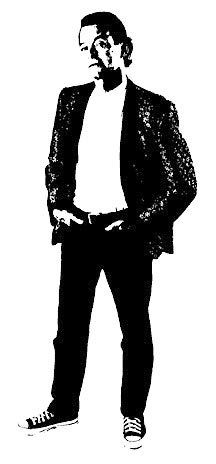 Let's face it: there is no "chamber group" per se in the Société de musique contemporaine du Québec (SMCQ). There never has been or ever will be. There is an ensemble that's continually changing, depending on the projects being developed. We have all the latitude we need to build the best ensemble possible, keyed to the programs conceived by the artistic committee. That means that the works themselves are our first consideration.
The fact that we don't have a permanent ensemble gives us flexibility. For example, in March of next year we'll have a concert work by Howard Bashaw for tuba, trombone, and piano, with a double string quartet and an impressive number of percussion instruments, as well as a Gérard Grisey work for thirty-three musicians.
For the Sax, Drums & Co. concert, we'll be using the SCMQ's two ensembles-in-residence--the Quasar saxophone quartet and the Quad percussion quartet. They'll be joined by percussionists Julien Grégoire and Robert Slapcoff.
The idea for the project was suggested by Quasar. Its members will perform a Francis Caron work, Dialogue à sens unique, (One-way Dialogue), composed in 1999. Then Quad will join them with a Vincent Collard work commissioned by Radio-Canada's Chaîne culturelle, plus a Michael OEsterle work commissioned by the SMCQ, thanks to a Canada Council grant. There will be two extra percussionists for two of the pieces from Anders Nilsson's Krasch! (1993) for saxophone quartet, percussion and tape, along with In Ertwartung (In Anticipation, 1994) by Sofia Gubaïdulina. A pretty substantial program!
I think In Erwartung is one of Gubaïdulina's finest works and certainly one that has truly impressed me. She's part of a group of Russian composers who had to work underground in the former Soviet Union. The USSR was a difficult place to achieve creative freedom. You really had to want to be a composer! She and other composers in the group didn't really have access to the serial music in vogue in the sixties and seventies, so it didn't make much of an impression on them--and when it did, it was in ways particular to each. They were revolutionaries in spirit, but without necessarily rejecting the deep-seated Russian tradition. Gubaïdulina is therefore part of the generation later discovered by the West, which had rather run out of steam and had been looking for something new since the demise of the minimalist "revolution."
Her composing is very personal, although she admits to being strongly influenced by Dimitri Shostakovich and Anton Webern. She does very lyrical things with the percussion section in In Erwartung, using a lot of temple blocks to get the ambitus she needs, and there are more bongos in her piece that in Steve Reich's Drumming! Here we have percussion that is both powerful and poetic. There's a spatial dimension to the music. In the beginning, the saxophonists are placed around the concert hall and gradually approach the stage. At the end of the piece, the percussionists move off the stage into the hall. Of course it's theatrical. That doesn't affect whether the piece is good or bad, but it's an interesting feature. Goubaïdoulina achieves enormous intensity; her writing is very effective although she uses relatively few elements. Looking through the score for the first time, I wasn't really impressed; but as I worked on it I realized that it's a major work. Her writing for saxophone is equally down-to-earth. There's no striving for virtuosity: everything is focused on expression--and I don't mean the old-fashioned kind. You can pick out echoes of simulated Russian folklore, a bit like Stravinsky, but inserted with great finesse, almost at a subconscious level.
Clearly, its highly idiosyncratic orchestration results in this piece being relatively seldom performed, but not because of the quality of the music. The composers from whom we commission works for the double quartet understand that their pieces can't be played very often, but all the same it's an incredible opportunity for them. And after all, people in Christopher Columbus's day didn't cross the Atlantic very often, but now it's done every day. And then there are saxophone and percussion quartets all over the place, so these works by Collard and OEsterle enlarge the repertoire.
The ensembles
Since its founding in 1993, the Quasar saxophone quartet has been an important ambassador for contemporary composing. It was started by Marie-Chantal Leclair (soprano sax and artistic director), Mathieu Leclair (alto), André Leroux (tenor), and Jean Marc Bouchard (baritone). Quasar took part in Radio France's 1999 festival, Présences, where the SMCQ performed Walter Boudreau's Demain les étoiles for twelve saxophones (recorded on Walter's Freak House for ATMA). It collaborated a second time with the SMCQ in 2001 for the (S)axe(s) concert, and will repeat the performance in May 2004 to close the society's season.
Like the Three Musketeers, who were really four, the percussion quartet Quad is made up of Michel Viau, Stéphanie Dionne, Jean-François Côté, Johanne Latreille, and Charles Duquette. The quartet won the Prix Opus 2002 in the production-of-the-year category for young audiences for the show Éclats de rythme produced by SMCQ Jeunesse. The ensemble is back this year with SMCQ Jeunesse, performing TapaJungle! The work premiered on October 10 in Montreal. More performances are scheduled for February 2004 at the Salle Pierre-Mercure. Quad likes to combine choreography and music, and doesn't limit itself to any specific repertoire.
[Translated by Jane Brierley]
Sax, tambours et Cie, lundi 17 novembre, 20 h
Salle Pierre-Mercure, 300 boul. De Maisonneuve Est.
Information : 514 987.6919
---
Version française...