Steve Lacy, 1934–2004

Par Marc Chénard / 13 juillet 2004

---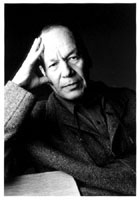 On June 5, six weeks short of his 70th birthday, soprano saxophonist Steve Lacy passed away, succumbing to liver cancer. A native New Yorker, but exiled in France for 32 years, this very unique musician returned home in 2002 to take on the prestigious chairmanship of Boston's New England Conservatory. In spite of his all-too-short tenure there, those close to him claim that he had found the peace of mind that his homeland finally granted him.
Few artists in the jazz world have followed as singular a path as this man: before his 20th birthday, he was fully immersed in early traditional jazz and had followed in the footsteps of his first influence, Sidney Béchet, in switching over from clarinet to soprano saxophone. Because of its tuning problems, few were interested in picking up this horn, at least until a certain John Coltrane adopted it after having crossed paths with his younger confrere. More unusual, though, was Lacy's quantum leap from the older stylings right into the cutting edge of the day, most notably with keyboard mavericks Cecil Taylor and Thelonious Monk; the latter exerted the single greatest influence over the saxman's entire career. In fact, he was the first to record a tribute album to his mentor (1961), and would do so many times thereafter, including a couple of unaccompanied sides--a medium to which he returned steadily over the years.
Like many of his American counterparts, he too fled the increasingly hostile social environment at home, and by the second half of the 1960s he spent time in Argentina and Italy before finally settling in France in 1970. Europe was also going through much unrest, and Lacy found an audience receptive to change and experimentation of all stripes. Before long, he was crisscrossing the continent as a highly sought after artist, one who was willing to mix it up with kindred spirits in other countries. Over time, he would influence a younger generation of players, either by his unique instrumental sound or his snake-like lines, full of pungent dissonances.
By the mid-1970s, he started to travel back to the States and tour regularly, even cutting records when opportunity knocked. He made his first to Montreal visit in 1976, performing a solo saxophone concert before a full house (an event recorded and released in 2001 by Emanem Records under the title of Hooky). His last appearance in that city occurred just last January, when he was invited to direct a workshop concert of local stalwarts of the improvising music community. Luckily, this concert was preserved by Radio-Canada before the current dismantling of its program schedule.
In a career spanning half a century, Steve Lacy had few rivals in terms of recorded output. Even if some considered his music to be too heady or austere, none can deny its uniqueness. In times when so much hay is made of fusing things together, Steve Lacy stands out as someone whose interest lay in taking things apart, in dissecting his own works, not to mention Monk's, with painstaking and almost obsessive care. Steve Lacy is no more, but his music merits a place all on its own in the jazz canon.
---