Yundi Li at Lanaudière

by Joseph k. So / July 13, 2004

---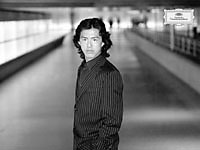 One of the hottest tickets at the Lanaudière Festival this summer is undoubtedly the recital by Chinese piano phenom Yundi Li, who is making an all-too-rare appearance here. His Canadian debut was an all-Chopin recital in Toronto in August 2001, an event sponsored by the Chinese community with virtually no publicity in the mainstream media. His reputation was such that it was sold out in a flash, and sure enough he did not disappoint. I noted in my LSM review of the concert his marvelous blend of prodigious technique, innate musicality, and above all, a poetic soul that informed every aspect of his playing. The largely Asian audience was much younger than your typical North American classical concert demographic profile, and surprisingly well behaved, a surfeit of flash bulbs at inopportune times notwithstanding. Small wonder--Yundi Li has reached pop idol status in Asia, his androgynous good looks a magnet for teenage girls and his every move tracked in meticulous detail by the media. The Lanaudière concert represents only his third appearance in Canada, following a recital in Vancouver last April.
Winner of the gold medal at the Warsaw Chopin Competition in 2000--the first in 15 years--Yundi Li was born in 1982 in Chongqing, China. He studied the accordion and actually won the top prize in a competition at the age of five before switching to piano. He first studied with his father, who later moved with his son to Shenzhen, just across from Hong Kong, to study with Professor Dan Zhao Yi, one of China's most renowned piano teachers. A series of successful international competitions followed, culminating in his sensational win in Warsaw. This last success won him a coveted exclusive contract with Deutsche Grammophon, which interestingly is also the label of the other Chinese piano wunderkind, Lang Lang. But unlike the latter's theatricality and fondness for the razzle-dazzle of American show biz, Li has maintained a relatively low profile, preferring to let his music-making speak for itself. He plays relatively few concerts, while continuing his studies with Arie Vardi in Hanover, Germany. This strategy seems to have worked to his favour in the eyes of the critics. Fairly or unfairly, a number of important critics have recently voiced disenchantment with the more flamboyant Lang Lang, whose playing they perceive as superficial and idiosyncratic. Several have openly commented that Li is the superior musician.
Now, Quebec audience members will have a chance to judge for themselves. Li will play a program of Chopin Scherzos 1- 4, and the Liszt B minor Sonata, which is featured on his latest recording (DG 471 585 2). His appearance at Lanaudière is one of several stops in the summer festival circuit. Li can be heard two days later at the Seiji Ozawa 10th Anniversary Gala at Tanglewood, in Lenox, Massachusetts, followed by a recital at the Salzburg Festival on August 10.
---