Full Circle - John Mac Master

by Wah Keung Chan / September 3, 2003

---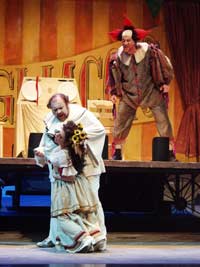 "You have a lot more voice than you know about," said Lotfi Mansouri, then general director of the Canadian Opera Company, to Canadian John Mac Master in 1985. Ten years later, when Mac Master next auditioned, Mansouri hired him for the San Francisco Opera, and a new Canadian dramatic tenor was launched to join the ranks of Ben Heppner and Richard Margison.
With Mansouri's counselling, in 1986 Mac Master decided to move to New York for a few months and ended up staying 11 years, working as a Cantor and associate music director at the church of St. John the Baptist. Throughout that period Mac Master kept studying, auditioning and performing. It was there Mac Master met his wife while she was visiting New York. "We celebrated our 10th anniversary this summer. She is a singer and artist in her soul so she understands what I am trying to do. I don't sing because it is fun, I sing because I'm an artist and I believe I'm changing the world as much as I can by touching people on themes of love, happiness and pain, and I believe that is a vocation that's worthy of a life's work. The life of an artist, a performer is difficult. We don't have that stress as a couple.
"I was happy and enjoyed the church music and I was very well paid. I would have been happy staying at that, but I had this dream. From the beginning I had these high notes that other singers were having trouble with. I figured if I could sing the roles people needed and that are hard to fill, then I should keep working on this. I tried to refine the high notes to get a quality of sound that was worthwhile. It was a question of maturity, you have to grow into it. Part of my voice was working and parts were not."
Mac Master's breakthrough finally came after 10 years in New York when he found voice teacher Dr. William Riley through a friend. "It's always complicated to train big voices. People don't get opportunities to train dramatic tenors all the time and the people I was working with did the best they could. Riley was someone who was on the same wavelength as me and who could help shape this large voice into something that was marketable. The important point is that your voice needs to be as efficient as possible. Resonance is the key: try to figure out the right kind of space inside to resonate properly. The amount of cover you use and the way to negotiate the passagio is what everybody talks about. Efficiency in singing is about overtones. The more you excite the overtones, the more the audience perceives there being more sound. Riley is a combination of singer, horn player, a vocal scientist and a great opera lover. He understands the biology and also the technique. He'll give you three or four answers, using both imagery and physiology. He listens to you with an artists' ear. He goes to the opera and he listens to the recordings. It worked for me because our minds communicated well."
After a year and a half, Mac Master felt ready and he contacted Dean Artists Management who added him to their roster after a couple of hearings. "Agents are important to believe in you and to sell you. They can tell you what people are saying when you audition so you can improve; sometimes companies don't want to tell you directly why they are not hiring you." Dean Artists arranged for Mac Master's second audition with Mansouri. "I never told them about the first audition. In 1995-96, Mansouri hired me to go to San Francisco to sing one of the Jews in Salome and to cover Herodes. The following year I was there singing Aegisth in Electra. And in the third year, I was covering Peter Grimes and started getting work in Europe. Meanwhile, I had done the Italian tenor in Phantom of the Opera in Toronto and on Broadway. I had a contract with the Vienna Volksoper for a couple of seasons. In Vienna, I had my first opportunity to do Pollione in Norma. I opened their season singing Hoffegut in Die Vögel of Braunfels. I sang Grigory in Boris Godunov, and Ritter Blaubart in Blaubart. I started getting my big breaks in North America: Peter Grimes in Detroit and Montreal (2001), I Pagliacci in Montreal (2002) and Glimmerglass, and Jenufa in Toronto (2003)."
Returning to Montreal was something of a homecoming for Mac Master. "My father worked for CN and we moved to Montreal when I was around 12. I'm originally from Moncton and there was music in the schools. I was in a French school and the provincial government had a radio show of Acadian folk songs that was broadcast every week. Thanks to the nuns, I discovered that I had an interest and a love for singing. Then, when I was in Laval Catholic High School in Chomedey, I sang in a rock band, often covering Queen, and a rock choir. While completing my BA at Loyola College in theology, I was working in churches leading contemporary music for liturgy." Mac Master sang in the amateur St-Lawrence Choir, and one year as a professional with the Tudor Singers alongside Ben Heppner. "Through a church fundraiser, I got involved in a musical, and I was encouraged to study voice. One of the people in my choir, Kathryn Laurin, now Dean of the Faculty of Fine Arts at the University of Regina, was taking voice lessons from Jo-Anne Bentley at McGill and I could hear the difference in the texture of her voice. Bentley encouraged me to audition for McGill and I studied there for two years. I didn't finish as there were not as many opportunities as there are now so I auditioned for the Canadian Opera Company in Toronto and sang in the chorus for five years. At the same time I was also working as an actor in film and doing commercials, and doing musicals at the Shaw Festival. I had an active performing career but at a certain level."
Now in his mid-40s and only six years into an international career as a leading tenor, Mac Master's story is an inspiration to aspiring singers of all ages.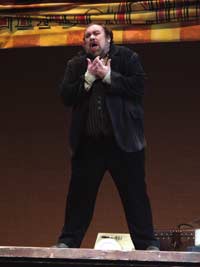 "To be a complete artist, you have to have something to say. To be a viable singer, you have to have a tone which people want to listen to and find affecting. You have to have various colours to describe different emotions. The sound has to be on the breath, that is the only thing that is going to be like singing, legato, instead of speech. You have to have stamina to get you through long days of rehearsals. You have to be physically well and be consistent. The challenge of an international career is that you are wanting to be part of the one percent that succeeds. What makes you more hireable – that sometimes is a real nuance: voice, musicality, artistry, preparation, discipline, it's longevity too. It's having lots of successes most of the time. The most important thing for a young singer is to ask 'What one little thing are you missing that makes somebody say I'm not hiring him?'"
Who were some of Mac Master's inspirations? "I loved the sunshine in Pavarotti's voice and the colour of his instrument. I started listening to Gigli, Wunderlich, Gedda and Georges Thill, and I realized there exists a wide spectrum, an incredible range both in terms of roles and voices. When I was starting, because of my easy top voice, I was looking at La Fille du Régiment and L'Elisir d'amore. At that time I could not conceive of having enough sound to sing the roles I do now. I couldn't have imagined singing Pagliacci, and Peter Grimes which I saw as a student saying that that is a hell of a role to sing because Grimes is so interesting psychologically. Jon Vickers was an inspiration then.
"Now I would love to sing all of Fidelio, to do Otello at some point, Aenée in Troyens, or Benvenuto Cellini, and Bacchus in Ariadne auf Naxos. The big roles of Massenet also interest me as well. There is something noble and sensuous in French grand opera. It would be lovely if some of the companies with a big French public would do things like Les vespres sicilienne, the original French version, or Le trouvère (Il trouvatore in French), Salome in French (Nagano did it) or Jerusalem instead of I Lombardi."
How about Wagner? "I have already sung Erik in Wagner's Flying Dutchman in Vancouver. In 2005-06, I'm singing Walter and covering the man role in Tannhäuser. Down the road, the roles of Siegfried and Tristan are pretty interesting. It's important to have a sense of where you want to go. I don't want to be typecast as a heldentenor singing only German Wagner roles. I enjoy the Italian and French dramatic roles too much!"
In 2003-2004, Mac Master will sing in La Scena Musicale's Benefit Gala (September 17, 514-948-2520), Calaf in Turandot at the Opera de Quebec (October) and Sweeney Todd at Calgary Opera (January 31, February 4 & 6, 2004), Il Trovatore with Orchestra London (March 6, 2004), Pagliacci for Opera Pacific in California and Beethoven 9th with the Toronto Symphony.
---
Version française...
---