Quick Study: Annamaria Popescu

by Wah Keung Chan / September 3, 2003

---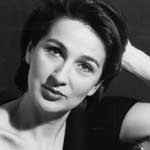 For mezzo-soprano Annamaria Popescu being a quick study was a matter of luck. "I just know I can do it," she said humbly. The year was 1994 and at short notice she stepped into the role of Anna for a concert performance of Berlioz's Les Troyens with Sir Colin Davis and the London Symphony Orchestra. That chance performance brought her to Milan's La Scala Opera House in 1996 and she has since been a regular there, making that city her permanent residence.

About that first Troyens, Popescu remembers, "They met me at the airport with the score. We drove right to the theatre. I had a first reading with the pianist and that night I worked with coach Jeannine Reis, and the next morning I sang for Sir Colin by heart. I thought if I learned it by heart, he would be pleased." In fact, Davis was pleased enough to take her and three others from that production for a repeat presentation at La Scala.

Where did that confidence come from? Popescu is the daughter of a senior priest in Montreal's Romanian Orthodox community. "Singing in church every Sunday exposes you to new repertoire," says Popescu. "It's a cycle of eight services with every tone different and you are sight reading every morning."

"It wasn't customary for people in priestly families to work on the stage, but as a girl, it didn't matter so much as long as it was honourable. I had to do it because I had a voice and I had an obligation to use it. I just did the only thing I knew how." Popescu sang her way through Marianopolis College, McGill University, Philadelphia's Academy of Vocal Arts and the Opéra de Montréal's Atelier Lyrique; local voice fans still remember her rich mezzo in the finals of the 1993 Montreal International Music Competition.

After her Scala debut, Popescu sang the role of Meg Page in Verdi's Falstaff under Riccardo Muti. "I recently did my seventh or eighth production. I've sung there almost every year, about one production per year. Every time I am there, they hear me with orchestra, and it is like an on-the-job audition. The most stressful time is at the first orchestra rehearsal in front of the casting directors; they want to make sure they chose you right and your next year's contract depends on that performance. Then they tell me what they want me to do. That's the way it is at La Scala - they never book more than a year and a half in advance."

Is it competitive? "You have to keep your head above water, the competition is great at this level. You always have to keep studying," says Popescu who now studies in Paris with Jean-Pierre Blivet, Nathalie Dessay's teacher. "You just have to make sure that when you go back to the theatre you sound better than last time, because there are so many girls waiting to take your place."

Currently based out of Milan with her daughter and second husband Sandro, Popescu enjoys living in Europe. "You are so close to everything, just a one and a half hour flight from anywhere. You can do an audition on short notice. It's terrific! But being a foreigner is also tough. You have to prove to them that your Italian, German or French is good."

Do you have any advice for young singers? "Yes, be prepared. When you get to that first day of rehearsals, know your and everybody else's role. The conductor likes that, and the stage director, who has been thinking about the work for a long time, likes it when he can talk to you on the first day. It's hard to work with people (singers, conductors and stage directors) who don't know what they are doing. You have to be ready with some kind of contribution in case there is a lack of contribution in another area. For instance, you have to be nearly ahead of the beat in case another singer cannot get a line right. It's really important to know things in advance. Learn it even if you've never done it. Even plan for the second cast."

What is Popescu currently working on? "I'm in the process of studying Rossini's Semiramide because I love it and there are two people I want to sing it for." Some of her other favourites include Charlotte in Werther and Tancredi in Rossini's opera.

Equally at ease in concert and recital, Popescu has sung in France, Switzerland, Germany and most recently, in Spain. "Next year, I debut in Genoa in Nabucco, which is a new role for me, and I'm doing Mère Jeanne in Poulenc's Dialogue des Carmélites at La Scala."

Montrealers will hear Popescu at LSM's Benefit Gala on September 17th. Says Popescu, "It's very important that there exists a magazine to promote music in the city. When governments start cutting, they always begin with culture." Later in the season, Popescu will return to the Montreal Symphony Orchestra (May 16, 2004) to perform in R. Murray Schaffer's Garden of the Heart which she has recorded on CBC Records with Mario Bernardi.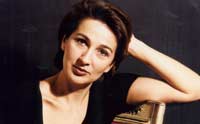 Although she recently lost her father, Popescu maintains that she would be happy to have the opportunity to sing more often in Canada to stay close to her mother.
---
Version française...