Notes

June 4, 2003

---
Tiré des archives de SCENA.ORG / From the files of SCENA.ORG
Archives à vendre
On connaît bien la Société musicale André-Turp (SMAT) pour les récitals qu'elle présente, généralement à la salle Redpath de l'Université McGill. Durant la saison qui s'achève, ses membres et les amateurs ont ainsi pu assister à des récitals des sopranos Wendy Nielsen et Nathalie Paulin, du ténor d'origine ukrainienne Daniil Shtoda ou des barytons Christopher Maltman et Dmitri Hvorostovsky. Cependant, le mandat de « diffusion de la musique vocale de tous les répertoires et sous toutes ses formes d'expression » dont s'est doté la Société est plus large que celui d'un simple présentateur de concerts.
Parmis ses autres activités, la SMAT œuvre à la diffusion d'archives dédiées aux interprètes vocaux du XXe siècle et est à cette fin mandataire d'un important fonds d'enregistrements sonores, la Collection Christian-Delmas. Afin de procéder à l'établissement de la Phonothèque Christian-Delmas et d'optimiser la diffusion de ses archives sonores (qui comptent à ce jour plus de 15 000 documents), la Société a décidé de se départir de tous les titres qui ne répondent pas à son mandat de diffusion du répertoire d'art vocal : œuvres symphoniques, concertos, musique de chambre et autres œuvres instrumentales.
Pour ce faire, la SMAT invite les collectionneurs et mélomanes à une grande vente d'enregistrements historiques sur support de vinyle (78 et 33 tours) et numérique (CD). Plus de 5000 titres de musiques baroque, romantique, moderne ou contemporaine, des archives de l'organisme seront ainsi proposés au grand public. Les amateurs d'opéra y trouveront également quelque 300 enregistrements dont la Société possède plusieurs exemplaires.
Du 5 au 21 juin au 1223, rue Amherst (Coin René-Lévesque Est), les lundis, mardis et mercredis, de 9 h 30 à 18 h 00, les jeudis et vendredis de 9 h 30 à 21 h et les samedis de 10 h à 17 h. Réjean Beaucage
Farewell to an Era: Met Texaco Broadcast Ends after 2003-04 Season
It was a sad day for opera lovers. On May 20th, Metropolitan Opera General Manager Joseph Volpe announced that Chevron-Texaco is withdrawing its $7 million-a-year commitment in the Saturday afternoon radio broadcast of live Met performances after the 2003-04 season. Texaco (now Chevron-Texaco) has been sponsoring the operas for 63 years, billed as the longest running sponsorship in radio history. The official line from the oil company is that it reflects a shift in the philosophy of its philanthropic endeavors.
The writing has been on the wall for the last few years. Despite reports from Opera America that this art form is a growth industry, fewer local stations have been carrying the broadcasts. Similarly, the number of opera telecasts on PBS has dwindled. To the corporate bean counters, opera is at best a niche market and the powers-that-be feel that the advertising dollars can be better spent elsewhere.
For many who live away from major urban centres, these broadcasts have been the only source of exposure to live performances and helped build an audience base, not to mention inspire youngsters to pursue a career in singing. It has also contributed to the development of regional opera companies as local interest in this art form grew.
This decision comes at a particularly bad time for the performing arts in New York. The combination of the September 11th attacks and the continued threat of terrorism, the war in Iraq, and a deteriorating American economy meant tickets sales have been down across the board. For his part, Volpe vows that alternate sponsorship will be sought and found. For the sake of opera lovers everywhere, let's hope he comes through. Joseph So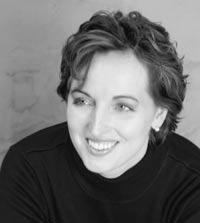 The Victoria Symphony has announced the appointment of their new Music Director, Canadian conductor Tania Miller. Brian Butler, President of the Victoria Symphony Society, referred to Miller's debut performance with the Symphony in the spring of 2002, which brought her acclaim both from critics and her Victoria audience. He said that "musicians, the board and those from the community who witnessed her compelling performance in February all agreed she was as talented, vital and dynamic as the Victoria Symphony itself, and a natural choice as a leader." Miller is currently the Associate Conductor of the Vancouver Symphony Orchestra, but will lead the planning and programming for the Victoria Symphony 2004-05 season. She will appear as Music Director on August 3rd at Symphony Splash, and will make her mainstage series debut with the orchestra during the 2003-04 season. Alana King
L'Orchestre National de Russie condamne l'intention de son ancien chef d'orchestre, Vladimir Spivakov, de former un nouvel orchestre : le National Philharmonique de Russie. La ressemblance des deux noms n'enchante pas la direction de l'Orchestre National qui entend avoir recours à toutes les voies légales pour empêcher le célèbre chef d'aller jusqu'au bout de ses idées de dénomination. Elle croyait en fait que M. Spivakov trouverait un pupitre dans l' une des nombreuses formations orchestrales de Russie ou dans un des 20 orchestres de Moscou. Sarah Choukah
In memoriam
La mezzo-soprano Fedora Barbieri est décédée à Florence le mardi 4 mars. Elle a commencé son illustre carrière en 1942, à l'âge de 22 ans à la Scala de Milan et elle a fait ses débuts au Metropolitan Opera de New York en 1949. Elle a depuis chanté avec les plus grands chefs d'orchestre et chanteurs du XXe siècle. Sarah Choukah
Nominations
Le chef d'orchestre britannique, Richard Hickox prendra le bâton de l'Opera Australia en tant que directeur musical. Il est présentement le chef d'Orchestre du BBC National Orchestra de Galles et premier chef invité de l'orchestre symphonique de Londres. M. Hickox assumera ses fonctions dès 2005, en remplacement de Simone Young, dont le contrat ne sera pas renouvelé. La controverse suscitée par sa vision de la compagnie, différente de celle de l'administration, n'a pu être réglée. Sarah Choukah
Émile Subirana a été évincé lors du vote de nomination à la présidence de la Guilde des musiciens du Québec, le 2 mars dernier. Son successeur, Gérald Masse, percussionniste polyvalent, promet de travailler pour faire de la guilde une organisation plus transparente et davantage centrée sur les besoins du musicien. Émile Subirana a fait l'objet de plusieurs critiques quant à son rôle dans l'affaire Dutoit. Sa demande de faire changer son poste en tant que consultant pour la Guilde n'est pas passée inaperçue. Ce titre lui aurait assuré un revenu plus élevé. Sarah Choukah
CBC/Radio-Canada has announced the winners of the 32nd National Competition for Young Performers. Baritone Peter McGillivray placed first in the vocal category, and flutist Stephen Tam won first prize in the brass/instrumental category. Each first place winner received $15,000, as well as the opportunity to perform a recital at Toronto's Glenn Gould Studio, record a concert with the CBC Radio Orchestra in Vancouver, record a demo CD at a CBC studio and receive professional assistance to create a press kit. Several other prizes were handed out as well: flutist Christie Reside and soprano Nikki Einfeld were both awarded the Karen Kieser Prize (valued at $2,000 each) for best interpretation of Canadian works, and baritone Peter Barrett took home the Galaxie Rising Star Prize (also valued at $2,000). For more news and a complete list of winners, visit the Competition's website at radio.cbc.ca/specials/youngperformers. Alana King