Véronique Lacroix: On the Contemporary Beat!

by Réjean Beaucage / May 5, 2003

---
La Scena Musicale recently talked with Véronique Lacroix, founding conductor and artistic director of the Ensemble contemporain de Montréal (ECM). Acclaimed for her daring and visionary approach, Lacroix has been described in Vancouver's Georgia Strait as "a conductor of outstanding prowess and extraordinary puissance. . . . Like Leonard Bernstein, she has the uncanny ability to call forth visual images from every note."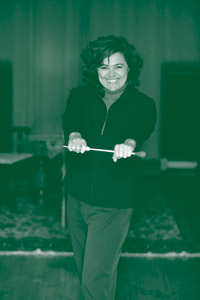 Véronique Lacroix, who hails from Chicoutimi in Quebec's Saguenay region, began studying music as a young child. "My mother was a musician who played piano and cello," she explains. "As in many Quebec families, my grandfather played an instrument and my grandmother sang, but nobody was a professional musician. My mother decided to start musical studies for her three children when we were very young. I began the violin at four, moving on to the flute when I was about nine. The Conservatoire de musique de Chicoutimi had opened recently, and it decided to admit very young pupils as an experiment. I entered at the age of five! I owe a lot to Rosaire Simard, who taught me solfege from the time I was admitted. He followed my development closely and understood my particular aptitudes. He was also the choir director, and one day when we were rehearsing (I must have been sixteen), he told me that he could see me as an orchestra conductor!"
Although this wasn't all that long ago, there were hardly any models to inspire a young girl toward choosing conducting as a career. Only a true visionary could harbour such a daring ambition. Lacroix agreed to become Simard's assistant choir conductor. A little later, Simard himself being co-opted as a singer, Lacroix conducted Mozart's Requiem--her first major conducting experience. Shortly after this, when she had just turned eighteen, the retiring conductor of the Orchestre symphonique des jeunes de Chicoutimi offered her the podium. When her flute studies at the Chicoutimi conservatory were completed, Lacroix decided to continue her studies in Montreal (composition techniques such as harmony, counterpoint, and fugue) before registering in the conducting program at the Conservatoire de musique de Montréal.
"I probably thought the wait would be fairly long when I did my entrance audition," she said. "But by the second year, in 1986, I was told that Raffi Armenian had chosen me and that I was the only candidate accepted. Some time later Clermont Pépin, then my counterpoint teacher, suggested that I found my own ensemble, arguing that all I needed was to get several colleagues together. That is how the Ensemble contemporain du Conservatoire came into being in 1987--the predecessor of the Ensemble contemporain de Montréal."
Lacroix, who has boundless energy, wasn't satisfied with just one ensemble. Between 1987 and 1996 she led the West Island Young People's Symphony, the Opéra Comique du Québec, the CAMMAC orchestra, the Orchestre symphonique Joliette de Lanaudière, and the Scarborough Philharmonic in Ontario.
Crossing musical borders
The ECM's first concert included a Mozart serenade for two oboes, two clarinets, two French horns, and two bassoons, and a work by Anthony Rozankovic (at the time a composition student), using the same instruments. This combination of classical and contemporary composers was a foretaste of the ECM's thematic concerts. We asked Véronique Lacroix if this taste for contemporary music wasn't rather sudden.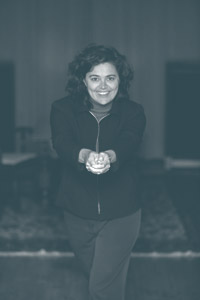 "Actually, it dates from way back," Lacroix answered. "I first encountered contemporary music when studying the flute. Jean Morin, who taught me for nearly ten years, had many twentieth-century scores. I think I must have been thirteen when he asked me to play Arthur Honneger's Danse de la chèvre (1921) for flute. I thought it had a distinctive sound, but it was just as normal for me to learn a modern work as any other. It was mainly thanks to Morin, I think, that I developed an open mind on the subject of today's music. I remember being very impressed, when I was about sixteen, by Odile Vivier's book on Varèse (Éditions du Seuil, 1973). For me, it was a given that a twentieth-century composer represented modernity, and it was just as natural to be interested in today's music--as a performer, conductor, or even a member of the public."
As artistic director of the ECM, Lacroix has made it a point of honour to plan programs in which Mozart meets Rozankovic, Stravinski's instrumentation for The Soldier'sTale serves for Estelle Lemire or the ensemble of Varèse's Octandre for Jean Lesage. ECM's first concert of this type, in 1991, was called "Siegfried . . . Un matin sur terre." Obviously the Siegfried Idyll (1870) figured on the program, but so did Berg's Lyric Suite (1926) and works by Marc Hyland and Liette Yergeau. The concert's theme was "total art," and featured dance and visual works on stage. Since then, this multidisciplinary approach has often been the focus of ECM events.
"I avoid doing the same thing twice," explains Lacroix. "After putting something together, I prefer to break the mould so that I have to do something new!"
Pushing the envelope
In 2002 the "Cage en liberté" concert featured the works of John Cage (along with the creation of young local composers, as usual), but this year the "great ancestor" has moved forward in time and is none other than Steve Reich. Surprisingly, for the upcoming "Unions Libres II" concert, Lacroix decided to invite the same composers who were involved in the 2000 "Unions Libres."
"That's the surprise! Of course, everyone thought we would be inviting other composers, but it will give these composers a chance to push the envelope when thinking about the multidisciplinary approach, which is a real challenge," explains Lacroix. Once again, guest composers will be twinned with other artists with whom they've conceived works we can see and hear. On the program are L'union à la une by Sean Ferguson and writer Nathalie Mamias, Dialogue sur d'infimes souvenirs by Michael Oesterle and painter Christine Unger, Musique et film II by Yannick Plamondon and film maker Justin Antippa, and Projets d'opéra by André Ristic and video creator Frédéric Saint-Hilaire. Also on the bill as a prelude to an already generous program are Steve Reich's Six Pianos and Louis Dufort's Piano Remix, the latter directly inspired by Reich's piece. Video artist Yan Breuleux adds his touch to these two works.
The ECM has garnered many honours recently, including the Opus 2002 prize for the musical event of the year awarded by the Conseil québécois de la musique for "Cage en liberté," and the Grand Prix du Conseil des arts de Montréal in March 2003 for the same concert. ECM players and their artistic director are primed and more committed than ever to making contemporary music accessible to a larger public. [Translated by Jane Brierley]
ECM's "Unions Libres II," a benefit concert, takes place Tuesday, May 6, at 6:30 p.m. in the Salle Pierre-Mercure,
Centre Pierre-Péladeau, Montreal. Info: (514) 524-0173 or www.ecm.qc.ca.
---
Version française...
---