Renée Fleming Takes on La Traviata

by Wah Keung Chan / April 3, 2003

---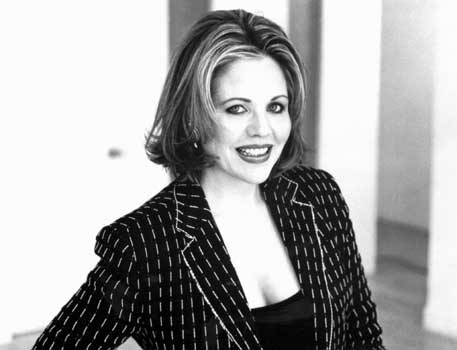 Since gracing the cover of La Scena Musicale (November 2000), soprano Renée Fleming has become America's and the world's leading diva. A dessert, La belle Renée, bears her name and the Australian government has named a lily in her honour. Not one to rest on her laurels, Fleming is tackling new repertoire. Her recent Grammy-winning CD covers the bel canto rep, and 2002-03 sees her in three new roles, Il Pirata (Metropolitan Opera), Thaïs (Chicago Lyric) and Violetta in La Traviata (Houston Grand Opera starting April 17). LSM spoke to Fleming at the end of January as she was preparing Violetta a role which she was originally scheduled to debut at the Met in 1998.
Three personal debuts in one season is quite a challenge.
I call it the year of the heroines, because to have these three roles in one season is harrowing. It's been a huge challenge, and the worst one is coming up. It's also wonderful. It increases the sense of expectation when I do new things. I've been hiding behind obscure repertoire throughout my career--Pirata, Alcina, Rusalka, Thaïs--and suddenly I'm singing Violetta. It's a big shock. I started working on the role in 1998 and had it pretty much under my belt then, so I'm redoing it. I've now had an enormous amount of experience, so that comes into play too, and Violetta is already a lot richer than she would have been then.
What have you been doing to prepare it?
It's basically learning it, coaching it and imagining it. Imagining it is the most important part. I do a lot of listening to all kinds of performances. Someone just gave me Claudia Muzio doing the fourth act, and someone else is sending me Rosa Ponselle. I love these kinds of things. I like to know the history of an interpretation.
Who is your favourite interpreter so far?
So far (not having heard Muzio and Ponselle) I have to say Callas. She really brings the character to life. If this character doesn't break your heart then it's not right. I've seen the opera enough to know that it doesn't play by itself like La Bohème or Le Nozze di Figaro. It's all about the performance or it doesn't work.
You'll be drawing upon your personal experiences for your portrayal?
I don't think I have a personal experience that quite matches Violetta's--but it's about the emotion, hope, vulnerability, loss.
Your divorce?
It's not the same thing. She loves him until she dies. She makes a choice to do the right thing. The pain I went through in that period certainly will inform this and everything I do now on stage, just like anybody's life experience is connected in the sense, not of the experience itself, but of the way it affected you emotionally.
What are some of the vocal challenges?
The hard thing is that the role has been seemingly composed for three different people. Early Verdi is difficult in that it doesn't just sit in the passaggio, it sits unrelentingly in the passaggio. You have these long stretches that you sing, as in the first act aria, without a break. I find that really difficult. So it is a matter of working the musculature over and over again until it feels comfortable. That is time-consuming and not easy. One has to do a lot with the text and the style. I'll be working with Renata Scotto. I don't listen to other people's interpretations to copy them, but to understand the entire body of what's been done. I'm really in the detail stage right now.
Are you finding new artistic challenges with the new rep?
With this season, I don't think it gets much more challenging. Coming up, I have Cappriccio, Daphne and Rodalinda. This summer I'll be doing again A Streetcar Named Desire.
Your long-time teacher Beverley Johnson passed away two years ago. How have you been coping with finding another ear?
For this season I decided I really needed to have that in place, so I'm working with a couple of people and it feels about right to me now. It's such a personal decision. I didn't want a teacher to change what I'm doing, but to maintain it--a slightly different process. In terms of musical and dramatic values, I can't tell what is going on, I need somebody inside the house. One of my biggest frustrations is that I can't be in the hall watching myself, because it would be so much easier.
What was the process for finding this support?
My process was personal--these are people I already knew. I always feel strongly that people should consult five different teachers and see who has the best fit. It's important that the teacher be really interested in the voice and the student, that you feel simpatico, that even if you don't share the common terminology yet, there's a glimmer of understanding. Sometimes it takes months to really understand what somebody is telling you. It's because the art of singing is so completely mysterious and intangible. We use images and analogy to describe it. It is a personal thing and I don't pretend that one teacher is right for everybody.
You spoke of the "visualization of flying" in another interview.
I was talking about my voice. When I sing a phrase, I "image" it as a journey through space, it has a shape to it, the sound itself soars. It's a lot easier in [Richard Strauss's] Four Last Songs than in this repertoire. When the rep is technically this difficult, then my concentration has to stay with how to manage the piece physically.
Advice?
My advice to young singers is to always work on your technique and make sure you are with the right people. If you have the good fortune to someday be in demand and if you don't have a technique, you're never going to withstand the pressure. The key thing is the singing. Even Leontyne Price said to me, "It doesn't matter how much people want you, [how much] the phone rings, and how much hype there is--that will all go away in five minutes if something happens to your throat."
Are you careful with your choice of repertoire?
I've been pretty good about that. That's one way I've been prudent. I've never been tempted by inappropriate rep. I don't have the weight in the middle voice for Wagner. Not now, maybe later.
You are starting to branch out of opera.
I was on Garrison Keillor's radio show and did a comedy skit. It was so much fun! I told him [he'd] created a monster. Now I want to be on sitcoms; I just had a ball.
Renée Fleming sings operatic arias in L'Opéra de Montréal's signature fundraiser, "Renée Fleming in Concert" on April 6. (514) 985-2258. Her latest CD with Bryn Terfel is devoted to music theatre. A jazz album is in the discussion stage.
Win recordings of Renée Fleming, courtesy of Universal by visiting www.scena.org.
---
Version française...