Notes

2 mars 2003

---
Tiré des archives de SCENA.ORG / from the files of SCENA.ORG
I Musici à l'étranger
Après une tournée de six concerts aux États-Unis au début de février, l'Orchestre de chambre I Musici de Montréal et Maestro Yuli Turovsky s'envolent ce mois-ci vers l'Europe, pour donner six concerts en Espagne (à Castellon, Valencia, Zaragoza, Tarragona, Burgos et Gijon) et deux en Allemagne (à Dresden et Hamburg). Les oeuvres présentées incluent La Nuit transfigurée de Schoenberg, le Quatuor opus 11 et la Sérénade pour cordes de Tchaïkovski, l'Adagio et allegro pour violoncelle et orchestre de chambre de Boccherini (Yuli Turovsky sera le soliste) et Coups d'archets de Denis Gougeon.
NEW MUSIC
Celebrated Canadian flutist and composer Robert Aitken will be the featured guest of honour at the Flute Fair and closing concert of the New York Flute Club March 29 in New York. He will be soloist in the New York premiere of "Ghosts and Gargoyles: Spatial Soliloquies for solo flute, flute octet and jazz drummer," by Henry Brant. The 2001 work was commissioned by Toronto's New Music Concerts, of which Mr. Aitken is artistic director. The March 29 program also includes works by Aitken, Diego Luzuriaga, Elliott Carter, Albert Franz Doppler, Franz Schubert and Max Meyer-Olbersleben. In recognition of his outstanding service to music, Mr. Aitken was recently awarded the Queen's Golden Jubilee Medal.
Calgary Opera Composer-in-residence John Estacio has been nominated for a Juno Award in the category Classical Composition of the year for Test Run. Estacio has recently enjoyed great success with his first opera, Filumena, playing to sold-out houses, standing ovations and critical acclaim.
Nominated in the same category is Requiem for a Charred Skull by the Vancouver Symphony Orchestra's musical director, Bramwell Tovey. Written for the unusual combination of choir and brass band, this setting of the traditional Requiem was inspired by the atrocities committed during the war in Kosovo. The Juno will be broadcasted live on Sunday April 6 from the Corel Centre in Ottawa.
On April 3, the German conductor Ingo Metzmacher conducts the world premiere of the Boston Concerto by the American composer and twice Pulitzer Prize winner Elliott Carter. The work was commissioned by the Boston Symphony Orchestra.
Handel's Amadigi receives Canadian Premiere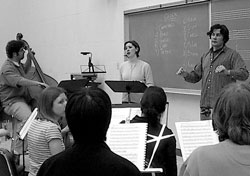 Amadigi di Gaula, one of Handel's earliest operas (composed in 1715), will receive its Canadian premiere this month at the University of Western Ontario. The production was conceived and organized by students but received assistance from Marshall Pynkoski, artistic director of Opera Atelier, and Ivars Taurins, conductor of the Tafelmusik Chamber Choir.
Co-producers Rachel Cresswell and Andrew Pickett have devoted over a year to the production. "We wanted an opera by Handel," says Pickett, "and when we found Amadigi in the collected works in the library, we knew it had the most exciting music and action in the shortest run-time [147 minutes], and we had the right singers for it. Unfortunately, there was no published performing score." Help came from overseas: the Cambridge Handel Opera Guild, which performed the work in 1991, lent the orchestral parts.
This production includes UWO's only counter-tenor as well as a mezzo soprano in the two male roles. The story concerns a love triangle between a knight-errant, Amadigi (Andrew Pickett), his true love, the princess Oriana (Rachel Cresswell), and the beautiful sorceress Melissa (Jessica Sage). Amadigi must resist Melissa's enchantments while surviving the treachery of his friend-turned-rival, Dardano (Lauren Phillips).
Why have these students taken on the challenge of a Baroque work? "It's beautiful music," says orchestral director Bill Rowson. "Every da capo aria is a simple formula, but the expression and gesture in the music are just incredible. The project also gave us insight into how a professional company has to work. It's about getting people involved in something that's important and that they won't forget."
Amadigi will be performed at Talbot Theatre, University of Western Ontario, London on March 7 at 8 p.m. and March 9 at 2 p.m. Tickets are $15 for adults, $8 for students and seniors. (519) 661-3767. - Katie De La Matter
O Canada -- A Canadian Celebration
The CD "O Canada – A Canadian Celebration", conceived and produced by Canadian composer and record producer Nick Peros, features the coming together of a host of great Canadian music artists offering unique and stirring versions of our national anthem across a wide variety of styles. A moving solo cello instrumental rendition is performed by Toronto Symphony cellist Simon Fryer but pop/rock, blues, jazz, and Cape Breton Maritime versions are also included. Also featured is a classical arrangement performed by the True North Brass, one of North America's foremost brass quintets. As part of their 40th anniversary, Home Hardware will make 100,000 copies of "O Canada" available throughout its outlets.
CLASSICAL MUSIC AT THE GRAMMYS
The Grammys aired live on February 23, from Madison Square Garden in New York City. Vaughan Williams' A Sea Symphony won in 3 categories: best classical album, best engineered album and best choral performance. Christine Goerke and Brett Polegato are the soloists of this version of the masterpiece. The Altlanta Symphony Orchestra is under the direction of Robert Spano, and Norman Mackenzie serves as chorus director (released on the Telarc Digital label). Tavener's Lamentations And Praises deserved two prizes: best small ensemble performance and best classical contemporary composition. Michael Tilson Thomas's version of Mahler's Symphony No. 6 with the San Francisco Symphony was awarded the Grammy for best orchestral performance. It came as no surprise that Daniel Barenboim's (a four-time Grammy winner) version of Wagner's Tannhäuser was chosen best opera recording of the year. Renée Fleming (who also won in1998) struck gold with her Bel Canto album (best classical vocal performance) and Hilary Hahn with Brahms's and Stravinsky's violin concertos (best instrumental soloist performance with Orchestra). Murray Perahia's version of the monumental Chopin Etudes won him the best instrumental soloist performance (without Orchestra) award, while the Takács Quartet's inspired Beethoven String Quartets put them in the spotlight in the best chamber music performance category. Robert Woods won the coveted Producer of the Year statuette. On the jazz front, Diana Krall brought home the trophy as best jazz vocal album for her recent release, Live in Paris.
PRIX/AWARDS
L'Opéra de Québec a reçu le Prix de la capitale (remis par la Ville de Québec) au gala des Prix Rideau le 20 février dernier. La prochaine production de l'Opéra de Québec, L'Enlèvement au sérail de Mozart, mettra en scène, du 8 au 15 mars, des costumes et des décors conçus à partir des dessins gagnants du concours « Dessine-moi un opéra ! ».
Julian Armour, artistic director of the Ottawa Chamber Music Society, was awarded the Order of Arts and Letters (Ordre des arts et lettres) in the rank of Chevalier by the government of France on Dec. 3. Previous recipients include Marilyn Horne and Beverly Sills. In December, the Ottawa Chamber Music Society also received the Lieutenant Governor's Award for the Arts for a sixth time.
DÉCÈS
Le pianiste Claude Savard, professeur agrégé à la Faculté de musique de l'Université de Montréal, est décédé le 13 février dernier. Il avait étudié avec Marie-Louise Boisvert et Germaine Malépart à Montréal, mais aussi avec Vlado Perlemuter et Suzanne Roche à Paris. Lauréat de plusieurs concours internationaux (Vercelli, Genève, Lisbonne), il avait remporté en 1966 le Premier Grand Prix à l'unanimité du Concours international de Munich. Au cours de sa carrière, il avait effectué de nombreuses tournées comme soliste et avait travaillé avec de nombreux artistes renommés tels que Pierrette Alarie, Léopold Simoneau, Maureen Forrester, Joseph Rouleau, Andrew Dawes et Jean-Pierre Rampal. Il était responsable du secteur piano à l'Université de Montréal depuis 1988.
ERRATA
Due to mistakes in the production process, La Scena Musicale apologizes for the following errors:
Dec. 2002: The name of L'honorable Juge Alan B. Gold, featured as one of LSM 80,000 readers was not printed properly.
Feb. 2003: A few errors appeared in the article Les secrets d'un ensemble opératique réussi not due to the translator.
---