Nancy Argenta - Live and Up Close

by Wah Keung Chan / January 31, 2003

---


Growing up in a small community in British Columbia's Kootenay region to become one of Canada's most prolific recording artists (over 50 recordings) seems like an impossible dream. Now in her twentieth professional year, London-based Canadian soprano Nancy Argenta is living that dream with a successful international career, specializing in oratorio and early music.
Great conductors such as John Elliot Gardiner and others consistently turn to Argenta, and she is increasingly singing in recital. When LSM spoke to her last month in London, she talked passionately about the thrill of live performance.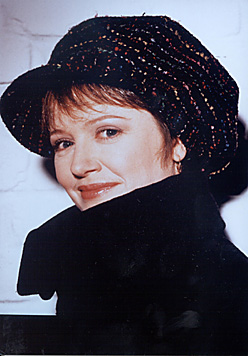 "I don't generally listen to my recordings because I always hear things I would do differently on another occasion. That's one of my absolute concerns about modern life--that people often think the recording is the real thing. The real thing is a performance, a concert where there's communication between performers and audience. There is danger in forgetting that. If the audience is energized and very receptive, and the acoustics are fine, then I'll take certain musical risks: I try things faster, slower, softer, whatever comes to me on the spur of the moment. If there's a child, I may sing in a certain way directed at the child. That's the magic of live performance.




"A recording is what happens on one day and it is invariably manipulated with editing. It's technically more polished than in concert because of repetition, but it is entirely predictable. In concert, magic might happen and it's real, live magic."
Q: Are there any live performances you've been to that were magic?
"Oh yes. Fischer-Dieskau in recital. I knew my mother's Fischer-Dieskau recordings, but I wasn't prepared for what I experienced when I finally heard him live in London at the end of his career, when he gave a series of recitals at Queen Elizabeth Hall. It was phenomenal. I really felt like he was in his living room, just enjoying these songs, and we were welcome friends. There was so much energy and commitment, and I would never have understood that from his recordings. It was a completely different experience and a glorious one. I would have been very much poorer in my self and as a recitalist had I not been there."
Q: How often are you happy with your performance?
"I'm very self-critical. I might be happy with one out of six performances--it may have something to do with me, the hall, or the orchestra. We're always striving for perfection. If I thought I had achieved perfection, I would quit now. I keep doing it because I love the music, but I'm always learning."
Q: What are you discovering? 
"There's always so much to learn about any great piece of music. Things get simpler the longer you go on. The whole act of performing gradually gets simpler. Sometimes the musical interpretation gets simpler too, the more deeply you understand the piece."
Singing came naturally to someone with a mom who taught piano, directed the choir, and was church organist. Argenta's older sister is a professional violinist, while her big brother sings as an amateur tenor. It was Joan Sutherland's recording of Caro Nome that had the earliest influence. "I said that was what I wanted to do," recalls Argenta, who took on the name of her hometown to avoid confusing her family name of Herbison with fellow Canadian soprano Nancy Hermiston. Her early talent led her to Nelson, 70 miles away, at age eleven. There she studied with a "good singing teacher" and began performing. When her teacher died during her high school years in Nelson, Argenta began to commute the 500 miles to Vancouver to study with Dr. Jacob Ham, often skipping classes for days at a time.
"I was winning the music festivals around Nelson and performing in music theatre--Fiddler on the Roof and Hello Dolly. Some teachers understood and were supportive, but others were not. After high school I went to Vancouver Community College with Dr. Ham, and I finished my degree at the University of Western Ontario with Martin Chambers."
Q: Tell us about your voice: how did it develop?
"During my teenage years, it wasn't clear whether I was going to become a soprano or mezzo. I think I had a cautious teacher who quite wisely didn't push me; he strengthened the middle register. Martin Chambers brought me up to the soprano range, to a soubrette lyric. Then I won the Eckhardt-Gramatté competition in 1980, and that gave me a cross-country tour. I went to Germany in 1981 for one year in Düsseldorf.
"I then went to London, where I met the wonderful [voice teacher] Vera Rozsa. She found the right colour of voice which was uniquely me. She started with a few notes and then said, 'That's your colour and your sound. We need to get that sound that is uniquely yours throughout your range.' I found this an interesting approach. Many singing teachers today don't seek the unique sound in every voice, and I think that's a pity."
Q: How long did it take to develop that unique sound?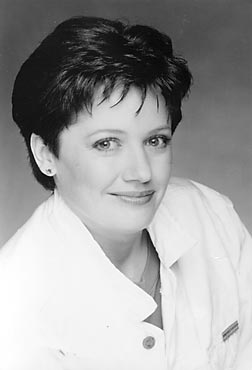 "I guess after a year I was making a sound that was acceptable in the professional world, as I started performing professionally when I first sang at the festival at Aix-en-Provence in the summer of 1983 with John Elliot Gardiner. I don't think the sound is ever finished developing because the voice and body keep changing. That's both the fascinating and frustrating thing about having a voice.
"At about the same time, I discovered the Alexander Technique, and from one week to the next I didn't know which was helping me more, the singing lesson or the Alexander Technique. Rozsa's approach to breathing is certainly low in the body. That helped to ground me, and the Alexander Technique was good for that, too. Mostly, it was getting relaxed, anchored in the body, which allows the natural colour of the voice to emerge.
"I continued working with Rozsa for a decade. Then I decided it was time to try a different approach as I was ready to explore potentially different colours in my voice. Off and on in the last few years I've been working with Josephine Veasey. She changed the way I produced my sound and how I thought about it. Instead of placing the sound as most singers mistakenly do, we focus on the breath, vocal chords, and resonance."
Q: How has your voice changed over the 20 years?
"Your voice will change as your body changes, and you can choose to encourage or discourage those changes. I've chosen to encourage them, for the fun of it--because it is fun to find more varied colours in my sound and see the potential for doing a more varied repertoire. I'm still me and still recognized by my voice. It's a little bit richer and darker and the range at both ends is a bit easier. Some people like that change and some people don't.
"For me a great deal of it is getting continually more centred, lower and lower in my body, through studying yoga and breathing and working with people who do body work. Opening the body to resonance changes the vocal resonance. Most young singers tend to be tense around their shoulders, neck, and upper chest. That limits the richness of the overtones. As one learns to relax all that area, the larynx is then free to just hang where it wants to in the most relaxed way--the breath is low, the sound starts to change. I also enjoy helping students to find it in themselves. I've avoided a teaching position because I'm too busy travelling and concertizing, but I go to the Guild Hall in London, off and on, for a day of master classes or coaching, as well as summer courses. I regularly teach at the Nelson Summer Song Fest in August."
Q: What about repertoire?
"I think the most important thing is to do works that suit your voice and for which you feel empathy, and not to attempt unsuitable repertoire. I fell into the eighteenth century when Gardiner offered me work. I thought, 'I like this,' and it suited me temperamentally, vocally, and musically. I love doing Mahler symphonies but people often don't think of me for Mahler, although it suits my voice and colour. I did the Symphony No. 2 with the Boston Symphony and Ozawa three years ago, and it stands as a highlight. The song literature is a wonderful world, and I've been doing more recitals in recent seasons."
Q: You're considered a Bach specialist.
"Bach is difficult to sing, and there's never any place to breathe, which is a challenge. Why do I like it? I just think that it's magnificent and inspired. You have to know where the harmony is going so that you know what the melody line is doing in relation to the base line. Bach's music tells us more than the text does. If you naturally have a kind of disorganized creative mind, you need something like Bach to give some structure. It seems to put the world back in order for me somehow."
Q: Why do you love classical music?
"It connects us to our own soul and the greater powers--or the divine--and to the universe in the most profound way. Ultimately, it has a healing quality."
Q: The act of singing--what do you get out of it?
"To sing is my greatest learning ground because it teaches me about myself. Everything about yourself, your personality, and your psychological makeup comes into your singing. It's a very steep learning curve. It shapes me as a human being. I think singing is a wonderful gift and a strict taskmaster if you're going to explore all your potential. I know there are many things I wouldn't have discovered about myself if I didn't sing.
"Often the biggest thrill is the feeling of community on stage--an amazing thrill that the audience doesn't get to experience. It's the most wonderful feeling of everybody doing their own bit and coming together in this glorious sound. Those are the moments when I'm aware of what an incredible privilege it is to do this for a living."
Nancy Argenta hooks up with Daniel Taylor and the Theatre of Early Music for a three-concert tour starting on March 1 (514-790-1245) as part of the Montreal Highlights Festival, and moves on to Guelph on March 8 and Toronto on March 9 (418-694-9687). The program includes Pergolesi's Stabat Mater and will be recorded on ATMA for later release.
---
Version française...