Maxim Vengerov - Sensitive Strings

by Lucie Renaud / November 2, 2002

---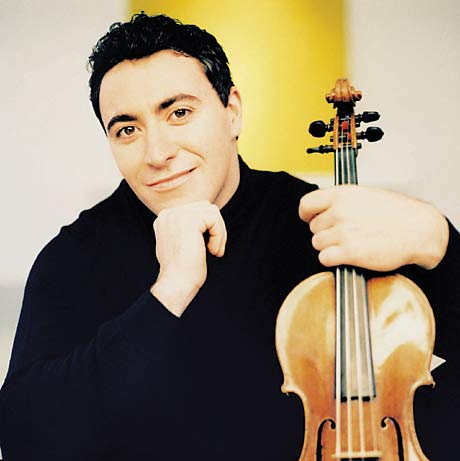 Photo: Simon Fowler
Who has not heard of Maxim Vengerov? The 28-year-old virtuoso, born in Novosibirsk, the capital of western Siberia, seems to have lived in the continual glare of the limelight, and to have grown up on the glossy covers of the most august classical music magazines. He was only ten when he won the Junior Wieniawski Competition in Poland, after which he was invited to play with prestigious orchestras that saw in him more than just a little prodigy. "Vengerov is Heifetz on one hand and Kreisler on the other" ran the headline in The Strad (a strings-only music magazine) in 1989, just after his fifteenth birthday. Such big expectations are difficult to live up to! However, in 1995, his recording of the concertos of Prokofiev and Shostakovich earned him two coveted prizes from the British musical magazine, Gramophone, and put him in the running for a Grammy. His electrifying performance of the last movement of the Shostakovich concerto, Burlesca, on the evening of the Grammy awards was greeted with a lengthy standing ovation by an audience not usually appreciative of classical music. Gramophone had just named him "Artist of the Year 2002-2003," catching this young musical comet in full ascent.
A baroque bow
Vengerov is much more than a hugely gifted violinist who racks up trophies and honours, gives recitals all over the world, (most often sold out), and sells recordings almost as easily as pop stars do (to the infinite satisfaction of EMI, his record company).
In recent years he has attacked the baroque repertoire, not hesitating to wield a period bow and violin with evident pleasure, although baroque specialists have voiced their surprise. "The bow is far lighter, and it's possible to work it more, and more precisely," he explains. "I might even describe it as "handmade." Unfortunately he won't be able to use his period violin for his performance of Bach's Toccata and Fugue en D Minor in his recital scheduled for November 12 in Quebec City (see insert for the program). The instrument is undergoing "a major crisis" at the moment, requiring all the expertise of his violin maker. Instead he will use his precious Stradivarius, which he carries with him always, like an extension of himself. But he will play it with his baroque bow.
Recently Vengerov has become passionately fond of his viola, another extremely rare instrument made by Antonio Stradivarius--a gift of the Royal Academy of Music in London. He is working on this new repertoire, one composition at a time, dreaming of the Shostakovich sonata and admitting, half contrite, half showing off, his difficulties in adaping his "little hands" to this larger instrument. For his first viola performance, he chose Walton's Concerto for Viola, a composition that he worked on with his mentor "Slava" (Mstislav Rostropovich) and had no qualms about recording under the latter's direction.

Photo: Henrietta Butler

Like his elders, Barenboim and Rostropovich, Vengerov is beginning to have an occasional itch to try the conductor's baton, gleaning precious advice (when his overbooked timetable permits) from various conductors and working on conducting technique with his pianist Vag Papian. "I've no ambition to direct a Verdi opera," he states, "but you never know what the future holds. Right now I'm very taken up with my violin and very satisfied with the situation!"

Harmony in life

Vengerov's chameleon talent also embraces teaching. Since October 2000 he has taught at the Saarbrücken Musikhochschule, and he accepts almost all invitations to give master classes while on tour, his schedule permitting. He comes from a musical family and seems to find teaching a perfectly relevant activity. His mother directed children's choirs besides carefully supervising his practice sessions in the evenings and through the night. As a child, from the time he started playing at the age of four, young Maxim practised every night from 8 p.m. to 3 a.m., after which he relaxed by riding around on his tricycle, much to the annoyance of his neighbours!

His father was an oboist with the Novosibirsk Philharmonic Orchestra. It's told when the son accompanied his father during a rehearsal, he said, with all the seriousness of a child, that the position of first violin seemed much more exciting than that of oboist! When he was five, Galina Touchaninova took him into her class with the proviso that this was serious business. "You have enormous talent," she told him, "therefore you must work twice as hard as the others." Five and a half years later, Professor Zakhar Bron (who began his career as assistant to Igor Oistrakh at the Tchaikovsky Conservatory and taught another star violinist, Vadim Repin) took Vengerov under his wing and transformed the prodigy into an accomplished musician. After five and a half years with Bron, Vengerov decided he would stop taking lessons. "I worked on my own for a year because I wanted to find out what music really meant to me and why I wanted to continue. This was when I had the chance to work with the great conductors--Barenboim, Rostropovich, Abbado, Giulini--who gave me so much that was essential. I decided it was time for me to share my experience with others, not only in playing, but in inspiring others to play."

In a master class, Vengerov shows immediate understanding and enthusiasm, and manages to communicate energy, conviction, and especially imagination to the young violinists. He is always reaching for the image that will push the pupil to strive harder, and only shows how it should be done as a last resort, preferring to let the youngster experiment for himself or herself. In order to give full attention to his five students in Saarbrücken, he sees them for a whole week each month. To do this has meant making sacrifices, such as cutting his concert schedule in half. "My priority is to try to establish human contact," says Vengerov. "I am friends with all my pupils: they're my future colleagues. Whether they become soloists, orchestral musicians, or teachers doesn't matter. That's what makes music so powerful. Music is healing, it guides us on the right path and allows us to live in harmony with ourselves. Through music, many difficulties can be resolved. Observing my pupils over time, I see how they've developed. They become so marvellous, so fine as persons and as human beings. That's the power music has had for me, and always will."

Vengerov has been an untiring ambassador for UNICEF since 1997. He seems equally at ease at fundraising (through concerts for which he waives his fee) as on site in Bosnia or Uganda, for example, where children have most need of his indefatigable enthusiasm. "As a musician, I can see the impact I have on these children's lives," he says. He speaks with evident sadness of children whom he sees in rehabilitation centres run by UNICEF. They're kidnapped in Uganda and turned into soldiers or sex slaves by their kidnappers, members of "The Lord's Resistance Army." "I've seen children who were completely traumatized by the experiences of their difficult childhood," he says. "Their faces were so grey and gloomy, without hope. What can you do in such cases? Of course you can try to rehabilitate them, give them clothes, food, water, but that's not all. Through music, sports, and entertainment, they begin to feel like children once more. I'm lucky to be a musician and to be able to experience this kind of miracle."

Sympathetic strings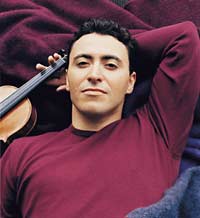 Photo: David Thompson

It's hard to imagine Maxim Vengerov leading another, less frenetic life. Asked to describe an ideal day, he thinks for a moment, then gives the following off-the-cuff comment: "The day must be spent in the company of friends, in some sporting activity." He prefers swimming, squash, jogging, ping-pong, and mountain-bike expeditions (lacking his dream vehicle, a Harley-Davidson). "There'd be some music, not too much, something informal, improvised," he adds. "At the end of the day, however, there might be a concert. But now that I think of it, every day is ideal for me. I take what it has to offer." Carpe diem!

This evening concert will be memorable if Vengerov succeeds in establishing a special and intimate contact with the audience. "I don't concentrate on audience reaction, but I really feel the energy that flows from the listeners, often even before they've begun to react. In a concert, music is a language that enables us to make human contact. On great evenings, I feel that we're comfortable, as though at home, all three of us--the audience, the violin, and me. Of course, I include the composer for whom I'm just a link with the audience through my instrument."

Although people easily associate Vengerov with Russian composers, he says he feels closer to Bach, Brahms, Mendelssohn, Schubert, and Beethoven. "They're still my favourites because they have so much to give and their music has such a powerful message." Occasionally he'll add a contemporary work to recitals--the Echo Sonata or the Concerto Cantabile (written for him) by Rodion Shchedrin, for example. "Contemporary works have to have a special quality and a number of elements that are essential for the listener's ear. There must be rhythm to start with, a pulsation (even if it's slow), a rhythmic organization. Melody is another aspect--a melodic statement to be retained, something that stays with you after the concert. The music has to liberate a positive energy. It can be very dramatic or suggest all sorts of emotions, but there must be a definite energy in the work itself. Finally, there's atmosphere, another important aspect in music. The composer's talent makes it possible to feel this atmosphere, making the work unique.

Although he meets the greatest composers vicariously, as well as members of the jet set through his benefit concerts, Vengerov keeps a cool head and has his feet firmly planted on the ground. "I'm just another human being, with my faults and weaknesses," he says. "The only difference is that I play the violin and that I'm very lucky." He feels his greatest qualities are his ability to adapt easily and to accept others, and his generosity and his openness to love. "To be able to love and let myself be loved, along with communication--these are the real treasures in life." In an ideal world, he would simply like to follow his destiny: "To travel as I do, play for people, meet those who have something to give, and make music. It's a very simple wish." He pauses. "Perhaps my wish has already come true." [Translated by Jane Brierley]
---
Vengerov answers a few questions:

If you were a city, which would it be?

Rome--Caesar's Rome. I'd play the harp!

If you were an animal, which would it be?

- A lion--my astrological sign [he was born on August 20, 1974]. My Chinese sign is a tiger.

If you were a work of music, which would it be?

- I'd be a symphony, because its structure is musically complete..

If you were a food dish?

- I began cooking for the second time recently. I could give you a few recipes, but you wouldn't necessarily feel like trying them! One thing is sure, I certainly wouldn't be a fast food dish!

Have you done anything extravagant recently?

- I bought the driving suit worn by racing driving Michael Schumacher in his last race. My friends are crazy about it! What's unbelievable is that it fits me like a glove. Wearing it, you can't do less than 300 kph!
Solo recital
Vengerov will be giving a solo recital (a treat for him)--"A real violin adventure"--a dream he's had for a long time. "It's astounding to see what a violin can do by itself!" he says. The program is entirely inspired by Bach, and includes a transcription of the Toccata and Fugue in D Minor arranged by his friend Bruce Fox-Lefriche, four of the six sonatas for solo violin by Ysa˙e, and the Echo Sonata by Shchedrin, a work that he discovered at the age of ten. "Twenty minutes of music, impossible to learn by heart--not now, that is!"
Maxim Vengerov will give a solo recital on November 12, 2002, at the Grand Theatre in Quebec City. This is a benefit concert. Receipts will go to the Pathological Obesity Support Group (Groupe de soutien en obésité morbide) founded by Vengerov's friend, Louise Forand-Samson. Info: (418) 656-4638.
Vengerov will also appear with the Montreal Symphony Orchestra on March 18 and 19, 2002. (514)842-9951.
Win Maxim Vengerov's three recordings, gift of EMI Classics (including his most recent, including the program of the Quebec City concert, November 12) by visiting www.scena.org .
---
Version française...
---