Organ Wednesdays at St. Joseph's Oratory

by Réjean Beaucage / July 2, 2003

---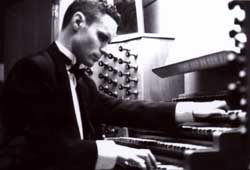 Composer and organist Raymond Daveluy stepped down last year from his post at St. Joseph's Oratory after forty-two years with Montreal's greatest organ. He had been titular organist since the Beckerath's inauguration in 1960. His successor, Philippe Bélanger, won't be officially inducted until September, but he is already on site and overflowing with ideas to present the qualities of his instrument to a large audience.
At the age of twenty-eight, Bélanger finds himself at the controls of a beautiful machine. "I've dreamed of this organ since I was very young," he admits. "The organist of St. Paul's Church in Aylmer--I replaced him when I was nine--took me to see it. Of course what impressed me first was the oratory, but then just seeing the instrument bowled me over. I was able to try it out for the first time when I was twelve, and that really did something to me. After that, when I played I always imagined myself at the oratory."
For the church, choosing an organ made by the German Rudolf von Beckerath (St. Joseph's is still this firm's biggest organ to date) was a daring move to make in the land of the Casavant brothers, to say the least. "The organ-making world on this continent was stunned because it was a mechanical organ, and that amounted to what seemed like a step backward," says Bélanger. "This 42-tonne organ has 5811 pipes, 78 stops, and five manuals. It's an eight-storey building, practically speaking. The stop mixer, which includes classical French organ sounds as well as sonorities close to the German baroque style, makes it a rather multi-purpose instrument on which you can play a fairly large repertoire."
Bélanger is acting as musical director for the concert series that starts July 16 with Les Grandes Musiques allemandes ("Great German Music"), featuring internationally famous organist Ludger Lohmann. Audiences will now have a chance to judge how eclectic Bélanger's tastes are. Readers are perhaps unaware that he played solo trumpet in the Ottawa Youth Orchestra and performed several jazz standards during Les 24 heures du banc, an event organized within the concert series Prélude au festival Orgue et couleurs. Now Bélanger is picking up a tradition established for over thirty years in Les Concerts spirituels, planning to enlarge the repertoire to be performed on the oratory's majestic organ.
"My mandate is to keep this instrument alive and have it heard by as many people as possible," he explains. "We're not afraid to offer beautiful music at the oratory, whatever organ style it belongs to."
We don't often have the chance of seeing harpsichordist Luc Beauséjour sitting in front of the manuals of a great organ, but that's what awaits audiences on August 13, when he shares the billing with the Montreal Symphony Orchestra's solo trumpet, Paul Merkelo. "I first encountered Luc Beauséjour when he was playing the organ," Bélanger says. "I was skipping through a recording of the broadcast, La Tribune de l'orgue ("The Organ Loft"). The big surprise for me was to discover he was even more of a harpsichordist. Both musicians have just finished recording a CD that has yet to be issued, but we'll probably hear some extracts."
On August 20, French organist Dominique Joubert will perform the works of several of the "Great Improvisers" who have made organ history. Organist and composer Julian Wachner, performing a programme on September 3 entitled "The Spontaneous Organ," will show that improvisation isn't the exclusive domain of jazz or new music. Using a range of styles from various musical eras, he will improvise the entire evening's programme, reminding us, if need be, that "spontaneous composition" is a science that is part of the training of good organists (and why not of good musicians?). On August 27, Toronto organist Matthew Larkin will be accompanied by Ottawa's Euphonia Choir in a programme of English music. Finally, on September 10, audiences can hear an inaugural concert devoted to the Beckerath's new titular organist. Bélanger will give us a few of his own compositions as well as works by several of his colleagues. www.saint-joseph.org
[Translated by Jane Brierley]
---
Version française...