When Hector Met Harriet

by Wah Keung Chan / July 2, 2003

---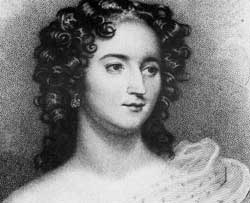 September 11, 1827 and December 9, 1832 are two of the defining dates in one of music's greatest stories of love and obsession. At the Paris Odéon theatre on the September evening, Hector Berlioz encountered for the first time his beloved Harriet Smithson playing the role of Ophelia in Shakespeare's Hamlet. Four days later, he saw her again in the role of Juliet in the Bard's Romeo and Juliet. He wrote in his memoirs, "The impression made on my heart and mind by her extraordinary talent, nay her dramatic genius, was equalled only by the havoc wrought in me by the poet she so nobly interpreted." He went on to say, "Shakespeare, coming upon me unawares, struck me like a thunderbolt. The lightning flash of that discovery revealed to me at a stroke the whole heaven of art, illuminating it to its remotest corners."
Berlioz attempted to make contact with Smithson through letters and hand-delivered messages, but because of his reputation of eccentricity, she never granted him an audience.
Smithson was born in 1800 in Ennis, Ireland, to a theatre manager and a minor actress. She appeared at the Drury Theatre in England in 1817 and 1818, but, though she was a fine actress, her voice lacked the power necessary for her to achieve outstanding success in that spacious theatre. She reached the height of her acclaim in Paris in 1827 and 1828, playing the leading ladies of Shakespeare's plays to full houses. Hugo, Delacroix, Deschamps, Gautier and Dumas were other artists enchanted by her stage persona.
Although Berlioz tried to move on from his infatuation by becoming engaged to pianist Marie "Camille" Moke (who soon married someone else), his unrequited passion lasted another two years. Shortly after Smithson left Paris in 1829, Berlioz wrote to a friend: "She is in London and yet I seem to feel her around me: I hear my heart pounding and its beats drive me on like piston strokes of a steam engine. Each muscle of my body trembles with pain. Useless! Frightening!"
Berlioz channelled his obsession into the Symphonie fantastique which had its debut performance on December 5, 1830 at the Conservatoire. Following the concert, a 19-year old Franz Liszt introduced himself, heaping praises on the composer. However, with only two rehearsals, the debut was not flawless and Berlioz made some substantial changes.
For the second performance on December 9, 1832, Berlioz arranged for friends to invite Smithson. David Cairns describes the event in Berlioz: Servitude and Greatness (Penguin, 2000). Smithson sat at a prominent place above the orchestra with a clear view of Berlioz; the hall was abuzz. The programme distributed to the audience before the concert described a story that suggested Berlioz's passion for Smithson. The booklet, combined with the effect of a full orchestra wooing her, stirred emotions in the actress. Berlioz wrote, "she felt the room reel about her; she heard no more, but sat in a dream, and at the end went home like a sleepwalker, hardly aware of what was happening." Within hours Smithson had sent him her congratulations. Nine and a half months later, they were married with Liszt as a witness.
Epilogue: Before and after the marriage, their relationship was not ideal. Berlioz had to deal with opposition from his family. A son was born in August 1834. There was a period of happiness. But Smithson's career declined and she became jealous of Berlioz's musical success and suspicious of other women. They divorced in 1844. She took to drinking and became ill, barely able to move or speak. Meanwhile, Berlioz had an affair with the soprano Marie Recio, eventually marrying her seven months after Smithson's death in 1854.
---
Version française...
---