DVD Reviews

July 2, 2003

---
Richard Strauss: Ariadne auf Naxos
The Metropolitan Opera Orchestra /James Levine, dir.; Norman; Battle; Troyanos; King
DG 073 028-9 (154 min)
***** $$$$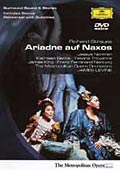 Ariadne auf Naxos, Strauss's opera within an opera, combines vocal virtuosity with an amusing story premise: a composer of a new operatic work must share the stage with an operetta troupe due to the venue's double booking. Recorded for telecast on PBS in 1988, James Levine led the Metropolitan Opera and a cast all in their prime. Mezzo Tatiana Troyanos is wonderful in her signature role as the composer while Jessye Norman is regal and opulent of tone as Ariadne. Coloratura soprano Kathleen Battle, in happier days at the Met, is a delight and tosses off Zerbinetta's aria with ease. Staging and costumes are colourful and craftly done.
The bonus video of rehearsals with subtitles, which includes backstage discussions between Levine, Norman and Battle, make this a must-buy. Wah Keung Chan

20 years BBC Singer of the World in Cardiff
BBC Opus Arte DVD OA 0881D (2 Discs)
(260 min)
***** $$$$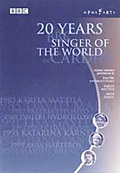 Since Karita Mattila's victory in the first Cardiff Singer of the World in 1983, the competition has established itself as one of the most prestigious in the world. Held every two years with usually one contestant from each participating country, the semifinals and finals are seen world-wide via the BBC's live telecast. To commemorate the 20th anniversary, the BBC has issued a two-DVD set featuring the 10 grand winners and the seven winners of the Lieder (Song) Prize. The oft-cited "Battle of the Baritones" pitting Russian Dmitri Hvorostovsky and Welshman Bryn Terfel is remembered in a 3-minute video. Hvorostovsky is ever brooding at an early age. Not every winner has become a household name, but there are some memorable performances captured here. With the exception of a couple of squeaky sopranos, seven or eight of the grand winners displayed warm, limpid voices. David Malis, Lisa Gasteen, Katarina Karnéus, Guang Yang, and Anja Harteros should be among the better known. The 2001 double win by Marius Brenciu was controversial; watching the video, he comes across better though I still notice some flaws I saw on the internet. Wah Keung Chan
Hector Berlioz: La Damnation de Faust
Berlin Staatskapelle, Sylvain Cambreling dir./Vesselina Kasarova, Paul Groves, Willard White
Arthaus Musik100 018 (146 min)
***** $$$$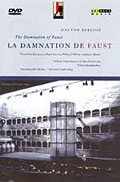 With its numerous choral sections requiring only three main soloists, Berlioz's La Damnation de Faust is often performed in concert, as it was at its unsuccessful premiere in 1846. This stunning operatic production from the 1999 Salzburg Festival shows that the work thrives on the stage. Alex Ollé and Carlos Padrissa's staging fed off Jaume Piensa's inspired sets and costumes to give a colourful visual complement to Berlioz's sumptuous score. Tenor Paul Groves is masterful as Faust; his firm clarion tone induces a certain naivete. The Méphistophéles of bass Willard White is simply devilish. The one disappointment is the highly touted Bulgarian mezzo Vesselina Kasarova as Marguerite; thankfully her strident, tight voice only appears late in the opera, although she look the sympathetic and misguided maiden. Wah Keung Chan
Hans Werner Henze : Memoirs of an Outsider ; Requiem
Ensemble Modern, direction Ingo Metzmacher Ueli Wiget, piano ; Hakan Hardenberg, trompette
Arthaus Musik 100 361 (Portrait : 89 min – Concert : 71 min)
***** $$$$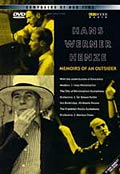 Voilà un magnifique produit d'un type que l'on ne serait pas fâché de voir se multiplier. On a d'abord droit à un documentaire très bien fait sur la vie de l'un des grands compositeurs d'aujourd'hui (en mars dernier, le festival Présences, présenté par Radio France faisait de ce dernier, aujourd'hui âgé de 76 ans, son invité d'honneur et l'on pu entendre l'intégrale de ses 10 symphonies), puis on assiste à un concert au cours duquel est interprétée l'une de ses grandes œuvres. Le titre du documentaire, Memoirs of an Outsider, ne ment pas : Allemand vivant en Italie, compositeur de musique contemporaine n'adhérant à aucune école, communiste et homosexuel, Hanz Werner Henze est marginal à plus d'un titre. Le documentaire lui donne largement la parole, mais laisse aussi parler des collègues et des amis. On peut ainsi voir les témoignages des chefs d'orchestre Simon Rattle et Markus Stenz ou des compositeurs Oliver Knussen et William Walton, parmi d'autres. Le tout est ponctué de films d'archives et d'extraits d'œuvres qui jalonnent la fructueuse carrière du compositeur.
Vient ensuite l'enregistrement en concert (aucun détail de lieu ou de date...) du Requiem de Henze par l'Ensemble Modern de Francfort, qui offre rien de moins qu'une prestation magistrale. L'œuvre a été composée en 1990 à la mémoire de Micheal Vyner, qui a été chef du London Sinfonietta pendant 17 ans et est décédé en 1989. Complétée à la suite de cette première création partielle, elle est aujourd'hui constituée de la réunion des Neuf Concertos spirituels pour piano, trompette et orchestre de chambre. D'une grande puissance dramatique, ce Requiem est certes à placer parmi les grandes œuvres de la fin du xxe siècle. Réjean Beaucage
Puccini: Tosca
Maria Guleghina, Salvatore Licitra, Leo Nucci; Coro e Orchestra del Teatro alla Scala, Riccardo Muti, conductor
TDK(DVD) 11 5998 9 (121 min)
***** $$$$
This performance of Tosca with new tenor sensation Salvatore Licitra was taped live at La Scala in March 2000, in the revival of the Luca Ronconi production first seen in 1996-97.
Despite having a big name Tosca in Russian soprano Maria Guleghina, the star of this DVD is clearly Licitra, who has caught worldwide attention with his last minute substitution for Pavarotti at the Met in the same opera last year. His is an attractive instrument, well schooled and musically accurate. But is he the successor to the Three Tenors? Only time will tell. He sings well on this recording, although his teddy-bear looks don't make for the most romantic of operatic heroes. Guleghina is just about the best Tosca around these days, offering a finely controlled "Vissi d'arte." It is unfortunate that the two principals don't have much chemistry to speak of, with not a shred of passion between them. They are not helped by the prosaic stage direction; the action is totally devoid of tension. The Act 2 rape scene is ludicrous, and surely the props department could have provided something better than the dull-looking dinner knife as a murder weapon. As Scarpia, veteran Leo Nucci, in good voice, shows that he still has the goods to make an effective villain, his perpetual snarl coming in handy as the Roman chief of police.
The massive sets with sombre colours and distorted perspectives--perhaps symbolizing the nightmarish plot--are a good idea not well executed. The functional parts are very gravity-bound, destroying any sense of illusion. The video quality is good, though lacking a little in crispness, making one wish for high definition format. The English translation of the libretto doesn't make much sense half the time.
Incidentally, this release is in direct competition with the new Decca studio Tosca featuring superstar Andrea Bocelli. Given that Licitra has a more legitimate operatic voice and that his singing is very fine here, he is to be preferred over Bocelli. Guleghina and Nucci are more seasoned performers than Fiorenza Cedolins and Carlo Guelfi, respectively, making this a better buy. Joseph So