Jacques Lacombe Takes an All-Round View

by Lucie Renaud / September 2, 2002

---
Cover Photo: Russell Proulx

In demand as much for his talents in conducting ballet music as opera, or for his mastery of the twentieth-century symphonic repertory, Lacombe is welcomed with open arms the world over.

  When you meet Jacques Lacombe for the first time, you're immediately struck by two traits. First his hands: they're very expressive, always in movement, whether he's thinking, conducting, joking, or getting worked up about something. Then the eyes: these are a dark but luminous brown, in turn inviting, complicitous, inquisitive, dreaming, teasing, and charming.

The announcement of Jacques Lacombe's MSO appointment to the post of the first principal guest conductor early in July caused a few raised eyebrows. To roll out the red carpet for a native of Quebec's Cap-de-la-Madeleine rather than offering the post to some European conductor might seem incongruous to some. They forget, however, that Jacques Lacombe knows the orchestra well, having been assistant conductor of the Montreal Symphony Orchestra from 1994 to 1998. "I have a very special relationship with the MSO because in a way I grew up in the heart of the orchestra," he says. In the pit, he has also conducted some of the same musicians for ballet and opera performances as musical director and conductor of Montreal's Les Grands Ballets Canadiens since 1991, and as assistant conductor of the Opéra de Montréal.

In demand as much for his talents in conducting ballet music as opera, or for his mastery of the twentieth-century symphonic repertory, Lacombe is welcomed with open arms the world over. He has often worked with the orchestra of London's Covent Garden (and even went on an Australian tour with the company). He has conducted numerous highly-praised productions in Metz (France) during a three-year stay at the head of the Lorraine Philharmonic (Aida, Carmen, Anna Bolena, and Lulu), in Germany (Gounod's Faust), and in Philadelphia (Massenet's Werther), among others. Lacombe has also appeared on the podium as guest conductor with a number of European orchestras. "From the outset my career development has always covered various interests, and not just in music," he says, referring in part to his interest in aeronautics. "I get as much pleasure listening to a jazz CD as to a Bruckner symphony. It's true that I'm one of the few conductors who has as many strings to my bow and who is good at all of them. Most ballet conductors do nothing else, which affects their career and their approach to music. In my case, diversity is beneficial. Even contact with non-classical work influences my way of dealing with symphonic music and opera. I know that my sense of rhythm is strongly influenced by twentieth-century music and pop as well. Maybe it's a different way of approaching music, a different sensitivity, but I never wanted to be pigeonholed in any special genre."

Lacombe's ability to react instantaneously, something he picked up in the ballet world, serves him well in the symphonic repertoire. "The great challenge in ballet is to create a musical interpretation that is completely credible, musically speaking, while fully supporting the movement of the dancing," he says. "This requires a very exact conducting technique, because in a fraction of a second you must be able to have the orchestra turn on a dime, so to speak. This is pretty well the opposite of what happens in a symphonic concert. However, even here I try to keep some space to manoeuvre for the unexpected, within limits, of course. The performance has to be exciting for the audience--that's the ultimate goal, obviously--but if the musicians (and I include myself among them) aren't excited, the music may not communicate itself to the public and the beauty of the work may become a little stilted."

In the world of opera, Lacombe considers communion of mind and sharing of ideas to be important. "At rehearsal I like the director to be there. Then we can discuss the dramatic intention of a given passage, how he or she envisions things, and what the singer thinks about it. Together the three of us can find a solution. In the orchestra the conductor is more or less on his own. However, I think the musicians unconsciously feel involved in the conducting process when I'm on the podium. There must be room for the musicians, for their suggestions, even though the conductor is there to oversee the whole. The involvement doesn't have to be verbal, and the musicians aren't always aware of it, but when I conduct, especially with excellent musicians like those in the MSO, I can cut them a little slack and let them express themselves. The musical interpretation becomes even better when such choices lead to a more consistent, structured, and organic performance. If I decided to be a conductor, it was because I wanted to work with people. It was an opening I sought actively--otherwise I'd have stayed in my organ loft! I'm simply a musician that has a somewhat special role in the orchestra."

Respect and camaraderie

This two-way communication happens in a context of combined respect and camaraderie. It also implies the absence of barriers between the musicians and their conductor. "The position of principal guest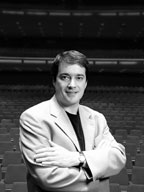 Photos: Russell Proulx

conductor of the MSO that I'll be occupying means a regular schedule," says Lacombe. "I don't carry all the artistic responsibility, but there is still work to be done in nurturing a continuous relationship with the musicians. The musicians know me, know my good points and bad (if I have any) and vice-versa, which enables us to go further together. I like to call musicians by their first names. And then there's the question of whether to use the familiar 'tu.' The problem doesn't arise in English, but I try to use 'tu' with the musicians because sooner or later some of them will become more closely involved. Take the soloists in the orchestra, for example. Naturally they work more closely with the conductor and I will eventually use 'tu.' If I use 'vous' to them in front of the other orchestra members and 'tu' during breaks, it would seem artificial. If I say 'tu' to the soloists and 'vous' to the others while we're all together, it would create two classes of musicians, and that shouldn't happen. Musicians are colleagues, sharing a common bond. There should be a feeling of fusion. I'd feel awkward being called 'maestro' when we may share a coffee later. Musicians have a special kind of contact through the music. I know of few forms of expression or communication that can be so intimate."

Even so, Lacombe admits to being a bit of a loner. "I don't have many friends outside of my work. Actually I meet so many people within any given week that it does me good to be alone. I work a lot, and have little free time because I'm passionate about what I do." He takes time to read, however (Éric-Emmanuel Schmitt at the moment), and to follow the news. He likes eating well, loves the theatre and he makes no apologies for the latter. "I have the impression that it contributes somehow to what I do. My approach to work in the opera is greatly influenced by the theatre." 

The effervescence of the Quebec theatre world is stimulating, he finds, in particular the creations of Robert Lepage. He hopes that some of this exhilaration will spill over onto the classical music scene. "With Bernard Labadie's appointment to the Opéra de Montréal, and my own to the MSO, I feel there are interesting things happening on the Quebec musical scene. In the case of the MSO, I feel that the public at large has rather forgotten how good the orchestra is. They take it for granted and don't realize what the MSO represents, and its importance on the international scene--performances at Carnegie Hall, the number of recordings, and so on. Colleagues all over the world talk to me about the MSO. We should be proud of it. People don't have enough of a sense of responsibility for their institutions. Maybe my MSO appointment will help them understand what a treasure they possess."

It seemed a good moment to ask whether Lacombe would actively go after the post of artistic director. He immediately became serious. "The selection process takes time once it's under way. It's very likely that the next artistic director won't be free for the 2003-2004 season. Even though I haven't full artistic responsibility, I have a special role vis-à-vis the orchestra, as is the case with several American orchestras who have guest conductors. I have no intention of doing the necessary lobbying; I've never done that. If one day the board thinks that I'm the right person, they'll know where to find me. If they don't, I won't be annoyed or disappointed, because it's a very complex post and not the only job to be done in an orchestra. Whether the orchestra likes me or not doesn't depend on whether I'm artistic director. I do my concerts, my music, and I'm not losing any sleep over the question," he concludes, laughing heartily. As he asked The Gazette's music critic Arthur Kaptainis in an April 2001 article, "How many conductors of my age do you know who work like crazy?" (Lacombe turned 39 on July 14).

Lacombe has plenty of other things to occupy him. There are all those works waiting to be brought to life under his eloquent hands: Rite of Spring, Die Rosenkavelier, and Ariadne auf Naxos, not to mention the works of British composer Michael Tippett. Lacombe hopes to do Berg's Lulu in Montreal. It would come as no surprise to hear him say that if he could choose his era, he would opt for the turn of the last century--for "its concentration of genius in a variety of fields." Lacombe, passionate, deeply committed, hard-working, and very close to the people he works with, would certainly have left his mark on the early 1900s. Fortunately for us, it's at the turn of the present century that he is giving us his vision of symphonic music. [Translated by Jane Brierley]

Lacombe will conduct the MSO in twelve different programs this year, three during the week of September 29, the second week of the MSO season. Info: (514) 842-9951. He will also conduct the orchestra of Les Grands Ballets Canadiens from September 26 to October 5 in ballets set to Poulenc's Gloria and Stravinsky's LesNoces. Info: (514) 849-0269.
---
Version française...
---