Aimez-vous Brahms ?

by Robert Markow / September 2, 2002

---
Each of his twenty-four chamber works has earned a place in the sun--something no other major composer can claim, not even Beethoven.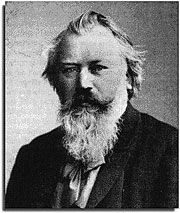 Do you love Brahms? Of course! Brahms has been one of our greatest musical heroes for over a century. The fact that the upcoming Montreal Chamber Music Festival ("Aimez-vous Brahms/For the Love of Brahms," September 21 to October 5, 2002) is presenting his entire chamber oeuvre1 in a non-anniversary year is a tribute to the composer's towering stature.
No one questions Brahms's popularity today. In chamber music he reigns supreme. No other composer in the latter half of the nineteenth century wrote so many masterpieces in the genre. Dvorak may have written more individual compositions, but not all rise to the level of Brahms.
The Brahms chamber repertoire contains no obscure works lurking in dark corners, unlike most other composers. Chamber music spans his entire forty-year career, from the youthful 1854 Piano Trio, Op. 8, to the two autumnal Clarinet Sonatas, Op. 120 of 1894. Each of his twenty-four chamber works has earned a place in the sun--something no other major composer can claim, not even Beethoven.
Chamber music lies at the very core of Brahms's artistic evolution. As with Beethoven and the piano sonata, so with Brahms and chamber music: this is where he shows the greatest development. His models were the works of the Viennese classicists (Haydn, Mozart, and Beethoven), developed and refined. His adherence to tradition is seen in the fact that every chamber work but one (the Horn Trio) opens with a sonata-form movement. Finales are also either in sonata form or, in a few cases, variation form. Most are in four movements.
Brahms's reputation and influence in his own day is evident in the dozens of compositions dedicated to him - from both Robert and Clara Schumann, Joseph Joachim, Josef Rheinberger, Karl Goldmark, Dvorak, Bruch, Busoni, Reinecke, Reger, Johann Strauss, Jr., and a host of lesser names.
In the early twenty-first century, the question "Aimez-vous Brahms?" seems absurdly rhetorical. Yet during his lifetime and well into the twentieth century many regarded him with suspicion and prejudice. To some he was a reactionary, a classicist adrift in a sea of romanticism. "Music of the Future" was being written by the likes of Liszt, Wagner and Strauss, while Brahms was mired in the past. But in 1933, the centenary of Brahms's birth, Arnold Schoenberg gave a radio talk, later published as an article, called "Brahms the Progressive," in which he posited that Brahms was far from being merely a sentimental reactionary. Rather, he was "a great innovator in the realm of musical language." True, he used the old classical forms and techniques, but he compressed his material with great economy, like many twentieth-century composers. The use of asymmetrical phrase constructions, convolute motivic development, harmonic ambiguity often rivalling Wagner's, rhythmic complexity, the obscuring of formal boundaries, and extreme attention to the craft of composition are all further "progressive" elements that Schoenberg noted in Brahms's music--qualities most obvious in his chamber music. The critic William Youngren aptly calls him a "proto-modernist."
Badmouthing Brahms
The sophisticated modern heroine of Françoise Sagan's 1960 novel, Aimez-vous Brahms?, rejects the conventional, safe, romantic world represented by the music of Brahms. Yet during his lifetime and for a good while thereafter, Brahms was widely regarded, particularly by critics and tastemakers, as anything but conventional or romantic. His music was considered difficult, academic, turgid, and arid. In 1900, when Boston's Symphony Hall was being built, certain wags suggested that signs be fitted over the doorways reading "Exit in case of Brahms"! Even some of our greatest composers did not see eye to eye with Brahms:
Tchaikovsky: "I played over the music of that scoundrel Brahms. What a giftless bastard! It annoys me that this self-inflated mediocrity is hailed as a genius. Why, in comparison with him, Raff is a giant, not to speak of Rubinstein, who is after all a live and important human being, while Brahms is chaotic and absolutely empty dried-up stuff."
Wolf: "The art of composing without ideas has decidedly found in Brahms one of its worthiest representatives."
Mahler: "I have gone through all of Brahms pretty well by now. All I can say of him is that he's a puny little dwarf with a rather narrow chest."
Britten: "It's not bad Brahms I mind', it's good Brahms I can't stand."
Brahms himself was intensely self-critical. He repeatedly sought advice and reassurance from close friends and colleagues. Anything that failed to meet his own exacting standards was destroyed, including such early works as a piano trio in D minor, a string quartet in B-flat major and a violin sonata in A minor, all written before 1853. Brahms claimed to have written and discarded some twenty string quartets before bringing forth his first to the world (like the First Symphony, a work in C minor), although this claim is probably exaggerated. But virtually everything that remains bears the mark of excellence. One recent biographer wryly suggests that the most essential item of furniture in Brahms's household was the wastepaper basket.
Then there is that enigmatic, four-movement Piano Trio in A major, op. post., which came to light only in 1938. Stylistic and circumstantial evidence strongly suggests that it is the work of the young Brahms, but the proof is inconclusive, and most scholarly sources today designate it as "attributed to" Brahms.
In a talk given in 1983, the late, renowned Brahms scholar Karl Geiringer developed the notion of ambivalence in Brahms, whose music could be meticulous and formal yet expressive and warm. The ambivalent and contradictory elements in Brahms's music reflect the man himself. He yearned to be a family man yet never married. He enjoyed earning money but disliked spending it. In spite of being passionately fond of history (both musical and otherwise), he made every effort to destroy the outward evidence of his own existence. A staunch German all his life, he yet chose to live in Vienna.
A glorious world awaits audiences who attend one or even all eight evenings of this year's Montreal Chamber Music Festival. Whether it be the massive sonorities of the B-major Piano Trio, the fiery energy of the finale of the G-minor Piano Quartet, the ardent romanticism of the E-minor Cello Sonata, the joyful exuberance of the finale from the Horn Trio, the aching melancholy of the slow movement of the B-flat major Sextet, or the autumnal glow of the Clarinet Trio, there are abundant riches to cherish in the world of Brahms's chamber music.
Box Office: (514) 489-3444, or 489-7444, or 489 7711 (fax) or e-mail: festivalmontreal@videotron.ca All concerts start at 7:30pm. Tickets will also be available at the chalet on Mount Royal from 7:00 p.m. on concert nights.
1. Two additional works are included in this Brahms celebration: the isolated movement of a violin sonata Brahms wrote with two other composers, and the Two Songs with viola and piano.
---
Version française...
---