Talented young singers flock to Montreal

by Lucie Renaud / May 1, 2002

---
With the Jeunesses Musicales Montréal International Competition set to open May 30, musical fever is in the air!
The city is already beginning to sit up and take notice of this upcoming new music festival, an event that, judging by the contagious enthusiasm of its organizers, should become a star in the competition firmament.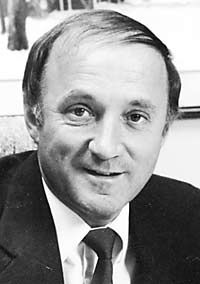 Clearly, organizing an event of international dimensions isn't something to be done overnight. It takes a dynamic team working at full capacity over a year to prepare. This inaugural competition will be devoted to voice. It has gone through numerous stages: working out a rough plan, holding preliminary meetings, carrying out intense negotiations with three levels of government, setting up a core group of committed music-lovers to go to bat for the whole idea, choosing a prestigious panel of judges, and sending out spokespeople to promote the event worldwide.
"You've got to be a little bit crazy and very committed," says André Bourbeau, president of JMMIC and the JMC Foundation. His love affair with Jeunesses Musicales began almost by accident. "My sister twisted my arm to help with a fund-raising event for Jeunesses Musicales, a supper-auction," he remembers. At the time (1994), Bourbeau was Quebec's finance minister.
The auction lots included a recital given at the successful bidder's home. Bourbeau made a bid and won, then suggested doubling the bid (from $5,000 to $10,000) if Joseph Rouleau would also perform. It was a deal, and Bourbeau launched into organizing an open-air concert on the lawn of his Dunham home. He rented a party supper tent, found several sponsors, invited about 80 friends, charged an entrance fee, and at the end of the evening handed another cheque for $10,000 to the Jeunesses Musicales of Canada Foundation. The following year, 200 guests flocked to the event. Nowadays the supper and concert are held in the indoor riding ring on Bourbeau's farm. Around 700 people attend each year, bringing in considerable sums of money.
These donations, managed separately by the André Bourbeau Foundation (formerly the Vocal Art Foundation), funded a voice competition that was open to Quebec singers in the first few years, but was progressively enlarged to include the rest of Canada. It became very well known and brought forward some exceptional singers, contralto Marie-Nicole Lemieux among them.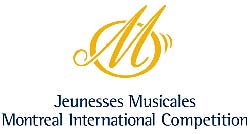 The next step was to take it to the international level. Bourbeau and JMC president Joseph Rouleau held a meeting with Lucien Bouchard, then premier of Quebec. "We didn't want to wind up like other competitions," says Bourbeau. "We wanted to have guaranteed government support." Jeunesses Musicales of Canada finally obtained an order-in-council making it possible to form the Jeunesses Musicales Montréal International Competition with basic funding for at least three years--time enough to have a full cycle of the three categories involved: voice, violin, and piano.
A dazzling judges panel
The inaugural competition will have a musically dazzling panel of judges: mezzo-soprano Teresa Berganza, soprano Grace Bumbry, musicologist Gilles Cantagrel, bass Cesare Siepi, mezzo-soprano Marilyn Horne, bass Joseph Rouleau, and tenor Jon Vickers, with André Bourbeau in the chair.
In the fall of 2001, Rouleau and Bourbeau set out to promote the competition in the U.S. and Europe, and there was much hand-shaking with directors of opera houses and renowned conservatories in a bid to encourage the most outstanding candidates. The response was enthusiastic: 281 entrants from 45 countries, whittled down to 58 semifinalists from 22 countries.
"It has exceeded our wildest dreams," says Michel Petit, competition director. This is a man who has handled such large-scale events as the 1975 fête populaire atop Mount Royal, the visit of Pope John Paul II to Quebec in 1984, and Montreal's 350th anniversary celebrations. Among the factors that created enthusiasm for the competition, according to Petit, is the established image of the earlier competition, government support, partnerships with the Montreal Symphony Orchestra and with radio and television (channel ARTV), the wide range of contracts offered to winners, and Montreal's reputation as a convivial city--not to mention the fact that the candidates' travel expenses are fully paid by the JMC, no matter what country they come from. "There's a very strong feeling of harmony on the international music scene, if you'll pardon the pun," says Petit.
Preliminary jury
The preliminary panel of judges consisted of bass Joseph Rouleau, baritone (and McGill University music professor) Jan Simons, and Stuart Hamilton, vocal coach and host of Opera Quiz on CBC Radio Two. They listened "blindfold" to tapes without even consulting the candidates' résumés. Under the sharp eye of the competition chair, a technician, and a secretary, they went into a huddle for long hours, going through their marks sheets in search of the "complete singer." The audition program required an opera aria, a portion of an oratorio or cantata, a melody, and a lied. It isn't easy for a performer to be equally expressive in such different genres. The judges panel was impressed by the candidates' exceptional quality (a tape of the young Joseph Rouleau was slipped in among the others, and no one recognized his voice!). At last they chose 58 semi finalists (instead of the 30 or so originally envisaged) who will give 25-minute recitals of varied works on May 30 and 31 and June 1.
Welcomed into homes
Most candidates will stay with Montreal families who have been "auditioned" by a team of volunteers, some of them long-time workers with the earlier competition. "We chose families who are drawn to music," explains Petit. "They will provide a supportive atmosphere for the candidates and be on hand to experience the singers' occasionally conflicting emotions."
A tempting jackpot
The prize list is mouth-watering, totalling $77,000, with a $25,000 first prize and $10,000 for the best Canadian candidate donated by The Canadian Opera Women's Committee Jean A. Chalmers Award. The six finalists will get some 15 singing engagements, with several opera houses offering important roles for the two or three upcoming seasons. Already offers have been made by the opera companies of Montreal, Vancouver, Washington (under the aegis of Placido Domingo), Pittsburgh, Columbus, Virginia, Arizona, Marseilles, Paris (Champs-Élysées), Brussels (La Monnaie) and Strasbourg. The artistic directors of these companies will be in Montreal to listen closely to finalists (but also to other young Canadian singers) on June 5. The symphony orchestras of Montreal, Quebec, and the National Arts Centre in Ottawa will also offer concert engagements to finalists.
Everything is being done to make the competition a real "happening," says Bourbeau. This includes concerts in the City of Montreal's maisons de la culture and master classes given by members of the judges panel, and there is a good chance that various surprise events will be added to the roster of brilliant occasions designed for the simple pleasure of listening to music. "This isn't the first time I've organized something, but if you can't do it and enjoy it as well, it's not worth the effort," says Bourbeau.
The Competition will officially be launched on May 28th at noon at the Complexe Desjardins.
The Jeunesses Musicales Montréal International Competition opens on May 30, 2002, at the Salle Pierre-Mercure in the Centre Pierre-Péladeau. For information, call (514) 845-4108, and watch for our next issue, which will feature an article on the competitors.
 [Translated by Jane Brierley ]
---
Version française...
---