Jazz Tracks - Dave Douglas

by Marc Chénard / April 1, 2002

---
With the arrival of each new generation, many are called but few are chosen: Call them stars, leaders, maybe even innovators, those special individuals rise on the strengths of their own ambition, some marketing savvy, a measure of talent, lots of hard work, and a few lucky breaks.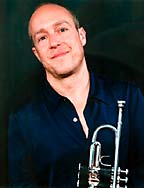 Case in point is the trumpeter Dave Douglas, a musician who combines all of the above. Just turned 39, this mover and shaker has recently hit a peak, especially in terms of public exposure. In fact he's had his act together for some time. As a youth in New Jersey he was exposed to all kinds of music at home, where he tried his hand variously at the piano, then trombone, and finally trumpet. After studies at the Berklee School of Music and the New England Conservatory in the early 80's, he immersed himself in the hip New York Downtown scene, but few back then would have expected his current rise. In person, he not only exudes a quiet sort of intensity but exhibits a strong sense of purpose and ambition as well.
As for the luck part of the equation, it relates to who you rub shoulders with. His frontline duties in John Zorn's Masada quartet were a crucial step here. His numerous other projects and varied bands have enabled him to project the image of a man on a mission.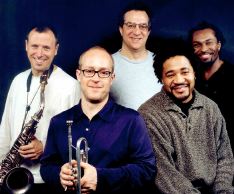 Now recording for a major label, RCA Bluebird, Dave Douglas's rise to prominence has been enhanced by many awards, furthering his reputation in today's contemporary jazz scene. So much so that he's been cast in a role he's not willing to assume, that of a "counter-Wynton Marsalis". Whereas the latter is an ardent defender of the African-American tradition, Douglas has been thrust into the limelight because he somehow represents a more innovative tangent in the music, one that seeks to push the envelope rather than being cocooned in it. Yet, on the basis of his three most recent releases, this viewpoint isn't quite borne out.
Witness -- RCA Bluebird 09026-63763-2
Buy It @ amazon
Even before its release late last summer, the buzz was out on this project. There's no doubting that Witness is an ambitious work. Built around a nine-piece band with both acoustic and electronic instruments, this disc includes nine tracks, each dedicated to a number of artists and social activists who have incurred the wrath of the powers that be. From the Egyptian writers Nawal el Saadawi and Naguib Mahfouz to the leader of the US-based Ruckus Society, John Sellers; from the late African militant Ken Saro-Wiwa to other Third World dissidents, this politically inspired opus is however not intended as a manifesto. In his liner notes Douglas offers the disclaimer, "Enjoy this purely as music." Yet he seems to hedge his bets when he adds, "Or find out more about these inspirations and dig into them." In the 60's, of course, ideological agendas ran rampant in such projects, but as realities change so do the politics. What once was polemical is now seen as historical or even anecdotal. Although Douglas may softpeddle the politics in order to ensure the lasting value of his artistic statement, this should not obscure a real accomplishment here -- putting out a "political concept" album on a major label.
Misha Mengelberg Quartet -- Four in One -- Songlines SGL 1535-0
In 1993 Dave Douglas released the first of his "Tiny Bell Trio" records on the Vancouver-based independent label Songlines. In the fall of 2001 the trumpeter made a return appearance on that label, this time as a sideman in a quartet led by Dutch pianist Misha Mengelberg. At 66, "Meesh" is one of the kingpins of jazz in his country, and likewise for his long-time sparring partner, drummer extraordinaire Han Bennink. Though they have long been associated with European Free Music, these two veterans are avowed traditionalists who love as much a good tune as some mischief. Douglas, for his part, is in a very playful mood, as is New York bassist Brad Jones. Together they tackle three Monk pieces and eight originals by Mengelberg. Through it all one senses that they were out to please themselves that day and in no way felt obligated to prove anything but sharing their pleasure with us. And that, they do very well.
The Infinite -- RCA Bluebird 09026 63918-2
Buy It @ amazon
Released a little over a month ago, the newest Dave Douglas opus rekindles more spirits of the past, this time from the Prince of Darkness himself, Miles Davis. In a traditional quintet format but with electric piano, we are immediately thrown back to the late 60's when Miles drifted away from the shores of bop to the murky waters of the fusion movement that he godfathered. In spite of the younger trumpeter's claim to want to make a recording just for the sheer enjoyment of it, it's also clearly motivated by unmistakable references. The third track, "Penelope", contains a direct quote from "Boplicity" from the late 40's "Birth of the Cool" recordings; "Deluge" picks up on Jimmy Heath's "Gingerbread Boy", while the title track is reminiscent in tone of "In a Silent Way". Although branding this album as a Miles pastiche would be unfair, dusting off the past and some of its older hardware, like the electric piano, may not be the most felicitous way of paying tribute to a bygone era. All that said, Dave Douglas is clearly a rounded and grounded musician who is neither afraid to experiment nor shy about acknowledging his forefathers. A man to be watched and heard.
---
---
Version française...
---