benefit GALA

September 1, 2001

---
La Scena Musicale celebrates its 5th Anniversary with a Benefit Gala to be held on September 12, 2001, at the Centre Pierre-Péladeau in Montreal. The choice of the programme was a collaborative effort of the invited musicians and the readers of La Scena Musicale. In May 2001, six of the musicians provided lists of works they would like to perform. From these lists, 132 readers of La Scena Musicale and visitors to the website voted on the works they would most like to hear. And finally, as a surprise Editor's Choice, there will be several duets accompanied by the new baroque ensemble Theatre of Early Music, which make its Montreal debut.
Winners of the Readers' Choice
Daphné Lajoie

Marie-France Thibaudeau
Kirsten Zander
The participation of some of Canada's leading musicians: Julian Armour (cellist), Denis Brott (cellist), Donna Brown (soprano), Stéphane Lemelin (pianist), Marie Nicole Lemieux (contralto), Yannick Nézet-Séguin (pianist), Nathalie Paulin (soprano), and Daniel Taylor (countertenor), all of whom have agreed to waive their concert fees, make this the event to launch the classical music season in Montreal. At the concert, Stéphane Lemelin will collaborate with Donna Brown, Julian Armour and Denis Brott, Yannick Nézet-Séguin will make a rare appearance as accompanist to Marie-Nicole Lemieux and Nathalie Paulin, while Daniel Taylor will be accompanied by Lisa Godwin. The concert will feature a duet with Donna Brown and Daniel Taylor from the Pergolesi Stabat Mater; in addition, Marie-Nicole Lemieux will sing a duet with Daniel Taylor from Handel's Giulio Cesare, as a preview of the production in which they will perform with the Canadian Opera Company in April 2002. The entire program is publish on page 17.
Tickets for the concert are $25, $50 with reception, and $15 for students, and can be ordered by calling (514) 948-2520.
Here are some updates on our performing artists:
Julian Armour
Julian Armour probably hasn't had a single moment to himself since his interview with La Scena Musicale for our July/August 1998 edition. Thanks to his amazing sense of organization and an army of volunteers, the Ottawa Chamber Music Festival, which welcomed record crowds this summer for its 9th season, has become the world's largest chamber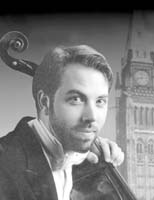 music festival. For fifteen days, a devoted public who wouldn't think twice about lining up for over an hour, fans in hand, to get an exclusive seat, takes in a phenomenal number of top quality concerts. When the festival rolls around, most festival-goers' preoccupation is which performance to choose from among the four concurrently scheduled concerts. World-renowned chamber musicians rush to Ottawa at aficionado Julian Armour's invitation. He is the only person who gets to hear all the groups, who for fifteen days exert more energy than they might over the entire twelve months leading up to next year's festival.
Throughout the year Julian Armour plays first cello for the Thirteen Strings ensemble, gives several recitals in Ontario, Quebec, and the Maritimes, as well as regularly contributes as a chamber musician. His keen interest in the contemporary Canadian repertoire has helped him create more than sixty pieces, many written expressly for him. He has also included a large selection of contemporary works in the festival program.
On the evening of the benefit gala concert, he will be joined by his old pal from the now-defunct Manfred Trio, Stéphane Lemelin.
Lucie Renaud/Deborah Kramer
Denis Brott
Each spring, Denis Brott continues to delight music lovers with the wide variety of programming offered at the Montreal Chamber Music Festival. Earlier festivals were devoted to the pairing of music and literature, music and dance, and music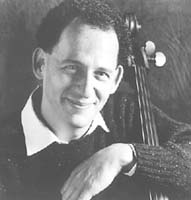 and art. In June, the sixth festival honoured violinist Yasha Heifetz in this centenary year of his birth. In the inspiring setting of the chalet atop Mount Royal (scheduled for a facelift in 2002), enthusiastic audiences waited to hear the musicians invited by Brott perform little-known works; ad hoc combinations of players produced some pleasant surprises. One such unexpected treat was the amazing Concert by Chausson performed by James Ehnes, Wendy Chen, and the Borromeo Quartet. Another was Stravinsky's Soldier's Tale in June 2000, which won an Opus prize last November.
Brott, who studied with Leonard Rose, Janos Starker, and Gregor Piatigorsky, has been sharing his expertise with students at Montreal's Conservatoire de Musique since 1989. Since 1993 he has also been teaching at Music Academy of the West in Santa Barbara, California. He is regularly invited to be a jury member for such prestigious competitions as the Young Performers' Competition hosted by Radio-Canada, the quartet competitions in Munich and Evian, and the international cello competition in Munich, which he himself won in 1972. In 2005, he will be a judge for the international quartet competition in Borciani, Italy.
In the 2002 season, Brott will have the pleasure of playing the Brahms' Sextet with the Tokyo String Quartet.
Lucie Renaud/Jane Brierley
Donna Brown
Donna Brown, who agreed back in February 1998 to take part in our benefit gala, has been quite busy since returning to Ottawa from Europe. Brown has performed under the baton of Trevor Pinnock in Mozart's Requiem; Kurt Masur invited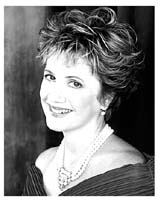 her to sing Debussy's Le martyre de saint Sébastien with the Orchestre National de France; and she sang with Jeffrey Tate and the Orchestra Sinfonica di Santa Cecilia in Rome and perform Schumann's Faust Szenen in Turin.
Brown is also acquiring quite a collection of enthusiastic reviews for her operatic interpretations of Pamina (Die Zauberflöte) at the Opéra Bastille, Sophie (Der Rosenkavalier), Gilda (Rigoletto), Nanetta (Falstaff), Zerlina (Don Giovanni ), Micaëla (Peter Brooks' La tragédie de Carmen), and Chimène in Debussy's unfinished operatic work, Rodrigue et Chimène at the Opéra de Lyon.
Despite her busy professional life, Brown says she appreciates her artistic métier. "It's a lot of work, but it's so gratifying. One of my teachers told me, 'There are always highs and lows in a career.' When people become famous they tend to forget the less thriving times," she adds, putting things in perspective. For the first time in years she has taken a complete break and set off with her family for a three-week trip to France. "When I get back, I'll be ready to explode," she concluded with a laugh. She'll also be ready to delight audiences once again, and perhaps they'll shout, as in Europe, "Viva Donna!" Lucie Renaud/Jane Brierley
Marie-Nicole Lemieux
For contralto Marie-Nicole Lemieux this summer was extremely busy. Tired but clearly delighted by her experience she sent us this testimonial: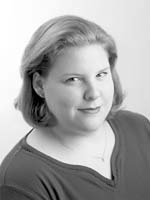 "This was a summer of very enriching experiences. For one thing I sang Berlioz's complete Nuits d'été cycle for the first time with the Orchestre de la francophonie canadienne. And I had the good fortune to sing Handel with Luc Beauséjour and return to Belgium for a concert marking Belgium's National Day.
"The opening recital given at the new Stratford Music Festival will long remain a highlight of my young career. Indeed, to sing in front of Maureen Forrester and her family meant a lot. Maureen Forrester has always been an example and a source of inspiration for me. With Michael MacMahon at the piano, we really put our hearts into it.
"Similarly, receiving the Virginia Parker Prize from the Canadian Council for the Arts was a moment of great joy and pride. The charming little Sainte-Pétronille church was filled to capacity, and Ms. Britt awarded me the prestigious prize in front of a very warm audience."
Marie-Nicole Lemieux has many projects in the works. On September 4th she will perform Les Nuits d'été again, this time with the Orchestre du Capitole de Toulouse in Saint-Jean-de-Luz. From September 18th to the 23rd she will be touring with Les Violons du Roy, with a stop at Lincoln Center, among other venues. On September 28th, she will sing Handel again with Luc Beauséjour and Amanda Keesmaat. On October 3rd, 9rd and 10th she will join the Montreal Symphony Orchestra for three concerts. And before that, of course, she will be with us for the Benefit Gala on September 12th. Lucie Renaud/Alexandre Lebedeff
Yannick Nézet-Séguin
After winning three Opus prizes (Discovery of the Year in 1999 and the Prix du Public in 1999 and 2000), young conductor Yannick Nézet-Séguin was also awarded the Canada Council's Virginia Parker Prize in September 2000. This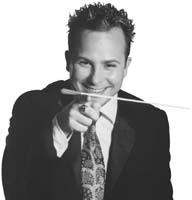 prize goes to young classical musicians who display exceptional musical sensitivity.
In April 2000, Nézet-Séguin was named artistic director and principal conductor of the Orchestre Métropolitain du Grand Montréal, an undeniable mark of confidence for a young conductor. Nézet-Séguin is a regular guest with the Opéra de Montréal, for which he conducted Mozart's Così fan tutte and Debussy's Pelléas et Mélisande in the 2000-2001 season. He will also conduct Donizetti's Elixir of Love in the 2001-2002 season. His American début is scheduled for February 2002 with the Sarasota Opera of Florida in a production of Così fan tutte. He also conducts La Chapelle de Montréal, a vocal and instrumental ensemble with a varying personnel, now in its seventh season.
This past summer has been relatively busy for the young maestro. One of the highlights was conducting "his" orchestra in a concert version of Verdi's Il Trovatore as the closing feature of the Festival de Lanaudière, which attracted an impressively large crowd. Nézet-Séguin's tremendous energy inspired the orchestra and once again his attention to detail was evident—this despite the limited number of rehearsals. Next season's repertoire promises listeners some compelling moments, including an evening of Bruckner on March 18, 2002.
Lest we forget that Nézet-Séguin was a pianist before becoming the conductor we know so well, he will make his début as accompanist at La Scena Musicale's benefit gala—something he (and we) can look forward to! Lucie Renaud/Jane Brierley
Nathalie Paulin
Since singing Mélisande at L'Opéra de Montréal last May, soprano Nathalie Paulin has received a glowing review for her role in Chicago Opera Theater's production of Handel's Acis and Galatea. The Chicago Tribune's reviewer called Paulin's Galatea "a real find." Paulin's planned quiet summer was momentarily interrupted when she filled in for Suzie LeBlanc with Ensemble Arion at Lamèque and Domaine Forget.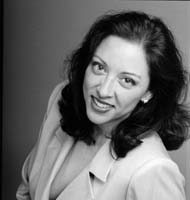 No stranger to being the soprano to call, Paulin remembers replacing Claron McFadden with 11 hours notice in a production of Handel's Semele at the Opernhaus Halle in Germany back in 1995. Paulin was singing the role of Iris at the time, and that night she sang both roles: she sang Semele's lines with score in hand from the side of the stage while McFadden acted the part. Paulin will sing the title role in April and May 2002 with Chicago Opera Theatre.
The coming season will be an important one for the versatile Paulin, who is as comfortable in the baroque as in contemporary music. In the fall, her schedule will be composed of many recitals and concerts within Montreal (Les Idées heureuses, Studio de musique ancienne de Montréal, McGill Chamber Orchestra) and Toronto (Off Centre Music Series and Bram Goldhammer). Her operatic winter and spring will consist of Constance (Dialogues of the Carmelites) with Calgary Opera, Zerlina (Don Giovanni) at the Opéra de Québec, and Semele and Susanna (Le nozze di Figaro) with Cincinnati Opera. Says Paulin, "There are lots of challenges, and over the next year, I'm hoping to find the style which suits me best." Wah Keung Chan
Daniel Taylor
Johanne Goyette, president of ATMA, believes that in ten or twenty years countertenors will unseat tenors as the most popular voice amongst singers.
Among the countertenors leading the charge is Canada's own Daniel Taylor. As Richard Turp remarked during his Saturday Afternoon at the Opera intermission feature on Taylor, last August 25: "Taylor's kind of singing will never go out of style".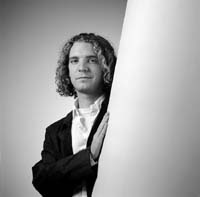 Since La Scena Musicale profiled Taylor in December 2000, he has travelled the globe. Keeping track of the heavy demands on him hasn't been easy, especially for someone who is so naturally generous. He readily admits that he needs a personal assistant. When La Scena Musicale approached Taylor for its benefit, he was quick to accept and he will even perform two duos.
Life is not getting any less hectic for Canada's leading countertenor. Not one to rest on his laurels, Daniel Taylor recently founded the new baroque ensemble Theatre of Early Music, and is its artistic director. The ensemble is composed of some of Montreal's leading baroque musicians and comes together mainly for recording projects on the ATMA label. Baroque music being much like chamber music, Taylor gets to wave his arms only at the beginning to set the tempo. The group made their debut at the Ottawa Chamber Music Festival in early August to favourable reviews, and has been busy recording since. Watch for new releases to appear in March 2002.
Wah Keung Chan
Lisa Godwin
Pianist Lisa Godwin holds a Doctorate of Performance from the University of Montreal under the direction of Marc Durand, having furthered her studies at the Holland Music Sessions, Banff Centre for the Arts and the Verbiers Academy in Switzerland. She has won numerous prizes in solo and chamber music competitions at national and international levels, including the Grand Prize of the International Stepping Stones Competition. Godwin has performed across North America and Europe and has recorded numerous recitals for the CBC. She was recently featured in a Canadian tour with the ensemble Bradyworks, and in concert with Daniel Taylor at the Forbidden City concert hall in Beijing, China. In addition to her solo career, she maintains an active teaching role with young singers and pianists.
---
Version française...