Nathalie Paulin The Road to Mélisande

by Wah Keung Chan / May 1, 2001

---
F or a quick study known to be a reliable last-minute replacement, preparing for a new role a year in advance has its own unique challenges. "With my busy schedule, I have had to find a week here and there to learn the role," said thirty-one year old Canadian soprano Nathalie Paulin, who will be making her debut as Mélisande in Debussy's Pelléas et Mélisande at L'Opéra de Montréal.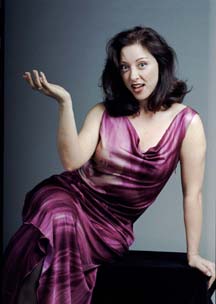 "Usually, I work by myself quite a bit and I enjoy learning things on my own. It's a very slow process at the beginning. I sing one phrase at a time, in many different ways, to make it work in my body in order to find the colours of the right emotions or sentiment at a specific time," said Paulin.
Debussy's Pelléas et Mélisande is a tragic love story. Mélisande is found lost and alone in a forest by Golaud, and he marries her. The couple returns to Golaud's family castle, whereupon Mélisande falls in love with Pelléas, Golaud's younger half-brother. There is no happy ending.
"Vocally, Mélisande is not difficult for me," said Paulin. "There is no vocal bravura, no flowing arias with extreme high notes. It's not Donizetti. The bravura lies in the characterization. It's a singing actor's kind of role. You need to have quite a nice technique to sustain these lines."
She adds, "Even though the role lies very low, I think Debussy wanted a soprano because of the colour a soprano brings. Mélisande is very insecure. She walks on eggs, and is careful and reserved. Debussy didn't want a full sound. The lines are close to spoken text, yet still very melodic. A lower tessitura is probably better suited to that."
The lack of show piece arias makes the rhythmic and dramatic interpretations even more important. During the learning process, Paulin counted on the help of accompanist/vocal coach Stuart Hamilton and soprano Rosemarie Landry.
A resident of Toronto, Paulin first turned to Pelléas guru Hamilton. "It's my favourite music drama; after a performance, you are taken through a tremendous emotionally wrenching experience," said Hamilton. "I enjoy working with Nathalie; she has incredible musicality and a wonderful drive."
"I learned the first scene, and took it to Stuart, adjusted it, worked at it myself and went back," said Paulin. "Although he does give me vocal advice sometimes, we work on the dramatic preparation. He has a brilliant idea of the piece, and has done an analysis of the score. Basically, he throws ideas at me, 'Look what's here in the orchestra.; it is played by this instrument.; it's important.; it's a character's theme.' I've learned to read between the lines and stay calm. Mélisande is in complete turmoil inside, but is trying to appear in control on the outside."
"Stuart has helped me discover what's happening in the orchestra, and consequently, it has helped the Mélisande in me grow. It's a very efficient process, with Stuart at the piano and me facing him. We work line by line. Sometimes, I stop to ask questions, because there are a lot of mistakes in the score," she clarifies.
"Even though the role lies very low, I think Debussy
wanted a soprano because of the colour soprano
brings. Mélisande is very insecure"
During a two-week period last fall, Paulin came to Montreal to work with soprano Rosemarie Landry. "Pelléas et Mélisande is a treasure waiting to be discovered. The colours of the orchestration are like moving sand. To sing this role, one should have studied some Debussy songs, and be very good in solfège," said Landry, who has performed Mélisande twice. "Nathalie is a dedicated musician with a beautiful voice. This role suits her perfectly."
"Rosemarie has an amazing knowledge of the piece and the French repertoire," said Paulin. "She is a fabulous diction coach. We worked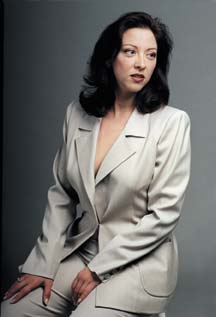 the slightest thing, such as when to use liaisons on certain phrases, or the colour of certain vowels. It's a whole different feel to coach with another soprano. Everything she says works for me. We worked on symbolism and specific lines. She asked me questions and she pushed me to think. I wish I had had more time with her. Originally, I wanted to have big rubatos in my lines, but Rosemarie told me to respect the tempi, because the drama is all in the music."
Ultimately, the role of a vocal coach is to guide. "In the end, I'm the one who is singing," said Paulin. "I have to find emotions that will relate to the way I live, to what my life is all about, to find it somewhere to generate them."
As the first rehearsal approached, Paulin arrived in Montreal one week before in a rented car, carrying most of her library. The initial solitary work began to come together as Paulin worked with fellow Acadian, baritone Dion Mazerolle, who portrays Golaud (also for the first time), in private under the watchful eye of Landry. "My concept of the piece begins to evolve as I start working with the other members of the cast. Dion and I are actually very much on the same wavelength," said Paulin. "I am looking forward to rehearsals with conductor Yannick Nézet-Seguin and stage director Renaud Doucet, to see their ideas. We are servants to the work, and the concept of the director."
Work began on Thursday, April 19, at 1 p.m., with a 30-minute meeting of the company. Doucet explained his concept in general, and Nézet-Seguin led a run-though with piano accompaniment until 6:30 p.m. "I think it will be great," said Paulin at the end of the day. "Everyone is very well prepared." The real work began in earnest the next day, with staging. Over the course of the next two weeks and a half of staging, costume fittings and make-up leading up to the dress rehearsal on May 6, Paulin told us she would be "in a world of my own. At such times, I tend to be very focused and not very mindful of anything else." Paulin gets a kick out of working with the predominantly young Francophone cast — most are in their thirties — assembled by L'Opéra de Montréal. She asserts, "It should be really exciting."
Pelléas et Mélisande by Claude Debussy, L'Opéra de Montréal, May 8, 10, 12. Théâtre Maisonneuve. (514) 842-2112.
---
Version française...