Joy to the World!

by Lucie Renaud / December 1, 2000

---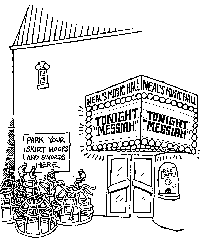 It's that time again: Christmas lists, carols, fat men in red suits, and Messiah. Don't get excited—it's Händel's oratorio we're talking about, not the Second Coming! The most famous part of this work is certainly the "Hallelujah Chorus." Tradition has it that King George II of England was so overwhelmed when he first heard this chorus at its London premiere in 1743 that he immediately rose to his feet. Audiences the world over still follow this tradition. But who is Händel, anyway?
Young Händel
George Frederick Händel was born in Halle, Germany, on February 23, 1685, a few weeks before Bach. (The two musicians never met, although Bach lived in this region all his life.) Händel's father was a surgeon-barber, a common combination of professions in those days, although it seems rather funny to us today. (But after all, both jobs require the skilful use of the blade!) George showed surprising musical gifts from a very young age. His father, who was 63 when George was born and had very old-fashioned ideas, didn't give his son much encouragement. Never-theless the boy managed to hide a clavichord in the attic, probably with his mother's help. The clavichord was a forerunner of the piano. It looked something like a small synthesizer, but made very soft sounds, which was probably why Händel's father never found out about his son's instrument. The boy had no teacher to help him and practised by himself. One day fortune smiled on the young musician. The Duke of Saxe Weissenfels heard him and ordered the boy's father to give him proper music lessons. The local organist became his teacher and taught him the basics of organ playing as well as composition.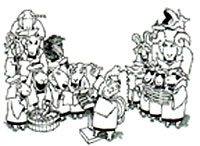 After his father's death in 1697, Handel made up his mind to study law. Perhaps he felt morally obliged to do as his father wished, despite the fact that he had already shown exceptional virtuosity as an organist and harpsichordist, was an excellent violinist, and already had two trunks filled with composition! When he began studying at Halle University, he accepted a job as organist to help pay his expenses and to be able to keep up his music.
Discovering opera
In 1703, after a year of legal studies, Händel decided that his future lay with music. He moved to Hamburg, a more cosmopolitan city. There he taught music and played violin and harpsichord in the opera orchestra. By the time he was 20, he composed his first opera, Almira, which was warmly received by the public. Händel adored opera. In 1706, he travelled to Italy, the place all composers of the time dreamed of visiting, a bit like Hollywood is for actors today.
At the age of 25, Händel decided to accept a permanent position with a German prince. (In those days Germany wasn't one big country. It was made up of many principalities, each with a ruler such as a duke or prince.) Händel soon became bored and asked for a year off to visit London. Londoners had just discovered Italian opera, and it was all the rage. (Travel was very slow and letters were the only means of communication. It could take several years for a composer's work to be heard in another country).
Händel reworked some "old" material and came up with the opera Rinaldo, which took English audiences by storm. Although he never lost his great passion for travel, he finally settled in London in 1714, and it remained his home until his death in 1759.
Messiah
In July 1741, Händel became discouraged by the lack of interest in his two most recent operas and decided to give up writing them (he had already composed 40 operas). Instead, he focussed on oratorios. An oratorio is a large-scale composition for soloists, choir, and orchestra. It could be compared to an opera without stage sets or costumes. The subject is always religious.
Händel's friend Charles Jennens had already written the librettos (the story and words) for two of his oratorios. Now Jennens suggested a new libretto, based on the King James Version of the Bible. Jennens chose several events from the life of Jesus, using well-known passages from the New Testament. The rest was based on less familiar books of the Old Testament.
Händel was enthusiastic about the project—so inspired, in fact, that he finished the work in three weeks. Messiah has three parts, covering the birth, death, and resurrection of Jesus. Händel's talent as a composer of opera enabled him to capture the dramatic quality of each text in his music. As he composed the "Hallelujah Chorus", he is reported to have said: "I did think I did see all Heaven before me and the great God Himself." A magnificent vision, judging by the splendour of this music!
Händel gave the work its first public performance in Dublin, Ireland, on April 12, 1742. The concert was held to raise money for the city's prison and two of its hospitals. The event was highly publicized by the newspapers of the time, and 700 people crammed the hall on the night of the concert. The announcement asked ladies to come without their hooped petticoats and the gentlemen without their swords, so that more people could squeeze into the hall. The evening was a brilliant success.
When Händel decided to present Messiah in London in 1743, the audience was not impressed, despite the king's enthusiasm. People disapproved of a religious text being sung in a theatre, and even more shocking, by an actress!
Seven years later, Händel decided to present the oratorio again. The concert took place during Lent (it wasn't performed at Christmas in those days). As with the earlier performance, it was held to raise money for the Foundling Hospital. The Covent Garden opera house was packed. Success at last! After that Händel presented the work every year until his death, always to help out some charity. Since that time, Messiah has never lost its popularity, and it has become one of the most famous choral works in the world.
Yesterday and today
Today's way of presenting Messiah is a little different from what Händel had in mind.
• Händel used an all-male choir, with the soprano and alto parts sung by boys or countertenors. Solos could be sung by women.
• The choir stood for the whole performance (three hours), so there were no pauses and no noises from chairs scraping the floor.
• The five soloists sang with the choir between solos, keeping the
balance of sound between the orchestra and choir more natural.
• Händel "adapted" the various pieces from one performance to another, even changing the type of soloist. A man might replace a woman for a particular concert, for example, or Händel might transpose a piece to fit the voice of the soloist of the evening.
• There was no orchestra conductor as we know it. Händel conducted from his position at the harpsichord and hired only musicians in whom he had total confidence. There were 35 musicians in his orchestra and 19 singers in his choir. This was very different from nineteenth-century concerts+ which sometimes had up to 3,000 performers!
[Translated by Jane Brierley]
---
Version française...