Prodigies!

by Lucie Renaud / October 1, 2000

---

Prodigies of centuries past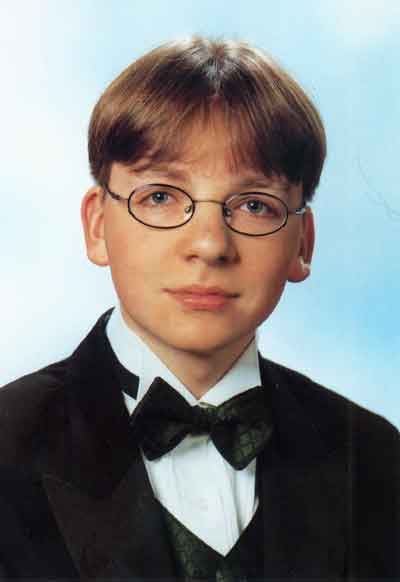 When someone mentions the words "musical prodigy," Mozart is the name that inevitably springs to mind. Here is a musician who invented a system of musical notation for himself at the age of 3 and by the age of 6 could play any score on the violin even though he'd never had a lesson.
During a rehearsal with his father Leopold, an expert violinist, Mozart sight-read the score for second violin in a trio by Wenzl, a now forgotten composer. One of those present wrote in a letter that although Mozart used unconventional and rather awkward positions, he succeeded in playing six trios without stopping — an undeniable feat!
Of course, Mozart wasn't the only musical prodigy. Think of Bach and his sons, Alessandro Scarlatti (Bach's contemporary), Clementi, Bertini, Liszt, Rossini, and Paganini.
Today there are many young classical stars performing on the piano or violin. Some choose less traditional instruments. Felix Hell is one of these.

Today's prodigy, tomorrow's artist
Felix Hell is a young German who turned 15 on September 14. He began playing the piano at the age of 7 as the result of a bet. On Christmas Eve 1992 he was listening to his father playing the first prelude in Bach's Well-Tempered Clavier. The youngster bet his father that he could play the piece perfectly in three weeks. Felix lost the bet because he was able to play the piece by heart and without a mistake three days later! His father realized that young Felix had a unique gift, even though he hadn't shown any special interest in music before. Nine months of lessons followed. Then Felix went to an organ concert. It was love at first sight. He remembers that day clearly. "I really loved the sound from the start, it was impressive! After the concert, we were allowed to come upstairs to the gallery and look at the console. I wanted to learn to play it right then. I figured it wouldn't be too different from the piano!"

His parents were less enthusiastic. It isn't every day that an 8-year-old has an organ on his wish list. Leo Kraemer, a family friend and organist at the Speyer cathedral, suggested that the family have a look at a "small" organ in a town not far from their home. Felix couldn't wait, and the next day dragged them off to inspect the organ. He's never stopped playing the organ since, moving from that fairly modest first instrument to majestic organs the world over.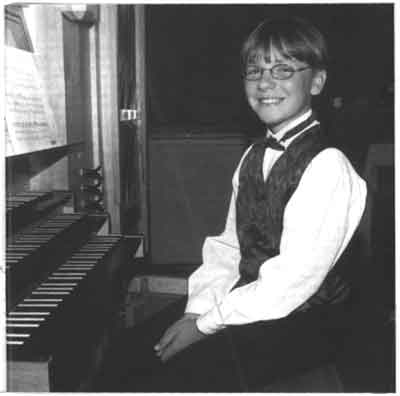 A few months later Felix entered the Jugend musiziert, a competition for young musicians, and won the top two organ prizes. (In the same year he also gave his first international recital at the main hall of Russia's Saratov Conservatory.) In 1996 he won two firsts in the same competition (piano this time). In 1997 he again made off with the top two organ prizes, and in 1999 garnered the two first piano prizes a further time.


I love New York
September 1999 brought a major change in his life. He moved to New York where he is now studying organ and piano at the Juilliard School of Music. He has a grinding schedule, rising each day at 6:30 a.m. and going for a short jog in Central Park. He lives a few doors away from the park, at Dr. Tom Schmidt's home, an organist and pianist who is also music director at Manhattan's St. Peter's Lutheran Church. During the day Felix attends the Professional Student School, a special high school with only 150 pupils, most of whom are in a similar situation, being actors, musicians, ballet dancers, and fashion models. There are 30 teachers, and groups are very small. "I'm often the only one in my class," Felix says. His favourite subjects include the sciences and history, especially ancient history. The school day ends at 2 p.m., and he then heads for St. Peter's where he practises for 3 or 4 hours. Back home he starts his homework, often keeping at it until 11 p.m. He loves New York. "People are so nice! I adore it's wacky side. I felt at home right away."
When away on tour, Felix sends his homework by email. Most often he travels alone, by train or plane, but five times a year his father visits him. Mr. Hell is Felix's agent, dealing with media relations and concert schedules as well as managing his son's website.


Time for fun
Felix isn't chained to his organ or piano, however. Like most teenagers he's fond of sports. He often gets around town on his inline skates, and loves mountain biking, walking, and climbing. He watches baseball and American football on TV. In Germany he never misses a soccer match. And he relaxes at the keyboard (the computer keyboard this time), playing video games and "chatting" with friends on the Net.


Bach an all-time favourite
J. S. Bach has always been Felix's favourite composer. This being the 250th anniversary of Bach's death, the young organist was delighted to include Bach selections in every program. "He will never be equalled by anyone else. If you look a little bit more at Bach's music, it seems to me that it's very modern and the people of his time must have thought sometimes that he might be crazy. But, I also like Franck and contemporary music. I play it in my recitals, for example Schneider's Toccata, written in 1994. But is there really new music after Bach? Sometimes I wonder."


Kids and classical music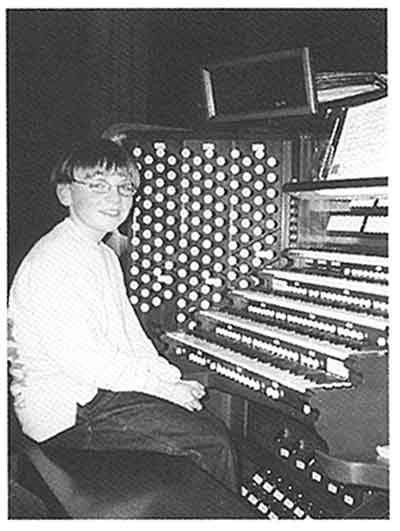 Felix has very definite views about teenagers who are reluctant to go to classical concerts. "Kids shouldn't say they don't like classical music if they've never listened to it! They should give it a chance! I recall one concert I gave in Washington. I was staying with friends in Maryland and I wanted them to come to listen to my recital. They told me, 'No, it's boring, we don't like it!' I convinced them to come. In the end, they liked it. It was very exciting for me and motivating. Performers should take more care about communicating with audiences. Any music can be boring or thrilling. The direct connection with your audience, that's the key." The key to his success, in any case. Audiences may first come to hear the virtuoso out of curiosity, but they generally leave convinced of the beauty of the music.

Felix may be a normal teenager in some respects, but he has character traits that make him special. Mr. Hell describes his son's personality as follows: "He needs a goal. He needs the summit. Hiking for hours at the same altitude is definitely not his thing. One might think it is difficult to live with a prodigy. But he is so easy-going and such a normal kid that we sometimes think this is the real miracle, and not his enormous musical talent." Father knows best!

[Translated by Jane Brierley]
---
Version française...
---