The Canadian Opera Career of Emma Albani

by Gilles Potvin / October 1, 2000

---
As a prelude to an article on Canadian singers in our November issue,

La Scena Musicale takes this opportunity to salute musicologist Gilles Potvin by reprinting one of his articles (published in 1980) on Emma Albani, the legendary Canadian diva.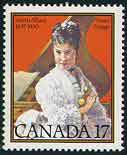 Gilles Potvin was a critic, film-maker, musical advisor, administrator, impresario, and translator. His writings appeared in Montreal newspapers such as The Gazette, La Presse, and Le Devoir, and periodicals such as Opera Canada and London's Opera. He was a director of the Encyclopédie de la musique au Canada. Potvin began researching the life and career of Emma Albani in 1970, and produced a French translation of the famous soprano's autobiography, Forty Years of Song, entitled Mémoires d'Emma Albani.
The present article originally appeared in the magazine Aria
(Vol. 3, no. 1, Spring 1980), and can be found in the Gilles Potvin Collection (P 299), in the Université de Montréal archives. La Scena Musicale has edited the original text slightly.
The year 1980 marked the fiftieth anniversary of the death of Emma Albani, née Emma Lajeunesse, one of the great divas of the nineteenth century and the first Canadian musician to rise to international fame. The anniversary was marked in various ways, notably by Canada Post issuing a stamp in her honour. This is the first time that the Canadian government has distinguished a musician in this way.
Emma Lajeunesse was born in Chambly, Quebec, in 1847. She was a child prodigy, and greeted as such by her fellow Canadians at her first recital in 1856. From then on her father, an ambitious musician, began to dream of making Emma into a world-acclaimed star. He not only took charge of her vocal and musical training, but acted as her impresario. When it came to finding the money to help Emma continue her training outside Canada, Quebeckers turned a deaf ear to his appeals in spite of recognizing her talents. As a result, Joseph Lajeunesse and his two daughters moved to the United States, living in Albany, New York, until 1868, when Emma left for Europe.
Albani's first triumphs were in Italy in 1869, followed by her success in Paris and London in 1872. With mingled pride and remorse, the Quebec public learned from the newspapers of their young countrywoman's success. They wouldn't see her again for 19 years. In 1883 she returned to give three memorable concerts at Queen's Hall in Montréal. This first homecoming was followed by numerous concerts during wide-reaching Canadian tours that Albani made up to 1906 — the date of her farewell tour, which was yet another series of triumphs.
In her many tours Albani was naturally given top billing, but she shared her programs with other musicians, usually a mezzo soprano, a tenor, as well as a violinist, a flautist, and a pianist. Shared concerts were very much the fashion at the time. The solo recital was a thing of the future.
Albani was an opera star, and it was here that she scored her greatest successes. Almost all the great opera houses of Europe welcomed her at one time or another. During her career she sang at least 43 different roles in some 40 operas by composers such as Gluck, Mozart, Rossini, Bellini, Verdi, Gounod, Thomas, Massenet, and Wagner, as well as now less familiar operas by Auber, Reyer, Flotow, and Rubinstein.
During Albani's lifetime there was no permanent Canadian opera company. The Metropolitan Opera only opened its doors in 1883, the year in which Albani first returned to her homeland. She sang in the famous New York opera house as a guest performer in 1890, and then as a member of the company in 1891-92. In Canada, in addition concerts, she took part in several opera productions, first in Toronto (Lucia di Lammermoor), then in Montreal (La Traviata, Lucia, Les Huguenots, and Lohengrin).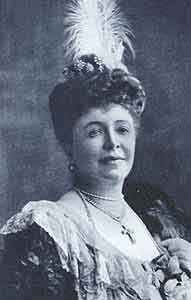 Albani costarred with the renowned Adelina Patti in Her Majesty's Opera Company, organized by the English impresario James Henry Mapleson, better known as Colonel Mapleson. The company went on a lengthy tour of the United States during the 1882-83 season, and it was with them that Albani sang her first complete opera in Canada: Lucia di Lammermoor, performed February 13, 1883, at Toronto's Grand Opera House. In his lively memoirs, Colonel Mapleson tells how they arrived in Toronto in a Siberian cold spell aboard a train from Detroit. Albani was welcomed by a full house, in the presence of Lieutenant-Governor Robinson. She sang the title role with tenor Luigi Ravelli (Edgardo) and baritone Ciampi Cellaj (Enrico). Luigi Arditi, composer of the famous waltz aria, "Il Bacio," was on the podium. The next day an anonymous critic wrote in The Globe: "When Albani made her entrée a roar of welcome arose that took some time to subside.... The first notes of the recitative "Ancor non giunse" told us that the audience's enormous anticipation was about to be entirely fulfilled. The aria "Regnava nel silenzio" revealed how accurate European critics had been in praising the rare beauty of her voice, which was a powerful soprano of great purity and range with an exquisite, warm timbre."
Montreal had to wait until 1890 to applaud Albani on stage. She and her husband, the English impresario Ernest Gye, organized special productions of La Traviata and Lucia di Lammermoor on May 5 and 7 at the Académie de musique, a 2100-seat theatre on the site of the earlier Eaton's store. The advertisements announced: "First appearances of Mme. Albani in Italian grand opera." The newspaper La Patrie of May 1 featured advance commentary by poet Louis Fréchette: "May, the month of flowers and spring sunshine will bring us the finest flower in our people's crown, our great and beloved Albani. Yes, she is returning to us from fresh triumphs, more famous than ever after the incomparable success that has followed her at every stage of her victorious progress across North America."
Albani had the tenor Ravelli as her partner once again in the roles of Alfredo and Edgardo. The company's distinguished baritone, Giuseppe del Puente, sang the role of Guermont père and Enrico. Romualdo Sapio conducted the orchestra.
Judging by the anonymous review in
La Minerve of May 8, Lucia di Lammermoor was also a resounding success for Albani. After a thinly veiled allusion to the morals displayed in Verdi's operas, the writer went on," Donizetti, less popular but more classic than Verdi. There are none of those somewhat shocking scenes or the abandoned behaviour of a milieu that
doesn't understand virtue or sacrifice.... One can only say that it was worthy of our Albani. She wanted to outdo herself for her dear compatriots, and she did so."
A touring company organized by the impresarios Henry Abbey and Maurice Grau brought Albani back to Montreal in January 1892. She sang Les Huguenots and Lohengrin at the Académie de musique on January 26 and 28. These were the last complete operas sung by her in Canada.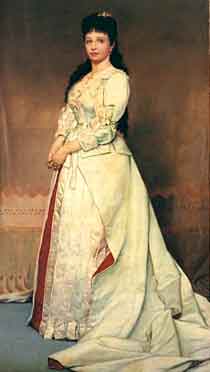 Albani sang the role of Valentine in the Meyerbeer opera, the same role that was her definitive farewell to the opera stage at Covent Garden on July 24, 1896. The rest of the
company was made up of French and Italian singers. The critics raved about Albani but were indignant about the poor quality of the chorus and orchestra. La Patrie of January 27 pointed out that the generally high level of the main singers made one forget the orchestra's false notes and the sometimes all too apparent weakness of the chorus. Albani, of course, had rung up another triumph. "It was one long ovation for Mme Albani from the instant the great diva stepped onstage to the moment
the curtain fell on the last act," wrote the anonymous critic.
Lohengrin brought Albani fresh laurels from her enthusiastic public. La Minerve's critic of January 29 stated, "Madame Albani sang magnificently in the second act, especially in the "Brises" aria which has so often brought forth agonized groans from my pen. Throughout this act, the prima donna called on her marvellous resources. Her dialogue in the second scene
of this act with Ortruda (sic), played by Mme Trebelli, delighted the audience. Madame Albani gave us her all, it must be admitted. If there were any failings among the rest of the cast, the responsibility is not hers."
Albani had contributed to the fame of Lohengrin by having first created the female lead role for English audiences, and was one of the first to do so for American audiences in 1874. It was to be the last opera she sang in her native land. Four years later she retired from the operatic stage to devote herself to oratorio and teaching. In 1911 she made her final farewell to an active career in Albert Hall, where both colleagues and the general public gave her a tremendous ovation that demonstrated their affection and admiration. After this she led a quiet life, serene despite financial worries and her husband's failing health. She didn't return to Canada after 1906, although she retained strong emotional ties to her birthplace. She showed her profound appreciation in 1925 upon receiving a gift of over $4000,
collected especially for her in a subscription campaign and benefit concert at the Saint-Denis Theatre.
Now, 50 years [70 years in 2000] after her death, the name of Emma Albani still stands first among those who have done most to place Canada on the world's opera map.
[Translated by Jane Brierley]
---
Version française...
---