José van Dam, Master Singer

by Wah Keung Chan / October 1, 2000

---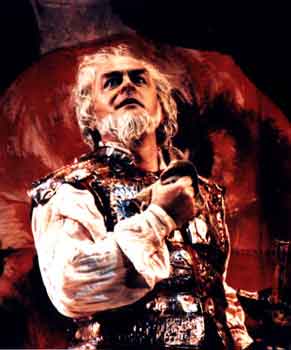 It is refreshing to hear a singer say he is still learning to master his voice – especially when he is already 60, has been performing for 40 years and has a discography of over 140 recordings to his credit. "The voice evolves. I think the more you sing, the more it evolves," said Belgian bass-baritone José van Dam days before the opening of Debussy's Pélleas et Melisande at the Metropolitan Opera, his first appearance there in twelve years. "I was 30 before I was really sure of my technique, and there are things that I can sing more easily now than 10 years ago."
José van Dam began singing as a boy alto at age 11 when he heard his mother's recordings. "At that age, I already had a natural technique based on breath and support of the diaphragm. When I met my only teacher Frédéric Anspach at age 14, he worked to improve what I already had." This relationship continued until Anspach's death when van Dam was 37. "Since then, I've worked alone." George London, Cesare Siepi and Jussi Bjoerling were his idols.
Success came quickly and van Dam made his professional debut when 20. After four years at the Paris Opera, he moved on to Geneva, where Lofti Mansouri helped him to bring more personality to the stage. A very successful relationship developed with Herbert von Karajan, known for asking singers to stretch their voices dangerously. In an interview in the July 1980 Opera News van Dam pointed out that a conductor cannot harm a voice if the singer knows when to say no. His career highlight was a 1973 production of Mozart's Marriage of Figaro in Paris, conducted by Solti and staged by Giorgio Strehler, which included Mirella Freni, Gundula Janowitz, and Frederica von Stade.
With his busy schedule of 50 to 60 performances per year (two-thirds in opera and one-third in concerts and recitals) van Dam admits that he doesn't have time for any pupils. "Teaching interests me very much, and I hope to start in a few years. I would begin with breathing and support with the diaphragm – that is the key. The soft palate should be up and the mouth should be opened correctly – vertically. You have to drop the jaw at the hinges just in front of the ears. We would work on only small sections of traditional Italian arias, and many vocal exercises. Ideally, I would see the student 2 or 3 times per week. It's also important to teach a student how to work alone. Depending on the student, we would work at technique for 6 months to 2 years. After this has been mastered, we would start working on the major arias. At this point, you can concentrate on the text to understand its meaning and give it its personality, in opera and in song."
Known to the general public through his convincing portrayal of the principal role in the film The Music Teacher, van Dam has strong views on the state of singing today. "One of the most important things for a young singer is patience. When I was starting out, 85 percent of the singers had good technique. Now it's about 65 to 70 percent. Today, when someone has a beautiful voice, they are discovered very quickly and pushed by the recording industry, and sometimes it comes too quickly for young singers. There are two things driving people today: money and having things come fast. They forget that stars like Pavarotti and Domingo have taken years to get where they are now. They must have time, patience and humility," he explains.
"Naturally, there are many ways to sing, some good and some bad. To be a good singer, you should be able to do whatever you want with the voice with nuances and pianissimi, and that means having a good technique. I don't think that they stress the importance of technique enough at conservatories and universities. Every student has a different instrument. Before singing and interpreting, the teacher and student must construct the instrument. Only when this instrument has been formed do you say to the singer 'You now have an instrument, now you can learn how to make music.' Very often you find a young singer who is making music with an incomplete instrument."
In October, van Dam will receive an honourary degree (his first) from the University of Montreal. "It's a great honour," said van Dam, who is a little apprehensive about having to give a speech. The day after a recital of Schumann's "Dichterlieber" and a program of French melodies on October 22, van Dam will give a masterclass. "I'm not a great fan of masterclasses. There is only time to work on interpretation and not technique."
As van Dam continues singing into his fifth decade, he tells us, "My challenge is to always try to do better. I've kept the extensions to my register over the years, and I'm now singing roles that are higher, for example, Scarpia and the Flying Dutchman. I am taking on more baritone roles although I continue to sing bass roles such as Méphisto or Philip II." van Dam is quick to make the distinction that he is a bass-baritone. "It's a matter of tessitura. The bass-baritone has easier high notes than a natural bass and a timbre that is more brilliant. I can also sing baritone roles that are not too high, like Scarpia or Simon Bocanegra. Over the last twenty years, my voice has gotten larger and more colour has been added. With time and experience, my interpretations have also become more profound."
With his extensive discography, van Dam has avoided exclusive recording contracts. "I wanted to be able to record whatever I liked." The only thing missing is a recording of the Don in Mozart's Don Giovanni – "There are already many recordings of the opera," he says in resignation. "The most important thing is that the day I stop singing, people will say 'It's too bad van Dam is no longer singing' instead of 'It's too bad van Dam continues to sing.'"
---
Version française...
---