Matthias Goerne - German Baritone Extraordinaire

by Uwe Siebert / May 1, 2000

---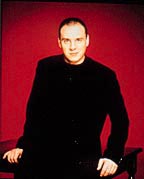 Nothing is more exciting than to realize that one is living through a Golden Age in the history of singing. In the last decade the staggering renaissance in the performance art-song has been made possible by a new generation of artists. Along with Wolfgang Holzmair, Christophe Prégardien and Thomas Quasthoff, the German baritone Matthias Goerne is at the head of this elite group.
Goerne is an immensely personable, deeply affecting man, with an infectious smile and luminous eyes. Modern in dress and appearance; he wears a lot of casual black and keeps his hair almost stubble short. His musical approach is also modern in its communicative immediacy, his singing characterized by a rare refinement and depth of feeling as well as an innate musicality.
Goerne was a precocious musical talent and laughs when reminded that he is said to have declared at age nine, when a boy chorister in his home-town of Weimar, that he wanted to be a singer. "Like all children, I wanted to be a lot of things when young but I soon realized that music needed to be part of my life."
His youthful talents were encouraged by such guiding lights as Elizabeth Schwarzkopf and Dietrich Fisher-Dieskau and he is most often compared to the latter. "He is a magnificent musician, a towering figure who certainly conveyed to me the importance of the marriage between words and music." And indeed Goerne has the same ability to illuminate words musically and give them a hitherto inconceived impact but in Goerne's case, without artifice. Even vocally there are similarities; Goerne has a high, light baritone of beauty and unsuspected range and power. But its impact lies in how it is used; the range of interpretative colours and control of dynamics are revelatory.
Though he has several operatic roles in his repertoire (including Mozart's Papageno, Puccini's Marcello and Berg's Wozzeck) it is to the concert stage and recital platform that he most often returns. Bach is one of his "first and most important musical loves. There are such interpretive and vocal challenges in performing Bach well, but the rewards are incredible." (His recent Decca release of Bach cantatas emphasizes his brilliance in this repertory.)
He has already demonstrated on the recital platform and on record that his readings of Schubert, Schumann and even Eisler rank him among the finest of the younger generation. He has attracted the interest of such renowned pianists as Andreas Haeflinger, Vladimir Ashkenazy, and Alfred Brendel, with whom he toured last year. "It was a thrilling yet demanding tour because we were touring with two different programmes and often alternated them. Brendel has a fabulous intellect and is an awesome musician. He is simply a figure of legend, and performing with a legend can be overpowering yet incredibly fulfilling."
This year Goerne's North American tour accompanist is a long-time partner, Eric Schneider. They have worked together often since Goerne exploded onto the international scene by winning the 1990 Hugo Wolf competition. And appropriately Hugo Wolf (as well as Schumann) are featured on this season's North American recital programme which once again demonstrates Goerne's programming flair.
The Wolf group includes such famous Goethe's settings as Prometheus and Ganymed but also the three Harfenspieler. Similarly the Schumann has Nachtlied and Abendlied side by side with five settings to poems by Nikolas Lenau. This sort of inspired and inspiring programming is part of the man. He loves to explore new and neglected areas of the repertoire. "There is so much marvellous music, like the Eisler Hollywood Liederbuch that I was fortunate enough to record, that does not deserve to remained unperformed."
His discography reflects this perfectly. As well as the Eisler lieder it includes the same composer's Deutsche Symphonie and von Braunfels' opera Die Vögel. Similarly when he was approached by Graham Johnson to record for Hyperion's landmark complete Schubert edition, he was awarded the plum, Die Winterreise but also recorded perhaps the single most impressive song in the whole series, the fabulous Im Walde, D.708.
Johnson has called Goerne "one of the most comprehensively astonishing talents I have ever come across." And indeed the British pianist worked with Goerne in Europe earlier this year to widely enthusiastic acclaim in Holland, Spain and Italy. Goerne's busy schedule takes him to all the major concert venues in Europe such as the Salzburg Festival, Vienna's Musikverein, Berlin's Konzerthaus, London's Festival and Wigmore Halls. "I try to pace myself, not singing too much but also giving myself time to prepare well and spend as much time as I can at home."
In recent years Goerne has become increasingly popular in North America. As well as his recital tours, he has made debuts at the New York Met in 1998 and Carnegie Hall the following year. Now it is Montreal's turn to fall under this singing wizard's spell.
Goerne makes his Montreal debut on May 19 with the André Turp Musical Society at Pollack Hall. (514) 397-0068. Two days earlier on May 17, Goerne performs the same program at the Toronto Centre for the Arts. (416) 870-8000.
Matthias Goerne Discography
Schumann. Liederkreis, op. 39 et 12 Gedichte, op. 35. (Eric Schneider, piano) , Decca 460 797-2.
Schumann. Dichterliebe et Liederkreis op. 24 (Vladimir Ashkenazy, piano), London 289 458 265-2.
Bach. Cantatas. Sir Roger Norrington, Camerata Academica Salzburg, Decca 466 570-2.
Eisler. The Hollywood Songbook (Eric Schneider, piano), London 289 460 582-2.
Schubert. Goethe-Lieder (Andreas Haefliger, piano), London 452 917-2.
---
Version française...