Georg Tintner: in the shadow of music

by Patrick Parent / April 1, 2000

---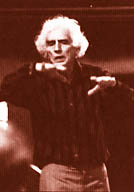 Georg Bernhard Tintner's long and busy career as a conductor ended on October 2, 1999, when he jumped from the balcony of his Halifax apartment. The 82-year-old Austrian-born Tintner, described as "one of the greatest living Bruckner conductors," was losing his six-year struggle with cancer at the time.
From 1987 to 1994, Tintner had been music director of Symphony Nova Scotia, leading it through a period of development. In the last few years he was a frequent guest conductor and recorded all nine Bruckner numbered symphonies, as well as the two unnumbered symphonic works. For someone who worked relatively out of the limelight for almost a century, the media attention given to his dramatic death was cruelly ironic.
Born in Vienna in 1917, Tintner began studying piano at the age of six. He started composing shortly after, and was a member of the Vienna Boys' Choir until the age of 13. He conducted the choir in the performance of some of his youthful compositions. The choir also sang Anton Bruckner's great masses, and it was then that Tintner fell in love with the composer's music.
As a teenager, Tintner took conducting classes with Felix Weingartner of the Vienna Philharmonic. At 16 he worked with Bruno Walter, training the children's chorus for Mahler's Eighth Symphony. The Vienna Volksoper made him assistant conductor when he was 19, but the Nazi takeover in 1938 resulted in his being fired because of his Jewish ancestry. Tintner threatened to sue the Nazis for breach of contract, turning down a ridiculous compensation of 100 schillings. But as he once told Arthur Kaptainis, music critic at the Montreal Gazette, "Don't take that as an act of courage. It was an act of utter foolishness. When I think of it now I shudder."
In 1940 Tintner made his way to New Zealand. There he formed the Auckland String Players and became conductor of the Auckland Choral Society. In 1954 he moved to Australia, soon becoming the country's top opera conductor and a pioneer of television opera. Although he did a brief stint as a conductor in Cape Town, he turned down a long-term contract offer because he objected to apartheid. It was one of the few times Tintner placed politics before music. After three frustrating years in London in the late sixties, he returned to Australia in 1971 and stayed there until 1987.
Tintner first came to Canada in 1971 to conduct the National Youth Orchestra. He was asked back regularly. In 1987 Symphony Nova Scotia invited him to perform Beethoven's second symphony. According to Stephen Pedersen, music critic for the Halifax Chronicle Herald, "Tintner's concert brought out the finest sound I have ever heard from an orchestra in this part of the country. It was sweet, musically alive, and full of warmth and clarity." He became the orchestra's musical director and settled in Halifax.
Young musicians loved "Mr. Tintner." His generous advice and conducting style (he preferred hand gestures and glances to the baton) captivated his pupils. As Kaptainis explains, "Tintner was obviously . . . a link to a glorious tradition. He was able to communicate all this good karma to musicians, who believed in him, and thus in the music."
Since the budget record label Naxos began releasing Tintner's recent Bruckner recordings, international critical acclaim has been overwhelming and sales have soared. His interpretations (which have been compared with the best in recording history) and his daring scholarly approach to different Bruckner editions are currently changing the way this composer's work will be performed. Still, as Norman Lebrecht, author of The Maestro Myth and critic for the London Daily Telegraph explains, "Tintner was one of those all-too-common victims of 20th-century prejudice, an artist who had to attain a venerable age before anyone was prepared to acknowledge his unarguable gifts." Even so, Tintner will live through the music of his pupils for a very long time to come.
A short Tintner discography:
Tintner was largely ignored by the major record companies. A compelling performance of Beethoven's Fifth was released by Phillips in the early nineties (Phillips 426 487-2). He recorded a version of each Bruckner symphony with Naxos. Most of them are already available at budget price. Symphonies no. 1, no. 3, and the little known "study symphony" will be released in the next few months. He also recorded Les Petits Riens and Other Dances, Down Under, Late Romantics and Delius's orchestral works with Symphony Nova Scotia for CBC Records.
---
Version française...