Les Notes

Par/by Wah Keung Chan / December 1, 1999

---
Bocelli Makes North American Operatic Debut
On October 29, 1999, tenor Andrea Bocelli made his North American operatic debut in Jules Massenet's Werther at the Michigan Opera Theatre (MOT). Teamed with mezzo Denyce Graves, an international star in her own right, and soprano Ying Huang who became famous because of her role in the filmed version of Madama Butterfly, the event promised to be a highlight drawing Bocelli fans from afar. But according to published reports, many Bocelli fans left disappointed. The reviews were not very favourable. Bocelli's voice, they said, did not project over the orchestra. Furthermore, his acting was wooden.
The germ of the idea for Bocelli's involvement has a Canadian connection. In July 1998, MOT General Director David DiChiera attended Bocelli's Montreal Molson Centre recital, and following the concert, invited Bocelli to make his North American operatic debut at the MOT. In that performance, backed by the Centre's sound system, Bocelli's voice found a Bjorling-like warmth and firmness not heard on his previous CDs. His interpretations of operatic arias, however, were stagnant and monochrome.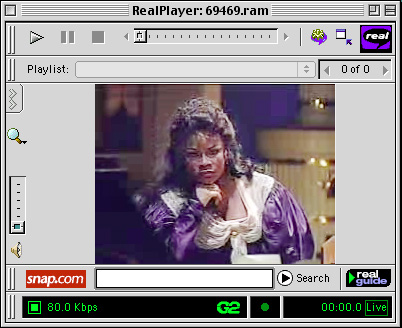 One year later, Bocelli's Werther has been the subject of heated exchanges on the internet. Global Music Network, GMN.com, added to the internet debat with a Live Webcast of the last performance directly from Detroit. ("Live" was technically false, since the webcast began one hour after the start of the actual performance, possibly to allow intermission time to be shortened for web audiences.) Bocelli did a fine job, save for an out-of-tune high note. Soprano Ying Huang and baritone Christopher Schaldenbrand gave wonderful performances. The star of the opera was the Charlotte of Denyce Graves, who unfortunately has been playing second fiddle in all the media frenzy. Her third act aria, combining both vocal glory and artistic drama, brought the house down. Except for Schaldenbrand, the singers' French diction was not up to par. The audio streaming in through at high speed connection as well as the camera angles were excellent, while the video displayed in staggered frames was overall an enjoyable experience, although the engineers seemed to have increased the volume between Acts I and II. Visit www.gmn.com for an announced rerun of the event in December 1999.
Glenn Gould Professional School Update
Since our profile in the November issue, the professional school has received news that they will receive a grant of up to $1,007,000 from the Department of Canadian Heritage under the National Arts Training Contribution Program. La Scena Musicale was premature in mentioning that Midori or Hilary Hahn will be giving masterclasses at the Glenn Gould Professional School. Neither of these artists nor Yo-Yo Ma have confirmed any dates yet.
New Guiness Record for the world's highest note.

At a concert in l'Ancienne-Lorette on October 2, 1999, twenty-year old soprano Marie-Sol Chevalier broke Mado Robin's world record for the highest sung note. The note, a C above high C - the second highest C note on a piano keyboard - sung for five seconds at 105 decibels, betters Robin's B above high C sung in the mad scene from Donizetti's Lucia di Lammermoor. Chevalier began voice lessons five years ago at the Ecole de music de l'Ancienne-Lorette. The soprano, according to her teacher Louise Drapeau, has been singing higher and higher for the last two years. They decided to look up the record and try to break it. Excerpts of Chevalier singing the high-high C in various songs at www.musicours.com show a young, clear, and innocent voice.
Web site Pick
Fritz Wunderlich - The Great German Tenor contains a wealth of information on one of the great voices of this century. Wunderlich died from a fall down a flight of stairs at the young age of 35, leaving us to ponder what could have been. A reminiscence by pianist Hubert Giesen give a clear picture of Wunderlich, the consumate musician.
http://wipux2.wifo.uni-mannheim.de/~bwl02392/wunderlich/index.html
---
Version française...