Barbara Hendricks - a musician devoted to her art

by Dominique Olivier / December 1, 1999

---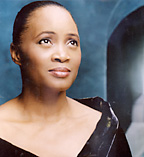 When American soprano Barbara Hendricks decided to devote her life to music, her main objective was to establish what she felt was a good reason for singing. This is characteristic of Hendricks, an intense, engaged musician, inspired by a need to give. Not only has she given herself fully to her art and to her eminently successful career; she has also distinguished herself in her devotion to humanitarian endeavours on a grand scale, including being named Goodwill Ambassador of the United Nations High Commission for Refugees and Special Advisor on Intercultural Relations to the Director General of Unesco. Hendricks has sung on the world's renowned stages with the most prestigious orchestras and soloists, and performed the greatest female roles in opera. Yet she still keeps her university degree in a drawer -- a B.Sc. in mathematics and chemistry from Nebraska University which she received when she was twenty. "I think I had a gift for math as a youngster," she told us in an interview from London, where she is currently on tour. "People encouraged me and I never felt it was difficult. At the same time, though, I sang for pleasure at school and in church, where my father was the minister. As far back as I can remember -- from the moment I was able to make a sound -- I sang."
The young Barbara never thought of a singing career. What changed everything was a summer music course between her third and fourth year at university. "It was a kind of turning point. I found myself surrounded by music. By the end of those nine weeks, it was clear something could be done with my voice. Jennie Tourel, who taught me during the summer, offered to take me on as a student in New York. I said to myself, 'I've got this talent. I don't know where it will take me, but I owe it to myself to try.' I didn't want to say to my children, when I was 45 or 50, 'Oh, if only I'd gone to New York to study, I might have been a great star today.' I didn't want to have regrets. At twenty I could take a chance." Hendricks opted for taking the leap, but wisely finished her degree first. "I grew up in Arkansas during a time of complete segregation. Having a university degree was the key to the future for a young black woman. My parents thought it would be completely mad to quit science studies. I could understand their point of view, and I chose to finish my university courses in case things didn't work out in music..."

Hendricks was lucky to be able to start out with a teacher who knew how to guide her. "Jennie Tourel was a true artist. That's what really mattered to me. I could talk with her about the importance of serving one's art. Applause counts for a lot, but it can't be the only reason for going on stage. For me, Jennie stood for what I felt to be the real reason for singing. My father was a minister, and I had a very strict religious education where music was associated with pleasure. That meant I needed a higher goal than my own satisfaction." The works Hendricks chooses demonstrate her interest in exploring music and her need to avoid the well-trodden path. "I always pick works I can relate to. It's something I learned very early on, when giving concerts in New York ghetto schools. What touches people most is the relationship I have with the music I sing. They don't know the composer, but they feel there's something going on between me and the music. They come for that, not for what they already know."

Barbara Hendricks is totally involved in what she sings, whether it is Mimi, Susanna, or Brahms lieder. "I realized from a very young age that there was something in the democratic ideal that gave me a chance to be a citizen in the fullest sense -- that I had rights, but also responsibilities, and that if I wanted to preserve my rights I'd have to take my responsibilities more seriously. When I discovered the Universal Declaration of Human Rights, it became imperative for me to promote its ideals and explain to people that we can live together, that there's enough room for everyone. I feel this so deeply that I can't help fighting for it." Hendricks's strength and serenity are based on the solid support she receives from her family, her art, and her faith in humanity. "I often say that you have to risk being yourself. Look at me: I sing music written by dead white men, and yet singing this music is what I'm made for -- I feel it, as though I had been born somewhere else!"
------------------------------------------------------------------------ Hendricks in Montreal Barbara Hendricks will be in Montreal for a Pro Musica concert on January 31, 2000, in a program featuring Brahms, Wolf, Fauré, and Richard Strauss, accompanied by pianist Staffan Scheja. [Translation: Jane Brierley]
------------------------------------------------------------------------ Recordings Barbara Hendricks has a large repertoire of recorded works, many of them with EMI. She has recorded a number of operas with this label, including Bizet's Pearl Fishers, Gluck's Orphée, Verdi's Don Carlo and Falstaff, and Strauss's Der Rosenkavalier. On the Philips label she has recorded Idomeneo and Le Nozze di Figaro by Mozart. She has also recorded Puccini's Turandot (with Deutsche Grammophon) and La Bohème (with Erato). Other recorded works include Handel oratorios, Bach cantatas, Vivaldi motets, Haydn masses, Fauré's Requiem, Mozart's C Minor Mass, and Gounod's Saint Cecilia Mass. In addition to opera and oratorio, in both of which she excels, Hendricks has recorded numerous lieder and French melodies (mostly with EMI) with a consummate art that has added enormously to her renown. These include interpretations of melodies by Debussy, Berlioz, Fauré, Ravel, and Duparc, and lieder by Strauss and Schubert.
---
Version française...
---