Warren Jones — Indispensable Partner

November 1, 1999

---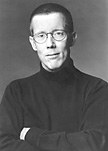 The San Francisco Examiner has called pianist Warren Jones "the single finest accompanist now working". Jones, who has played with such great artists as Marilyn Horne, Kathleen Battle, Denyce Grayes and Olaf Baer, will be touring several American cities with Dame Kiri Te Kanawa in the next few weeks. In an interview given to La Scena in June, he talked about his views on accompanying and the tremendous joys it brings him.
The 47-year-old dynamo stepped onstage when he was five and has never looked back. Jones considers making music with someone else to be one of life's "wonderful experiences". It's a way of knowing people in a non-verbal manner, of feeling "shared energy". To develop a successful working relationship, soloist and pianist must respect each other's abilities. The accompanist is an equal partner, said Jones, and he was happy to report that attitudes on this subject are changing. He recalled an incident in 1997 when he was a juror at the Van Cliburn competition. A woman came up to him and asked, "Should I call you an accompanist or a collaborator?" His reply was a true cry from the heart: "Just call me a pianist!"
Jones felt that good technique is merely a starting point for making music. The first thing he looks for in a student is the ability to get along with other musicians. He compared the bond between soloist and pianist to a love relationship: "First you must know yourself then you know the other."
Singers, instrumentalists, and pianists possess assets that truly differentiate them, in his view. The pianist has to accept the fact that once he has produced a tone, he can't change it. String players, by contrast, can use bow and vibrato to coax sound from their instrument and consciously modify the result. Singers are in a class by themselves. Their instrument is located inside a constantly changing body and they have only a very slight idea of how they sound. "They must rely on the kindness of other people to direct them," said Jones - that person being the teacher or accompanist.
For Warren Jones, learning is a lifelong process. He feels it is important for a musician to play every kind of music, but he added that he only performs what he likes. "If I don't, the public won't want to listen to it!" he concluded, laughing heartily.
[Translation: Jane Brierley]
---
Version française...