Richard Strauss: the Art Nouveau composer

by Jacques Desjardins / November 1, 1999

---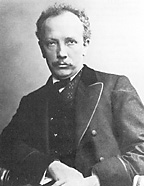 Surrounded by music since his earliest childhood, Richard Strauss began composing very young. Between 1885 and 1911, he established his reputation as both a composer and a conductor, starting with the favourable impression made by his first orchestral pieces to the huge success of Der Rosenkavalier, his opera which is most often staged by major companies. This period coincides with the Art Nouveau movement, which spread throughout Europe in architecture and the decorative arts, fostering the use of elaborate ornamentation and curved shapes, traits that may easily be associated with Strauss's music. The composer favoured rich textures in orchestration and dense contrapuntal constructions. His detractors did not refrain from labelling his orchestrations as "decadent" and his counterpoint as "forced". Although quite a bit of his music is still frowned upon today by some people, the accusations were undoubtedly exaggerated.
It is true that before Strauss no composer had demanded such daring virtuosity from an orchestra as he did in Don Juan. It is also true that he expected the role of Salome to be performed by "a sixteen-year old with the voice of a Brünnhilde". On the other hand, Strauss gave us passages of sublime introspection such as those in the tone poems Also sprach Zarathustra and Tod und Verklärung.
With his tone poems (a term he preferred to symphonic poems), Richard Strauss chose to follow in the footsteps of Liszt, whose orchestral works he conducted as often as possible, thus contributing greatly to their integration into the standard repertoire. Strauss began conducting in his native Bavaria, then pursued his career across Europe and, finally, in New York, where he conducted his own Symphonia domestica on March 21, 1904. Not bad for a musician who had never attended a conservatory or an academy of music! His father, Franz Strauss, was the principal horn of the Royal Orchestra of Munich and had allowed him, since childhood, to attend the rehearsals of the orchestra and join it as soon as he could play the violin well enough. Young Strauss did not take long to display his exceptional talent, and colleagues from the orchestra promptly offered to contribute to his musical education in both performance and composition. Strauss was therefore trained "the old-fashioned way", that is, from "master to disciple", as had been the practice at the time of Haydn, Mozart and Beethoven. Franz Strauss made sure his son was not "contaminated" by the new music - read Wagner - and only allowed him to study up to the music of Mendelssohn's time.
But the forbidden fruit is always tempting to the young, and when, at seventeen, Richard Strauss discovered the score of Tristan und Isolde, it made such an impression on him that he decided that he would dedicate his career to opera. Consequently, after his brilliant "tone poem period", Strauss composed two operas, Guntram and Feuersnot, before making a sensation in 1905 with Salome, based on Oscar Wilde's play. The work caused a scandal among the conservative elite but enjoyed great success with the public, who wanted novelty. The score was full of harmonic innovations, which were surpassed only in his next opera, the product of his first collaboration with the German poet Hugo von Hoffmanstahl. Elektra did not achieve nearly as big a success as Salome, but opera houses everywhere were eager to produce the work. Its harmonic audacities made Ernest Newman describe the music as 'abominably ugly.' Fortunately, Elektra is now part of the standard repertoire of major opera companies - even if only recently so.

While those two operas dealt daringly with feminine sexual power and insanity, Strauss retreated, so to speak, to the coziness of a Viennese eighteenth century salon as the setting for the conventional love story staged in his next opus, Der Rosenkavalier. The music, while brilliant, does not include the harmonic audacities of his two previous works and puzzled the defenders of "Strauss, the master of the avant-garde". Though still rich and colourful, the orchestration, however, returned to a more cautious sound, closer to post-romantic conventions.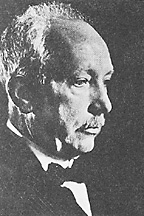 If one should wonder why Strauss apparently "regressed" musically, it must be remembered that he was very conscious of his place in history. He considered himself the legitimate successor of Wagner and Liszt, and owed his notoriety to the very world that had created him, namely, Prussia and the Austro-Hungarian Empire. He never really felt comfortable in Germany and Austria, which had been "weakened" after the tragic losses of the First World War. He preferred to cling to the image of a more glorious era represented chiefly by the emperors Franz-Joseph and Wilhelm II. Strauss belonged to the aristocracy that had called him a genius very early, and he might have no longer felt part of his time as he witnessed the emergence of new music, such as Schönberg's twelve-tone revolution or Stravinsky's primitivism. After 1914, Strauss never again experienced the masssive success of Rosenkavalier, and he began to write more sporadically. Among his later works, one should mention Metamorphosen, written in 1945 as a tribute to German musical life, and the remarkable Vier letzte Lieder, his true artistic testament.
---
Version française...
---