Quebec's Independent Classical Recording Industry: Survival Strategies

by Anne-Catherine Hatton / November 1, 1999

---
To round out our review of Quebec's independent classical recording industry, this third and last instalment of the series (begun in September) takes a further look at individual company strategies for surviving in the giant recording market.
Quebec's market for classical recordings has its limits, as mentioned in our last article, even though it offers more encouragement to homegrown artists, and despite the fact that more classical recordings are sold in Quebec than in neighbouring provinces. Any company that wants to expand its distribution has to seek outside markets.
An international dimension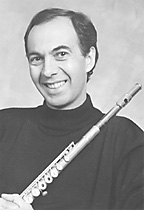 Some Quebec companies have made the decision to develop catalogues with an international dimension right from the start. Electra, a new label with an international mission, has done just that. It was launched by flautist André-Gilles Duchemin in the U.S. in 1998, followed by a Quebec launch in February 1999. Electra already has a dozen titles listed in its catalogue, which features a roughly equal number of Canadian and American artists or ensembles. Among the former are Duchemin himself and his pianist brother Mario, as well as the Orchestre Métropolitain; the U.S. component includes the Cleveland Baroque Orchestra and the Toth Duo. The comparatively heavy representation of the Duchemin family is the result of various circumstances, explains Duchemin to anyone who expresses surprise. In order to facilitate the label's launch, he decided to use available high quality recordings that would guarantee immediate distribution.
Electra's international element is also evident in its artistic direction, jointly assumed by Duchemin himself and American cellist Andor Toth - a fairly rare phenomenon in the industry, and one that partly explains this label's originality of vision. It seems to be paying off, in any case, since the label got a hearty welcome in the U.S., and about ten titles are scheduled to appear in the 1999-2000 season. "If we're going to help Quebec artists we have to open doors for them in foreign markets," says Duchemin. "The best way to do that is to include them in an international catalogue."
The next generation
Palexa is another company that has opted for an international catalogue. Alexey Ziskin and Jean-Pascal Hamelin had a global market in mind when they founded the company in 1996, but they were also anxious to give the coming generation of artists a chance to be heard. The founders, both fervent admirers of the piano, noticed that many major multinational recording companies had been serving up the same artists and repertoire over the past 30 years, leaving little room for young artists. They decided to give gifted pianists just starting out a chance. It didn't matter whether they were from Canada (such as Lucille Chung or Paul Stewart) or elsewhere (such as Constantin Lifschitz, Kemal Gekic, Frank Lévy, or Gabriela Montero).
Palexa helped finance the promotion of the next generation with its Documents collection - a series of previously unreleased historic recordings by some of the greatest twentieth-century artists, including pianists Vladimir Horowitz, Dinu Lipati, Annie Fischer and Jorge Bolet, and other musicians such as violinist Henryk Szeryng. The enthusiastic response to this collection outside Canada, especially in Japan, as well as the international content of Palexa's catalogue (about a dozen titles so far) soon encouraged foreign distributors to open their doors, and the company has increased its rate of production accordingly. Five new albums are scheduled to appear before Christmas, and the first album with the label's orchestra will be released next year.
An all-Canadian approach
The dean of Canadian classical music recording companies, the SNE (Société nouvelle d'enregistrement, operating since 1978), has taken a different approach. Production is handled almost exclusively by its 71-year-old founder and head, Gilles Poirier, a former Radio-Canada producer and a specialist in acoustics and sound recording. His 150-title catalogue provides a panorama of Canadian musical performance. However, revenue isn't enough to underwrite promotion, says Poirier. "I could never have made a living from it." Poirier's guiding light has been his love affair with classical music - the one and only secret for producing quality material, in his opinion. "In any case, it's unrealistic for a Quebec recording company to aim for profitability," he adds - a pessimistic view that hasn't prevented him from announcing some 15 forthcoming titles this year, as usual.
Music-lovers will clearly have a wealth of choice in the 1999-2000 season, what with the many new labels and other innovations. Will this musical cornucopia erode the market for Quebec artists and recording companies? Georges Nicholson, artistic director of Pélleas (a label discussed in our October issue), doesn't think so. Nicholson, an avid collector, feels these new and abundant offerings will be beneficial. He feels the public's appreciation for our excellent homegrown artists will grow with every chance it has to hear them. "The more the merrier," is Nicholson's optimistic conclusion.
---
Version française...
---