Les Violons du Roy celebrates 15 years

by Anne-Catherine Hatton / May 1, 1999

---
Bernard Labadie, artistic director of Les Violons du Roy, was in Montreal briefly a few days ago to launch the ensemble's sixth CD, "Vivaldi String Concerti," and their 1999-2000 Montreal season. We spoke to him after a long day of rehearsals.
The new disc was planned as an anthology of all Vivaldi's string concerto styles, Maestro Labadie explained. It includes a mix of lesser known orchestral concertos and the best known of L'estro armonico (the Opus 3 concertos), showing the rich variety of Vivaldi's work. An unusual note is the odd little Sinfonia al Santo Sepolcro, one of Vivaldi's occasional exploratory excursions. All in all, this recording offers a nicely balanced selection that makes for stimulating listening.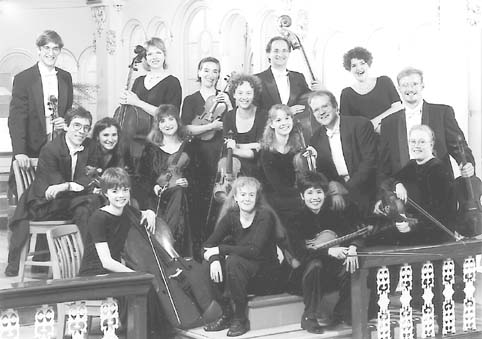 Vivaldi was chosen for this CD not only because he is a great favourite with listeners, but because the ensemble has a natural affinity for his work. "Vivaldi's style is very exuberant, designed to show off the violinist's technique. The music is very physical, which is why it suits us so well," says Labadie.
The fact that numerous renowned musicians have already interpreted these scores doesn't bother him. He feels musicians needn't always be striving for new interpretations. While he appreciates some of the unconventional readings of, say, Il Giardino Armonico, there is a danger, he feels, that wanting to take the score apart and finding new ways of performing Vivaldi might become an end rather than a means. "Vivaldi's music is robust and natural, like a fresh spring, in harmony with our vital rhythms. His spontaneity and fluidity are two of the most important aspects of his work, and they must be preserved."
Performing Vivaldi's work is a delight, but Labadie finds recording "torture." The process is long and repetitive, he says, and much more physically exhausting than a live concert. It's difficult to remain fresh and inspired. Also, there's the loss of the energy communicated by a live audience. Yet, the torture of recording pales in comparison to the subsequent stages. "Putting the CD together means listening to all our lapses. It's very hard on the ego, especially if you're in any way a perfectionist." The final test of the conductor's mettle is the agonizing task of choosing the best take.
Clearly, Labadie's central concern is quality. He founded the VDR fifteen years ago as a vehicle for the baroque and classical styles, but his overriding focus has been the quality of the sound that he wanted. "Words such as precision, tension, energy, and involvement are often used in connection with Les Violons du Roy. These are aspects that I've been thinking about for many years." When he achieves the desired quality of sound, he makes sure the standard remains high. "I don't believe in such a thing as a minor concert. Just because you play in outlying areas doesn't mean you rehearse less or give less of yourself to the performance. You can't compromise on quality." Labadie judges the success of a tour by the least successful of his concerts. His greatest pride, in this fifteenth anniversary year, is that he's beginning to be fairly satisfied with the VDR's "worst" performances.
Labadie is pleased with recent changes in the baroque music world. He feels we are living in fascinating times. The barriers dividing different musical genres are beginning to crumble. Symphony orchestra conductors borrow from the interpretive styles of baroque conductors, while the latter are exploring the classical and Romantic repertoire. Labadie has schooled Les Violons du Roy in the art of responding to different styles and periods, and the ensemble is perfectly attuned to this new openmindedness. "We live in an era when the walls erected in the name of orthodoxy are coming down, weakened by the meeting of musical tastes and interests, which is a very natural thing," he says. "It's natural to go from Bach to Mozart, then to opera and so on. Breaking down the barriers is a very healthy phenomenon and will enrich all musicians, baroque and others."
Labadie's own career is a telling example of this all-encompassing approach. He is conductor of the Opéra de Québec and a frequent guest conductor on the symphony orchestra circuit, including a recent appearance with the MSO in a Mozart concert. His choice of the baroque bow used with modern instruments is indicative of his desire to reconcile the old and the new. The critics were skeptical at first, but the old-new combination has won acceptance. The coming season will include a concert of Romantic and modern music (Beethoven, Hétu, and Schönberg), something that no other baroque orchestra can do, as Labadie points out. It's a formula that may cause a few raised eyebrows in a forthcoming concert in France, however. "It's a challenge," Labadie feels, "because the European public is much more demanding in matters of style, and more uncompromising."
The VDR's 1999-2000 season includes various other innovations. There will be a "real" Montreal season consisting of five concerts; two CDs to be recorded (including Labadie's string arrangement of the Goldberg Variations); and, as a pièce de résistance, Bach's Saint Matthew Passion, to be performed in Quebec City, Montreal, and Toronto, the VDR's most ambitious project to date.
---
Version française...
---