The Concertmaster

by Alain Bénard / May 1, 1999

---
In the world of orchestral musicians, concertmasters seem to be a special breed. As concertmasters and soloists, they not only have great prestige, but also play a crucial role as mediators between conductor and musicians. In guiding their orchestra toward an ideal sound, they are in a privileged position since they can draw on their experience as both soloists and orchestral players. To learn more, we interviewed Martin Chalifour, Denise Lupien, Darren Lowe and Nicole Trotier, who talked to us about their passionate involvement in their work and their experiences as concertmasters.
A question of team work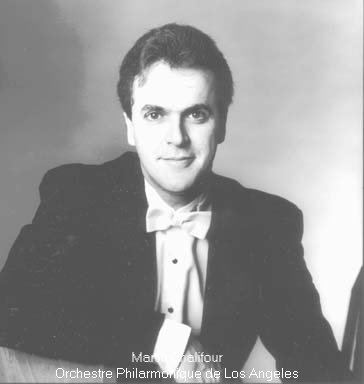 Martin Chalifour has been with the Los Angeles Philharmonic since 1995. He feels that the concertmaster has an "artistic role that influences all the string players and affects the orchestra on many levels. Once the bowing has been coordinated, you move into your role as leader and mediator between the different string sections and the conductor."
The public is generally unaware of the concertmaster's many-faceted task. Denise Lupien has been concertmaster of the Orchestre Métropolitain since its inception, and in addition to all the usual responsibilities of this job, has been involved in one aspect that is basic to the development of a new orchestra: setting up a score library from which programs are chosen.
"We had to edit all the scores for bowing, which means thousands of hours of work," says Lupien. "It's a concertmaster's specialty, involving style and phrasing for greater musical effect."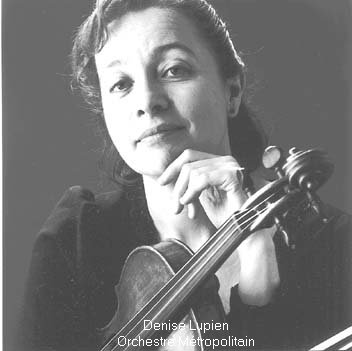 As one might expect, the relationship between the concertmaster and conductor is of prime importance. A sense of give-and-take and mutual understanding is essential, particularly in terms of the conductor's wishes as to style and phrasing. Working closely with one another over a period of years makes for a sort of osmosis, especially when the concertmaster is also one of the orchestra's founding members, as with Nicole Trotier and Les Violons du Roy. Since the chamber ensemble's earliest days Trotier has worked with conductor Bernard Labadie to define the group's sound.
"There has to be a strong link between conductor and concertmaster," says Trotier. "This is no problem for Les Violons du Roy. When difficulties do arise, it's my job to suggest or develop -- with the others -- technical solutions for achieving what the conductor wants. This gives every musician a place in the process and the latitude for individual expression."
An ensemble mainly devoted to baroque and classical music, such as Les Violons du Roy, must aim at a very round, homogeneous sound. By using period bows on modern instruments, the ensemble achieves clarity of style as well as the desired fullness of sound. Trotier considers that musical balance takes precedence over excessive striving for effect.
Coping with different conductors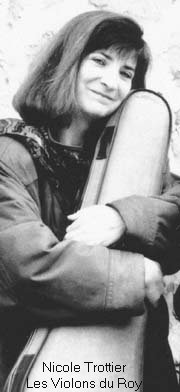 Playing under different conductors can considerably change the way musicians play and sound. One example is the Orchestre Métropolitain which, contrary to Agnes Grossmann's Viennese method, now uses double bowing to achieve the fuller sound required by current conductor Joseph Rescigno. Each conductor must find a way to persuade musicians that his or her interpretation is justified. It is up to the concertmaster to find a middle ground when guest conductors are less than persuasive.
The malleable nature of present-day orchestras is a phenomenon that can lead to a certain sameness. Being adaptable is not necessarily a good thing for an orchestra. According to Martin Chalifour, "North American orchestras tend to be too flexible, too changeable, and sometimes adapt a bit too much to various conductors. Occasionally, a conductor is very demanding or even somewhat extreme in his ideas, while the musicians are not completely convinced. Then you have to try to develop an esprit de corps, to work things out so that the music doesn't suffer."
Sometimes the string players in a given orchestra come from widely differing backgrounds in terms of training. Achieving a homogeneous sound in the string section takes a lot of time and hard work. This is the case with the Los Angeles Philharmonic, where many of the players are Russian or Chinese virtuosos, and where Chalifour has the good fortune to play a Stradivarius on loan.
"It's very hard to achieve orchestral homogeneity," says Chalifour. "Since virtuosity is the main quality to look for, we sometimes have to analyze our differences. Trying to achieve greater homogeneity is something that the Los Angeles Philharmonic has to work harder at than most orchestras. However, in terms of talent, when there's a very difficult passage -- in perpetual motion, say -- we know the musicians can handle it. The same is true of rhythm, another aspect that I focus on closely with the musicians."
An acquired art
Being a concertmaster and violin solo takes leadership ability and a special mindset, Denise Lupien feels. It's an art that is acquired over time, and depends a great deal on the personality of the musician in question.
"I don't think you're born to be a concertmaster," says Lupien. "I believe some people have a gift for leadership, an ability to carry others with them, to stimulate them. It's my idea of feeling part of a team rather than being a star. With what I've learned over the years, I tend to place more emphasis on the music as a whole than on solo passages."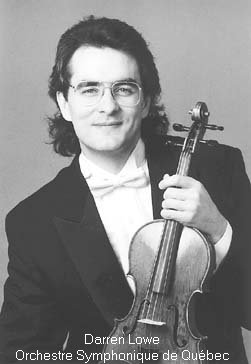 Darren Lowe, who joined the Quebec Symphony Orchestra some twelve years ago, feels that the conductor's sensitivity is largely responsible for creating a good atmosphere for musical discussion. First comes the hard work on the technical aspects of the score. The next stage is developing unity of vision among all the musicians. Whether as a soloist, concertmaster, or chamber player, Lowe sees his music-making as a means of developing links with his many other activities. Connecting and "communion" between himself as a musician and the rest of the world is one of his current preoccupations.
"When we performed Shostakovitch's Fifth Symphony recently, I couldn't help thinking of what's happening in Kosovo," confided Lowe, clearly moved.
It is a cliché that concertmasters are to orchestras what divas are to opera. This may be true in a superficial sense, but, as we have seen, the concertmaster's role combines the sensitivity of the solo artist with the ability to inspire the ensemble as whole.[translation: Jane Brierly]
---
Version française...