Go West, Young Diva

by Joseph So / September 1, 1998

---
Marina Mescheriakova Stars in COC's New Norma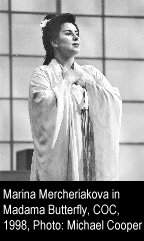 The fall of the Iron Curtain has been a boon to European and American opera audiences, as a flood of fabulous singers emerges from the former Soviet Union and Eastern Bloc nations. Lirico-spinto Soprano Marina Mescheriakova is one of Russia's hottest operatic exports. Torontonians marvelled at Mescheriakova's magical pianissimo top notes, reminiscent of Montserrat Caballé and Zinka Milanov, and her gleaming, beautiful fortissimo, in recent Canadian Opera Company productions of Verdi's Luisa Miller and Puccini's Madama Butterfly. Mescheriakova's upcoming debut on September 24 in Bellini's Norma is the opera season's most anticipated event.
La Scena Musicale recently spoke with Mescheriakova in Toronto. Sitting across from the Russian soprano, one is struck by her flawless skin, expressive mouth, and dark, penetrating eyes. Mescheriakova's English is good, peppered with the languages of the many countries where she has performed. With a modest demeanor and girlish laugh, she seems younger than her 31 years. Movies are one of her enthusiasms. She saw about a dozen films in Toronto last year, including Titanic. "I'm crazy about Leonardo Di Caprio!" she confesses.
Marina was born in 1967 in the industrial city of Volgograd, the only child of a shoe factory manager and an electrical engineer. She entered the Moscow Conservatory at 19 to study piano and voice with the late Russian diva Yelena Shumilova. She made her stage debut at the Conservatory as Susanna in Mozart's Nozze di Figaro. She also sang Tchaikovsky's Iolanta, a role she will reprise in concert with the Canadian Opera Company at the Ford Centre for the Performing Arts on October 16.
Upon graduation from the Conservatory, Mescheriakova joined the Bolshoi Opera, where she made her professional debut in Glinka's A Life for the Tsar. She won a prize at Vienna's prestigious Belvedere Competition but her big break came with 1994 appearances in Anton Rubinstein's The Demon at Ireland's Wexford Festival (commercially available as Marco Polo 8.223781-2).
Eyebrows were raised when Mescheriakova represented Russia at the Cardiff Singer of the World Competition in Wales last year. Some felt she was too established at 30 to be competing with much younger singers, though Dmitri Hvorostovsky won the 1989 Cardiff Competition at the age of 27. Her failure to make the finals was a painful disappointment to her countrymen. "I entered because it is internationally televised and a great chance to show yourself," Mescheriakova admits. "I am realistic - if you lose it doesn't necessarily mean you are not good, and if you win, it doesn't mean you are wonderful. It is like playing cards." Firmly on her way to international stardom, competitions do not figure in the soprano's future.
Mescheriakova considers herself essentially a lyric soprano and picks her roles carefully. Heroines she finds tempting include Hélène in Verdi's Jerusalem (which she has just recorded for Philips), Donizetti's Maria Stuarda, Marguerite (in Gounod's Faust), Massenet's Manon, and Thaïs. She has turned down the Forza del Destino Leonora as too heavy. Mescheriakova remains fond of Mozart roles, which "cleanse the voice" between singing heavier roles. Where do the great Russian opera heroines fit in? She laughs apologetically as she admits she has never sung Tatiana in Tchaikovsky's Eugene Onegin , though she is scheduled to sing it with Thomas Hampson in Vienna. She declares Janacek's Jenufa, "Too heavy! Maybe in ten years!" She prefers not to compete with the "wonderful" Russian soprano Elena Prokina, who specializes in Slavic roles such as Tchaikovsky's Lisa, Janacek's Káta Kabanová, and Jenufa.
Mescheriakova's big, colourful voice is ideally suited to the Italian repertoire - the heroines of Verdi, Puccini, Rossini, and Bellini. Her COC Cio-Cio-San, which she coached with 89-year old Licia Albanese (herself a legendary Cio-Cio-San) was passionate and extroverted. "In such a dramatic role, I give so much on stage that I am absolutely empty afterwards."
The COC production of Bellini's Norma will be Mescheriakova's third, after Stockholm and Berlin. "Norma is special for me. It's one of the hardest roles in the soprano repertoire, and I am really lucky I am able to sing it". A great Norma requires commanding stage presence, strong dramatic instincts, a wide range of emotions, and of course, plenty of voice. Mescheriakova's high pianissimo, will server her well in Norma. "Everybody asks me how I sing the high notes," she laughs. "It is not just Nature - I study very hard! Shumilova taught me to put beauty in the voice; to find colours and expression, and to pay attention to the meaning of words." Mescheriakova admires Maria Callas's great recordings of Norma, but won't imitate. "Callas's voice is different from mine. My teacher always told me, never copy others; always be yourself."
Unlike many successful Russian singers, Mescheriakova still calls Russia home. She lives in Moscow with her parents and her 9-year old daughter. Officially a guest artist of the Bolshoi, she sings only one or two performances with them each year. Despite her success in the West, she remains deeply attached to her native land. "I am Russian and I love Russia. I don't want to move to the West." She is optimistic about Russia's political and economic troubles. "Sure, there are still big problems, such as crime and the falling ruble. But at least we are free to travel and do what we want. I have great hope for our future!"
---
The COC's Norma runs September 24, 27, 30, October 3, 6, 9 at Toronto's Hummingbird Centre. 416-363-8231. Toll free: 1-800-250-4653. Tchaikovsky's Iolanta will be performed in concert at North York's Ford Centre for the Performing Arts on Oct. 16. Tel: 416-324
---
Version française...
---