Le Nef: In Search of Perceval

by Anaik Berneche / September 1, 1998

---
The musical group known as La Nef was founded in 1991 by Sylvain Bergeron, Viviane Leblanc and Claire Gignac. The name La Nef was chosen for its spiritual associations: La Nef is like the nave of a church where the people gather to worship and hear music. La Nef is also like a great ship which sails up the river of time, discovering faraway shores, bygone eras, and ancient lands, picking up half-forgotten lyrics and chants along the way. The vessel's faithful crew are minstrels, storytellers and entertainers dedicated to "making history come to life through music", explained La Nef artistic director Sylvain Bergeron to La Scena Musicale.
Usually based on imaginatively narrated medieval or pre-medieval history, La Nef's creations are accompanied by medieval European instruments, "hybrids" such as the bowed psaltery, and Middle Eastern instruments such the "oud", the Arab lute. La Nef uses a slight amount of amplification when performing in large spaces.
La Nef seeks the ideal balance between music and narration. Narration helps the audience to understand the drama, but "people come to hear a musical show", says Bergeron. Historical text, music and facts are adapted according to the performers' inspiration. "We work with medieval ideas and themes, but in our own way". La Nef's artistic license may annoy purists, but Bergeron remains enthusiastic about their innovative approach.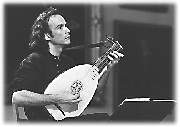 Every two years La Nef creates a new show, subsidized by the Conseil des Arts et Lettres du Québec, the Conseil des Arts du Canada, and the Conseil des Arts de la Communauté Urbaine de Montréal. Each production is created to be broadcast on the radio, performed in public, and finally recorded by the US-based Dorian label. Early performances are like a concert opera or like an oratorio ‹ not fully staged. The production matures and develops as the season progresses. A new production has a life of about two years, but old productions are always kept in
---
Version française...
---