Rossini : Il Turco In Italia
Riccardo Chailly / La Scala Orchestra and Chorus
London 289-458-924-2 / Polygram
**** $$$


Many recent major label opera recordings have been disappointing, but this one is really superb, an instant classic. Rossini's dramma buffo, Il Turco in Italia (1814), has traditionally suffered by comparison with his earlier, similar L'Italiana in Algeri (1813), but this excellent recording should charm even die-hard sceptics. Chailly's Italian lead singers are all exemplary. Michele Pertusi as the opera's eponymous Turk deploys an ideal voluptuous bass-baritone. Alessandro Corbelli as the cuckolded husband Don Geronio proves himself the Rossini baritone of our day, with a stunning command of the tongue-twisting patter arias. Cecilia Bartoli has never sounded better than in her portrayal of the naughty flirt Fiorilla. Her entrance aria "Non si dà follia maggiore" is fabulous, and her coloratura flights in "Caro padre" are breathtaking. Not since Marilyn Horne have we heard singing of such brio, virtuosity and panache. Only Mexican tenor Ramón Vargas is substandard. The orchestra and choir are excellent. The recorded sound is warm and clear, with a real sense of living theatre. Libretto and notes in Italian and English only.

Adolphe Adam : Le Toréador
Richard Bonynge / Welsh National Opera
London 389 455 664-2 / Polygram
**** $$$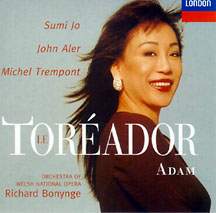 T. Sauvage, le librettiste de ce ravissant petit opéra-comique dont Richard Bonynge et Decca/London nous offrent aujourd'hui un superbe enregistrement, a accompli le rare exploit d'avoir enrichi d'un mot une langue qu'il ne connaissait pas. Ce mot, c'est «toréador», ou plutôt «torédor» - forme originale, aujourd'hui obsolète, d'un faux mot espagnol qui semble devoir son origine à une confusion parisienne entre «torero» et «matador». L'Espagne elle-même n'en aurait jamais entendu parler, si ce n'eût été, un quart de siècle plus tard, du succès universel de Carmen...
Le Torédor (car c'est là son titre véritable) est un pur joyau - et une redécouverte, car cette oeuvre d'Adolphe Adam (1803-1856), très populaire au 19e siècle, avait pratiquement été oubliée depuis. L'argument se réduit au triangle conventionnel : Coraline, soprano colorature, mariée à Belflor, barbon basse-bouffe ridicule et «torédor» à la retraite, aime Tracolin, ténor flûtiste, et en est aimée de retour. Sur ce mince canevas, Adam a brodé une musique aussi fine que légère et d'une étonnante unité stylistique qui procède de fréquentes citations et d'une imitation constante et habile de Grétry, le maître de l'opéra-comique du 18e siècle. À cela vient se greffer toute une série d'éléments qui sont autant d'atouts : des situations comiques, mais jamais vulgaires; un texte très spirituel; l'usage abondant de la colorature féminine la plus acrobatique; le recours à la forme du thème et variations (sur le thème de «Ah vous dirais-je maman») et, trait de génie, la faculté donnée à un personnage (Tracolin) de s'exprimer tant par la flûte que par la voix, de sorte que, même lorsqu'il ne chante pas, le jeune premier peut poursuivre son duo d'amour avec la colorature - dans un registre stratosphérique!
L'exécution est de haut niveau. Sans doute faut-il désormais se résigner à compter surtout sur des non-Francophones (une Coréenne, un Américain) pour nous faire apprécier la musique vocale française, mais quand ils sont aussi bons que dans ce cas-ci, on aurait mauvaise grâce de se plaindre. Le français chanté de John Aler, en particulier, confine à la perfection. Celui de Sumi Jo n'est peut-être pas tout à fait aussi pur, mais quelle technique et quelle aisance dans l'aigu! L'oeuvre, étant un opéra-comique, comporte des dialogues parlés dont Aler s'acquitte avec tout juste un soupçon d'accent. Par contre, on a substitué une comédienne à Sumi Jo. Quant à Trempont, il s'impose comme un candidat sérieux à la succession du regretté Jules Bastin. Le livret d'accompagnement contient le texte chanté en français avec traduction anglaise, de même qu'un synopsis et une introduction détaillée, mais en anglais seulement. Pierre Marc Bellemare
Schumann : Dichterliebe op. 42 & Liederkreis
Matthias Goerne, baritone.
Vladimir Ashkenazy, piano.
London 289-458-265-2 / Polygram
**** $$$

German lyric baritone Matthias Goerne is only 30 but is already acclaimed as the most exciting singer on the recital stage today. His Winterreise recording on Hyperion was impressive and his Schubert Lieder on London was even better. Now he tackles Schumann's immortal cycles. Goerne's voice is a luxury vehicle, with a resonant timbre, warm phonogenic projection, effortless soft notes and valorous fortes. Nothing he sings is dull. His tender "Hör ich das Liedchen klingen" and haunting "Ich hab im Traum geweinet" are simply breathtaking. Ashkenazy's accompaniment is at times sublime, at times ridiculously loud ("Ein Jungling") or fast ("Die Rose"). Still, this is a treasure.
Sony Masterworks Heritage Series

Sony is continuing its attractive series of important remasterings from the Columbia catalogue. The retro packaging features plenty of gorgeous archival photos and artwork from the original LPs. Many of these performances are unique classics. Here is a concise buyer's guide:
**** Bidu Sayao: La Damoiselle élue & Italian Arias. MHK 63221
**** Bidu Sayao. Opera arias and Brazilian folksongs. MHK 62335
**** George London: Of Gods and Demons. MHK 62758
**** Antiphonal Music of Gabrieli. MHK 62353
**** Lotte Lenya sings Kurt Weill. MHK 63222.
*** Alexander Kipnis: Opera Arias and Songs. MHK 62354
*** Ljuba Welitsch: Complete Columbia Recordings MH2K 62866
*** Brahms : Piano Concertos. Leon Fleisher.MH2K 63225
*** Liszt: Piano Concerto No.1. Claudio Arrau, piano. MHK 62338
*** Richard Strauss: Don Quixote, Horn Concerto No.1. Szell/Cleveland Orchestra. MHK 63123.
*** Mahler: Symphony No. 1. Mitropoulos / Minneapolis Symphony. MHK 62342
** Schumann: Symphonies No. 1-4. Szell/Cleveland. MH2K 62349.
** Piatigorsky: Great Cello Concertos. MHK 62876.
** Zino Francescatti: Great Violin Concertos. MH2K 62339.
** Richard Tucker Sings Verdi. MHK 62357.
** Sir Thomas Beecham: American Columbia Recordings 1942-1952. MH2K 63366
Ewa Podlés: Not Just Another Mezzo

Widely known as the "Naxos mezzo", Polish diva Ewa Podlés is actually a contralto, with a low range like a tenor, a rich middle and a soprano extension. Podlés's excitingly butch sound lends itself perfectly to the pants parts (male roles sung by women) written for castratos and female mezzo-sopanos by Handel, Vivaldi and Rossini. When people hear Podlés on the radio, they sometimes can't tell if it is a man or a woman singing.
Podlés's best-selling 1996 disc of Rossini arias (Naxos 8.553543) is the quickest and cheapest introduction to her artistry. Her 1990 disc of arias by Handel, Vivaldi, Purcell and Gluck (Forlane UCD 16620 / Domino Distribution) reveals Podlés as the legitimate heir of Marilyn Horne. Her recording of Russian melodies by Rachmaninov, Tchaikovsky and Moussorgsky is the one of the best on the market (Forlane UCD 16683 / Domino Distribution). The homey lyrics and comfortable range of these songs (including Moussorgsky's brilliant cycle of nursery songs) allows the contralto to deploy a rainbow of expressive vocal colour. Podlés is a unique artist who generates real excitement among voice connoisseurs. Hear her live while you have the chance. If you can't attend a concert, pick up her recordings before they go out of print. Eva Podlés performs Rossini arias with the Orchestre Metropolitain at the Lanaudière Festival Amphitheatre July 24, 1998. 20 H. $15-42. Tel: 800-561-4343. 514-759-4343. www.lanaudiere.org. Podlés sings Rossini with the Edmonton Symphony at Edmonton's Winspear Centre, Oct. 1, 1998. Podlés gives a recital of Mussorgsky, Rachmaninoff, Lutoslawski, Karlowicz and Chopin at the Ford Centre for the Performing Arts, North York, Toronto, October 14, 1998.

Britten : Billy Budd
Kent Nagano / Hallé Orchestra
Erato 3984-21631-2 / Warner
*** $$$


This is the world premire commercial recording of the original four act 1951 version of Benjamin Britten's Billy Budd (a fine pirate of that 1951 premiere performance is available on VAIA 1034). The version of Billy Budd that has predominated on world stages since then is Britten's 2-act version, created in 1961 by eliminating Captain Vere's presence from the so-called Captain's muster scene at the end of Act I (tenor Peter Pears, the original Vere, didn't want to sing in that scene). The difference between the 2 versions is minimal, but the original version of the Captain's muster, with a rousing chorus and Billy's pledging devotion to Captain Vere, and Vere's inspirational speech to the crew, is thrillingly superior to the revision. This new Erato recording was carefully planned to follow concert performances in May 1997 in Manchester's Bridgewater Hall. The orchestra and the cast of American and English singers, including Thomas Hampson in the title role, are uniformly fine. The Erato engineers have done almost too good a job capturing the voices and the superb Hallé Orchestra under Kent Nagano. Many loud passages will have you reaching for the volume control. Apart from that, this is an excellent recording, though not better than Britten's classic 1967 London/Decca studio recording.

Handel: Rodelinda
Nicholas Kraemer / Raglan Baroque Players (Virgin 5452772/EMI)
** $$$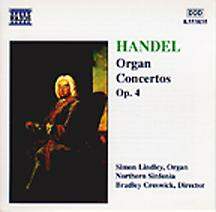 This is a long overdue complete recording of Handel's important opera Rodelinda, regina de Longobardi (1725). The version used follows Handel's earliest edition but adds Bertarido's Dec. 1725 aria "Vivi, tiranno," which is one of the opera's high points. Perhaps the fact that the cast was singing Rodelinda for the first time in their careers accounts for the uneven performance. Sophie Daneman has a nice big voice that can sound a bit dusty in high ornamented passages where flexibility and purity are demanded. Mezzo Catherine Robbin's excellent sense of the baroque idiom makes her Eduige convincing, her voice is commanding, but lacks freshness. Countertenor Daniel Taylor demonstrates technical smarts and good taste in the part of Bertarido, written for the castrato Senesino. Bass-baritone Christopher Purves (Garibaldo), runs hot and cold, sometimes drab and weary, sometimes solid. Tenor Adrian Thompson (Grimoaldo) is often seriously off pitch. Nicholas Kraemer's Raglan Players provide clean accompaniment but there is little sense of dramatic unity. The recorded sound is clinical, lacking warmth and juice.

Mendelssohn: Concertos for violin, piano and strings
Andreas Staier, fortepiano. Rainer Kussmaul, violin
Concerto Köln. Teldec 0630-13152-2
** $$$

Mendelssohn's Concerto for piano and strings in A minor, written in 1822, when the composer was just 13, was rediscovered earlier in this century. It is a bright little jewel, well-made and adventurous but not a masterpiece. Andreas Staier, the foremost fortepianist of our day, is a sensitive player but the outer movements never really take flight, perhaps because his circa-1825 fortepiano has such a small sound. The slow movement is very slow indeed. The Concerto for violin, piano and strings in D minor (1823) comes across much better, with better balance between the fortepiano and violin. Violinist Rainer Kussmaul draws enviable colors from his sweet-sounding Stradivarius. The fortepiano seems primitive by comparison. The Concerto Köln provides healthy backup, with no flaws, but this music gives them little opportunity to shine. The recording, done in a German radio studio, sounds rather dry and cold, reflecting a clinical ambience. The Concerto Köln performs at the Lanaudière Festival July 29 and the Lamèque Festival Aug. 1-2.

Puccini : Suor Angelica
Richard Bonynge /National Philharmonic Orchestra
London Opera Gala 289-458-218-2
*** $$


Joan Sutherland's long-suppressed 1978 studio recording of Suor Angelica deserves to have been released sooner. The all-female cast is strong, with excellent contributions from Isobel Buchanan, Elizabeth Connell, Della Jones and Christa Ludwig. Sutherland's portrayal of the sinning sister is moving and vocally impressive (though she can't float the required high pianissimo and her Italian vowels are typically Sutherlandized). Bonynge leads a compellingly gorgeous orchestral performance. The recorded sound is excellent.

Marilyn Horne: Rossini Heroes and Heroines
London 289-458-219-2
**** $$

Mezzo-soprano Marilyn Horne was almost single-handedly responsible for the resurrection of the bel canto repertoire in America. If you have never heard Horne's recordings, imagine Cecilia Bartoli with cojones. This generous 74-minute disc, drawn from LPs recorded by Horne in the 1960s and 1970s, collects all of Rossini's most famous arias for mezzo-soprano and castrato. This is the cream of Horne's recorded legacy, some of the best singing of the century.

Johannes Ockeghem: Requiem & Missa Fors Seulement
Wickham / The Clerks' Group
ASV Gaudeamus CD GAU 168
*** $$$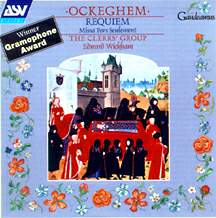 This is perhaps the finest recording to date of the oldest extant polyphonic requiem. The Clerks' Group's fresh reading coincides with the quincentenary of Ockeghem's death. It is the only satisfying recording of the requiem to use women's' voices for the top line. The choir brings a celebratory, even triumphant approach to the music, while allowing one to hear the intricate detailing that is a hallmark of Ockeghem's style. The Clerks deliver full choral sections strongly, while the florid sections are sung with great agility and swagger. This is also the first recording of Ockeghem's Missa Fors Seulement, a mere five-hundred and ten years after its composition! Altogether an extremely fine recording. John Stephenson
Von Karajan "Live" on Deutsche Grammophon

Four live opera recordings from the Austrian Radio archives focus attention on Herbert von Karajan's stormy years at the Vienna State Opera (1957-1964). The recordings are all in mono sound with considerable ambient noise (coughing, loud prompting).
• The earliest is a March 9, 1960 recording of Pizzetti's Murder in the Cathedral, the only complete recording of this rarity (DG 457-681, not submitted for review).
• Three years later Karajan conducted Wagner's Tannhäuser (DG 457-682. * $$$) for the last time - the recording from the January 8, 1963, performance is also Karajan's only commercially available Tannhäuser. The maestro delivers a steely, Olympian, often dull reading of Wagner's sensual score. The orchestra is closely miked, but the sections don't blend. The shallowness of the sonic image renders the string section flat and shrill. The singers are disappointing. Hans Beirer (Tannhäuser) is in extremis from the first note. Gré Brouwenstein lacks the soaring silvery tonal purity necessary for Elisabeth. Christa Ludwig (Venus) is adequate but badly miked. Eberhard Wächter (Wolfram) is heavy but competent. A recording for Karajan fanatics only.
• Karajan's April 1, 1963 recording of Monteverdi's L'incoronazione di Poppea (DG 457-674. ** $$$$) is a fascinating monument of wildly inauthentic, unoriginal performance practices. Monteverdi's music is barely recognizable under arranger Erich Kraack's heavy orchestration, additional music, altered harmonics and rhythms. The cast of top notch opera singers (including Sena Jurinac, Gerhard Stolze, Margarita Lilowa) belt out Monteverdi as if it were Puccini. The singing is gorgeous, well worth having on an excerpts disc as a curiosity. But Karajan leads a dreadfully slow, oppressive performance, and the recorded sound is mediocre. For fans of the bizarre only.
• This June 11, 1964, recording of Richard Strauss's Die Frau ohne Schatten (DG 457-678. *** $$$$) celebrates the centenary of the composer's birth and marks Karajan's farewell to the Vienna State Opera (until 1977). The cast is very good. Leonie Rysanek is a classic Empress, though her high notes are not always secure. Christa Ludwig and Walter Berry deliver wonderfully dramatic accounts of the Dyer's Wife and Barak. Jess Thomas (Emperor) is at the height of his power. Grace Hoffmann is an exciting Nurse. The recorded sound is much better than on previous broadcasts, almost studio quality. The orchestra is clear, balanced, and well blended. This is a great performance, but purists will be outraged by Karajan's huge cuts and reorganisation of Act 2.

Schumann: Lieder
Juliane Banse, soprano. Olaf Bär, baritone. Helmut Deutsch, piano
EMI 7243 5 56579 2 3
*** $$$

German baritone Olaf Bär's final (and excellent) recording for EMI pairs him with German soprano Juliane Banse. Both are singers of impeccable taste and musicianship. Schumann wrote Myrten in 1840, during a "manic" period of tremendous creative activity. Myrten is more of an anthology than a true cycle, but the 26 songs are some of the greatest lieder extant. An added bonus is Zwölf Gedichte aus Ruckert's Liebesfrühling, twelve songs set to texts by the poet Ruckert. This composition was a collaboration between Robert Schumann and his beloved wife Clara. Bär brings much experience and musical wisdom to his interpretations, though his voice has hardened somewhat with time and his declamatory style in several of the songs can be wearisome. He is at his best in the more contemplative songs such as "Du bist wie eine Blume." Fresh-voiced Juliane Banse sings with consistently lovely tone, particularly in the middle register. Helmut Deutsch is, as ever, the exemplary accompanist. Highly recommended. Joseph So


Joseph Martin Kraus: Symphonies & Overture
Petter Sundkvist / Swedish Chamber Orchestra Naxos 8.553734
*** $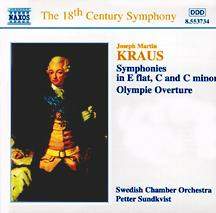 Kraus was a prolific German composer who made his reputation at the Swedish royal court between 1778 and his death in 1792. He has been called "the Swedish Mozart" though there is nothing nationalistically Swedish about this music. The 3 symphonies on this disc (Kraus composed twelve in total) are in the tradition of Haydn, Gluck and Mozart, composers Kraus knew personally. The three-movement form (no dance movement) and thematic material are classical, reserved and Olympian, making this much more than trivial background music. The Swedish Chamber Orchestra, founded in 1995, delivers impeccable performances. The recorded sound (Örebrö Concert Hall, Sweden) is impressively full and intimate. Good notes in English, French, and German but biographies in English only.

Jacob Obrecht: Missa Caput & Salve Regina
Summerly / Oxford Camerata
(Naxos 8.553210)
*** $

The Flemish composer Jacob Obrecht (c. 1450-1505) was a celebrated innovator in his own time. His Missa Caput is a fine example of his linear style of writing. All of the works on this disc are based on plainsong, the Missa Caput taking its cue from the plainsong for Maundy Thursday, Venit ad Petrum. Ockeghem contributed to the art of the parody mass, and Obrecht was just as fascinated with the 'remake' mass. His Missa Caput reworks the division and layout of the cantus firmus of the famous English mass of the same name from the 1440's. The Oxford Camerata delivers a performance superior to that of the more expensive recent Clerks' Group Obrecht recording (ASV Gaudeamus GAU 171). The Camerata sings every line with care, paying special attention to shape of phrase. The singers are typical of Oxbridge chapel choir graduates, with a warm, well disciplined sound, never lacking in style or polish. John Stephenson

Jean-Baptiste Lully : Musique de Ballet pour le Roi-Soleil
Kevin Mallon / Aradia Baroque Ensemble
Naxos 8.554003
*** $

Ce charmant (et généreux, avec ses 73 minutes) disque contient des extraits de 6 ballets français composés durant les premières années de Lully (1654-1670) à la cour de Louis XIV. Les gigues, gavottes, ritournelles, majestueuses chaconnes et bourrées animées, furent écrites pour des personnages de scène aussi divers que docteurs, polichinelles, scaramouches, arlequins, maures, coquettes, braves jaloux, satyres, singes dansants, suisses et courtisans. Avec ses 16 instrumentistes pour cordes, l'Ensemble Baroque Aradia est une réplique torontoise des Petits Violons du Roy de Lully. L'exécution est vive, digne et, le plus important, agréable. Ni fausses notes ni maniérisme déplacé ou embarrassant, comme on en retrouve parfois dans l'exécution de la musique ancienne, ne viennent troubler notre plaisir. Des 35 plages du disque, sept sont consacrées à la musique vocale et chantées par deux sopranos canadiennes fort bien assorties: Mary Enid Haines et Sharla Nafziger.
Schumann : Concerto pour Violoncelle
Pieter Wispelwey, violoncelle
Australian Chamber Orchestra
Channel Classics CCS 11097 / SRI
** $$$
Schumann : Concerto pour Violoncelle; Symphonie No 4
Christophe Coin, violoncelle
Herreweghe / Orchestre des Champs Elysées
harmonia mundi HMC 901598 / SRI
*** $$$

L'année dernière, le violoncelliste hollandais Pieter Wispelwey annonçait que son nouvel enregistrement du concerto pour violoncelle de Schumann surpasserait les 20 autres sur le marché, spécialement celui, récent, de Christophe Coin («il utilise trop de vibrato nerveux», etc.). Maintenant que j'ai les deux enregistrements sous la main, je trouve que celui de Christophe Coin surpasse de loin celui de Wispelwey. Le jeu de ce dernier est techniquement superbe mais son interprétation trop intellectuelle le rend ennuyeux. Son Schumann est dénudé d'émotion. Nous attendions une chanson et nous voilà devant une partie d'échecs. Le Australian Chamber Orchestra, un groupe de jeunes, est passable. L'enregistrement n'est pas rehaussé par l'acoustique sèche du Muziekcenter Frits Philipszaal d'Eindhoven, en Hollande. Le son est rude et brillant, sans réverbération chaleureuse. J'ai opté avec soulagement pour Christophe Coin sur harmonia mundi. Le violoncelle et l'ensemble sont réunis dans un jeu charmant, lyrique et pleine de joie sensuelle. Herreweghe dirige une exécution enjouée, une de ses meilleures. L'acoustique est veloutée et bien équilibrée. Les «instruments authentiques» ont un son naturel. Herreweghe est satisfait de nous offrir une musique délicieuse et nous lui en sommes reconnaissants.

William Walton : Symphony No.1
Paul Daniel / English Northern Philharmonia
Naxos 8.553180
*** $

This second disc in Naxos's cycle of Walton symphonies is as good as the first one, which is very good indeed. Conductor Paul Daniel is a British Wunderkind best known as Music Director of the Leeds-based Opera North (the English Northern Philharmonia is Opera North's orchestra). Daniel and his band give a dynamically engaging and suspenseful reading of Walton's first symphony. The instrumentalists are top notch, the brass solid and the strings crisply responsive. The recorded sound is clear and well-balanced, robust, colorful and impressive. If you don't know Walton's symphonies, this super-budget series is a great place to start.

Mahler : Symphony No.6
Thomas Sanderling / St. Petersburg Philharmonic
RS 953-0186 / Distribution Pelleas
*** $$$

A magnificent installment in Thomas Sanderling's projected cycle of Mahler symphonies. The orchestra is superb. Sanderling is one of those rare conductors who has a vision and knows how to impose it. The real marvel of this recording (made in 1995 in the Grand Hall of the St. Petersburg Philharmonic) is the crystalline sound, with incredible depth and detail - an audiophile's dream. The only problem is that this 81 minute symphony is on 2 full price cds. Three minutes less music would have fit on one cd. Notes in English, French and Italian.
En Bref / CD Shorts
• Dvorak : String Quartet No. 12, Terzetto, Bagatelles
Prazak Quartet. Praga PRD 250 110 / SRI.
**** $$$
• Rachmaninov : Aleko, Francesca da Rimini, The Miserly Knight
Neeme Järvi / Gothenburg Symphony
Deutsche Grammophon /Polygram
**** $$$
• de Victoria / Pujol : Feria VI in Passione Domini
La Colombina. Accent ACC 97124D / SRI.
*** $$$
• Musica Intima : Choral Music
MI-001/SRI
*** $$$
• Canadian Safari : Canadian Folk Music For Choir
Chor Leoni. Skylark Music 9801/SRI
*** $$$.
• Holst : Beni Mora, Somerset Rhapsody
David Lloyd-Jones / Royal Scottish National Orchestra. Naxos 8.553696
*** $
• Monteverdi : Ottavo Libro de' Madrigali
Rinaldo Alessandrini / Concerto Italiano Opus 111 OPS 30-187
*** $$$
• Berwald : Symphonies No. 1-4
Okko Kamu / Helsingborg Symphony Orchestra Naxos 8.553051/52
*** $
• Bach : The Well-Tempered Clavier Book II
Lagacé / Organ of Eglise Immaculée-Conception, Montréal
Analekta FL 2 3015, FL 2 3016, FL 2 3017
*** $$$
• Vivaldi : Concerti e Cantate
Rinaldo Alessandrini / Concerto Italiano. Opus 111 OPS-30-181
*** $$$
• Vivaldi : Gloria & Magnificat
Rinaldo Alessandrini / Concerto Italiano. Opus 111 OPS-30-195
*** $$$
• Boismortier : Ballets de Village et Sérénade
Hervé Niquet / Le Concert Spirituel. Naxos 8.553296
*** $
• Raymond Daveluy : Five Sonatas for Organ
Rachel Laurin / The von Beckerath organ of lL'Oratoire Saint-Joseph
CBC Musica Viva MVCD 1111/2
*** $$$
• Sibelius : Symphony 1 & 2, Tone Poems
Various artists. Sony Essential Classics Take 2. SB2K 63260
*** $
• Debussy : Great Orchestral Works
Various artists. Sony Essential Classics Take 2. SB2K 63244
*** $
• Beethoven : Symphony No. 6, etc.
Various artists. Sony Essential Classics Take 2. SB2K 63240
** $
• Mozart : Sonatas, fantasies and rondos for fortepiano
Jos van Immerseel, fortepiano. Sony Vivarte S2K 62879.
*** $$$

• Art of the Baroque Trumpet Vol. 2
Naxos 8.553593
*** $
• Janacek : Jenufa
Jaroslav Vogel / Prague National Theatre Orchestra and Chorus
Supraphon Mono SU 3331-2 602 / SRI
** $$$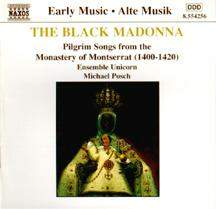 • The Black Madonna : Pilgrim Songs from Montserrat
Michael Posch / Ensemble Unicorn. Naxos 8.554256
** $

• Ben Heppner : Dedication
Ben Heppner, tenor. Craig Rutenberg, piano.
RCA Victor Red Seal 09026-63104-2
** $$$

• Franck & Chausson : Chamber Music
Quatuor Ludwig. Michaël Levinas, piano. Naxos 8.553645
** $

• Sibelius & Mendelssohn : Violin Concertos
Sarah Chang, violin. Mariss Jansons / Berliner Philharmoniker.
EMI 5564182
** $$$

• Dame Janet Baker : Songs (compilation)
Richard Hickox/City of London Sinfonia.
Virgin 5614692 / EMI
** $

• Schubert : Winterreise & Lieder (compilation)
Arleen Auger, Lambert Orkis. Thomas Allen, Roger Vignoles.
Virgin 5614572/EMI
** $

•Tchaikovsky:Piano Concertos
Mikhail Pletnev, piano. Vladimir Fedoseyev/ The Philharmonia
Virgin 5614632/EMI
** $

•Tchaikovsky : Piano Concerto No.1
Emil Gilels, piano. Fritz Reiner / Chicago Symphony Orchestra
RCA Victor Living Stereo 09026-68530-2
** $$$

• Beethoven & Mendelssohn : Violin Concertos
Jascha Heifetz, violin.
Charles Munch / Boston Symphony Orchestra
RCA Living Stereo 09026-68980-2
** $$

• Sibelius: Symphonies No. 1-4
Osmo Vänskä / Lahti Symphony Orchestra. BIS-CD-861/2
** $$$

•Brahms: Piano Concerto No. 2
Maurizio Pollini, piano. Claudio Abbado / Berliner Philharmoniker
Deutsche Grammophon 453-505
** $$$

• Schubert : Lieder
Anne Sofie von Otter, mezzo-soprano. Bengt Forsberg, piano
Deutsche Grammophon 453-481 / Polygram
** $$$

• Boito: Mefistofele
Riccardo Muti / Teatro alla Scala
RCA Red Seal 090226-68284
** $$$

• German Opera Arias
Kiri Te Kanawa, soprano. Julius Rudel / Philharmonia Orchestra
EMI 5564172
** $$$

• Mozart : Don Giovanni
Sir Georg Solti / London Philharmonic Orchestra
London 455-0500-2 / Polygram
** $$$

• Prokofiev : Ivan the Terrible
Gergiev / Rotterdam Philharmonic. Philips 456-645
** $$$

• Baroque Arias (compilation)
Yoshikazu Mera, counter-tenor. BIS CD-919 / SRI.
** $$$

• Verdi : Don Carlos
Antonio Pappano/ Orchestre de Paris (EMI 556152)
** $$$

• Verdi Il Trovatore
Herbert von Karajan/ La Scala (EMI 5563332) ** $$

• Mozart : Don Giovanni
Jean-Claude Malgoire / La Grande Écurie & La Chanbre du Roy. Astrée E 8500 / Interdisc
** $$

• Handel : Organ Concertos
Simon Lindley, Organ. Bradley Creswick / The Northern Sinfonia
Naxos 8.553835
** $

• My World
Angela Gheorghiu, soprano / Malcolm Martineau, piano
London 289 458 360-2 /Polygram
** $$$

• Britten: Choral Edition Vol. 2
Paul Spicer / Finzi Singers
Chandos CHAN 9598 /SRI
** $$$

• Sallie Chisum Remembers Billy The Kid
Barbara Bonney, soprano / André Previn, piano
London 289-455-511-2
** $$$

• Berlioz: Les Troyens (Grand Scenes)
Charles Dutoit / Montreal Symphony Orchestra
London 289-458-208-2 / Polygram
** $$

• An Die Musik: Schubert Songs and Piano Transcriptions
Kevin McMillan, baritone; Paul Stewart, piano
CBC Records MVCD 1106
** $$$

• Shostakovich : Symphony No. 7 "Leningrad"
Valeri Polyansky / Russian State Symphony Orchestra
Chandos CHAN 9621 / SRI
** $$$

• Shostakovich : Symphony No. 7 "Leningrad"
Mark Wigglesworth / BBC National Orchestra of Wales
BIS CD 873 / SRI
* $$$

• Beethoven : Fidelio
Sir Charles Mackerras / Scottish Chamber Orchestra
Telarc 2 CD-80439 / polygram
* $$$

• Mozart : Complete Works for Horn and Orchestra
Michael Thompson, horn. Bournemouth Sinfonietta.
Naxos 8.553592
* $

• Gavin Bryars : A Man In A Room, Gambling
Gavin Bryars Ensemble. Point Music 289-456-514-2 / Polygram
* $$$

• Holst: The Planets
Yoel Levi / Atlanta Symphony Orchestra
Telarc CD-80466 /Polyram
* $$$

• The Dark Is My Delight: Sixteenth Century Lute Songs
Brian Asawa, countertenor. David Tayler, lute
RCA Red Seal 9026-68818 / BMG
* $$$

• Gershwin & Ravel: Piano Concertos
Hélène Grimaud, piano. David Zinman / Baltimore Symphony Orchestra.
Erato 0630-19571-2 / Warner
* $$$

• Memories of Love: Russian Romances
Galina Gorchakova, soprano
Philips 446-720 / Polygram
* $$$