The Winnipeg New Music Fest

by Valorie Dick / April 1, 1998

---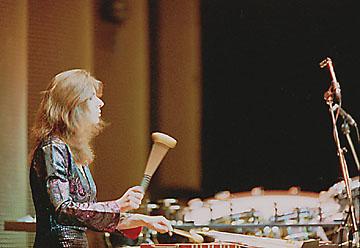 Winnipeg's seventh annual du Maurier New Music Festival attracted a record attendance of 15,500 and more than 250,000 radio listeners over a nine-day period in late January 1998, making it one of the largest events of its kind in the world. But despite steady growth and outstanding public support, the festival's future is in jeopardy. As a result of the Federal government's new restrictions on advertising by tobacco companies, du Maurier will probably withdraw its sponsorship amounting to almost 20% of the Festival's $550,000 budget. In a sensational incident reported by local papers during the Festival, Culture and Heritage Minister Sheila Copps exchanged words with Festival organizer Bramwell Tovey. Copps suggested that the Winnipeg Symphony Orchestra (the Festival's organizer) use recent Canada Council grants of $130,000 to replace du Maurier's largesse. Festival supporters quickly pointed out that the Council's one-time grant is a stop-gap measure that does nothing to assure the Festival's long-term future.
The Winnipeg New Music Festival began in 1992 under the creative direction of Winnipeg Symphony Orchestra Artistic Director Bramwell Tovey and former WSO Composer in Residence Glenn Buhr. Despite being held in January, one of the prairie winter's coldest months, the first Festival attracted 10,000 Winnipeggers to the Centennial Concert Hall. In its seven-year history, the Festival has welcomed such renowned new music groups as the San Francisco-based Kronos Quartet and England's Hilliard Ensemble. World-famous composers such as Arvo Pärt and John Corigliano have visited the Festival to explain their latest compositions.
This year's Distinguished Guest Composer was U.K.-born Mark-Anthony Turnage, who is Composer in Association with the English National Opera. Turnage presented six jazz-influenced, visceral compositions including Three Screaming Popes (inspired by Francis Bacon's painting); Kai, an emotion-filled elegy to Turnage's late friend cellist Kai Scheffler; and Twice through the Heart, a powerful commentary on spousal abuse. Of course the Festival has always supported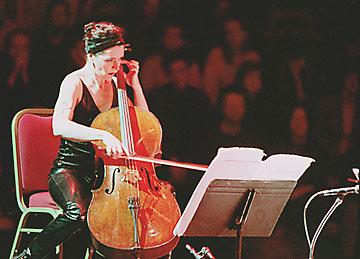 music composed and played by Canadians. Guest composer Omar Daniel of Toronto was present for performances of My Angel, an intimate vignette performed by guitarist Rachel Gauk and soprano Monica Whicher. Daniel's Bartokian-minimalist Double Concerto for violin and cello (written for the Canada Council's 40th Anniversary) was premiered by James Ehnes and Denis Brott on a violin and cello from the Council's instrument bank. Other highlights included the Canadian premiere of Joseph Schwantner's Percussion Concerto played by Scottish percussion virtuoso Evelyn Glennie; Douglas Schmidt's Smokin' f Holes interpreted by Canadian cellist Shauna Rolston and the spirited Vancouver trio SqueezPlay; Hungarian György Kurtág's intense Scenes from a Novel ably adapted and mounted by Winnipeg soprano Therese Costes, members of the WSO, and four former Royal Winnipeg Ballet dancers; and the Canadian premiere of John Adam's Gnarly Buttons, a funky romp played by clarinettist Lori Freedman.
The annual Canadian Composers' Competition featured finalists Alastair Boyd, Chris Paul Harman, and Robert C. May. Harman, winner of the 1990 CBC National Radio Competition for Young Composers, took top prize ($4000 and a WSO commission) for his high-energy Blur. Robert May, a Los Angeles-based Torontonian took second prize ($3000) for his ethereal Dreamcalling. All of the composers were glad for the rare chance to have their orchestral works performed in public.
The New Music Festival's success over the years can be attributed to several factors: Bramwell Tovey's charismatic leadership, CBC Radio's commitment to broadcast many of the concerts, and not least, affordable tickets. The Festival's ambience is relaxed, with audience members sitting in bleachers on stage, composers giving pre-performance chats, and a general invitation to mingle with composers, musicians, and organizers in post-concert cafés.
Judith Kehler Siebert, Assistant Professor of Music at Brandon University, has been an enthusiastic participant in several Festivals. She loves the diversity of people attracted by the Festival's accessibility. "The Festival encourages people to be open-minded about crossing over between jazz, classical or even pop."
Classical purists have been heard to lament the relative lack of substantial works by heavyweights such as Ligeti, Berio, Boulez, Maxwell Davies, and Eliott Carter. Randolph Peters, current WSO Composer in Residence and one of the Festival's programmers, thinks that stylistic variety is the Festival's strength. "I try to program works that are really going to make an impact musically. From Aaron Jay Kernis to Turnage to Omar Daniel, I thought this year's offerings really held together."
Though no major sponsor has stepped forward to replace du Maurier, festival organizers continue to pursue other sources of corporate funding, and organizer Randolph Peters remains optimistic. "I'm already planning next year's Festival. I've booked a guest composer and am currently negotiating with various musicians." The Festival's many fans wish him good luck.
photo credit: Bruce Monk
---