Mozart: Le nozze di Figaro

Giulini / Philharmonia Orchestra (EMI CMS 7632662)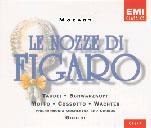 Giulini's stereo studio Nozze (rec. 1959) is justly considered one of the best on disc and at mid-price it can't be beat. The cast is solid gold. Taddei is a great Figaro, Anna Moffo a warmly loveable Susanna, Eberhard Wächter is a buffo-ish Count, Schwarzkopf is a rather self-conscious Countess, Ivo Vinco's Bartolo is a bit hammy and Commendator-ish, Fiorenza Cossotto's deep mezzo puts unwonted hair on Cherubino's chest. Guilini provides intelligent, deferential accompaniment. The studio acoustic is dry and honest. Libretto in Italian and English only. In short, a reference recording.
Mozart: Le nozze di Figaro

Karl Böhm / Vienna Philharmonic

(Orfeo C296 923D / Pelleas)

The Orfeo label scored quite a coup licensing the Austrian Radio tapes of Salzburg Festival performances between 1949 and 1985. This excellent July 30, 1957 Le nozze di Figaro led by master Mozartian Karl Böhm is a valuable memento. The all-star cast includes the young Fischer-Dieskau as an intimidating Count with perfect diction and infallible thespian instincts. Irmgard Seefried's vocally and dramatically impeccable Susanna is a pillar of the production. English tenor Murray Dickie (Basilio) sings better Italian than many of his colleagues. Elisabeth Schwarzkopf, a legendary Countess, is in top form. Christa Ludwig, the audience's favourite, is a palpably excited Cherubino. The other two principals are not at their best. Erich Kunz (Figaro) sounds indisposed, rarely singing out. George Stern (Bartolo) sings stilted Italian in a bland bass voice. The orchestra under Böhm is a joy and the well-behaved Festival audience is silent as the tomb. In short, this is a studio-quality performance to study and cherish, packed with superb performances by the best Mozart singers of the era. Note that the same performance is also available on the budget Gala label (GL 1000.601). Mozart's Le Nozze di Figaro at L'Opéra de Montreal April 23-29, 1998 (Tel: 514-985-2258) and L'Opéra de Québec May 9, 12, 14, 16, 1998 (Tel: 418-529-4142).
Puccini: Madama Butterfly

Oliviero de Fabritiis/ Rome Opera (Pearl GEMM CDS 9290/SRI)
This July 1939 Butterfly was the opera's second complete commercial recording and still remains an emotionally moving performance. For pure dramatic realism - you can easily visualise the story through the voices - it is second to none. If you don't mind some period pratices (for me they constitute the fascination of this recording) and the sonic limitations of transfers from 78 rpm discs, there is a wealth of pleasure here. Tenor Beniamino Gigli is the star of this set. His sunny timbre, easy delivery and buoyancy remain unique. Toti dal Monti's shrill timbre is an acquired taste but her technique (what legato and messa di voce!) are stunning. Unusual characterizations include Zagonara's Goro (as villainous as a Nibelung) and Basiola's surprisingly macho, sleazy Sharpless. De Fabritiis is a genius, with impeccable rhythm and perfect stage-pit coordination. Despite surface noise and blasting at fortes, highly recommended. Madama Butterfly at Toronto's Canadian Opera Company April 9, 14, 17, 19, 22, 25, 1998 Tel: 1-800-250-4653 / 416-363-8231. E-mail: tickets@coc.ca
Handel: Ariodante

Marc Minkowski / Les Musiciens du Louvre

Deutsche Grammophon Archiv 457-271-2

Handel: Ariodante

Nicholas McGegan / Freiburger Barockorchester

harmonia mundi HMU 907146.48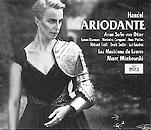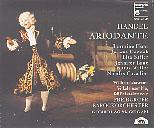 There are now two great Ariodante recordings in the catalogue that beg comparison: Nick McGegan's 1995 Göttingen Handel Festival recording for harmonia mundi, and Minkowski's new release on DG. McGegan's Ariodante was a definitive delight when it first appeared and it remains a gem, but Minkowski has trumped him at almost every point. Conducting from the harpsichord, McGegan leads a stately, rather prissy performance compared to the unabashedly romantic Minkowski. McGegan has a cast of baroque vocal stars but Minkowski's singers, while marginally less authentic, bring more humanity to their roles. Minkowski's Ginevra (Lyne Dawson) is far more powerful and vibrant than McGegan's Juliana Gondek; his King, Russian bass Denis Sedov, is more resonant and agile than McGegan's Nicolas Cavallier; the Dalindas are about the same. Minkowski's employment of non-baroque specialists for the remaining roles may irk purists. Richard Croft's sobbing Lurcanio is more verismo than baroque, but it works. Minkowski's Ariodante, Anne Sofie von Otter, is a bit out of her depth executing (or faking) Baroque runs, shakes and trills. She is at her best in the gorgeous duets with Dawson ("Prendi da questa mano" and "Se rinasce") but in the final analysis, McGegan's Ariodante (baroque diva Lorraine Hunt) trounces von Otter on technical points alone. Minkowski deserves praise for casting Polish contralto Eva Podles in the pants part of Polinesso, Duke of Albany. Her androgynous timbre and startling range (from amphibious chest voice to clarion top) make her Polinesso unforgettable. Minkowski and McGegan both have crack orchestras and choruses, and excellent recorded sound. McGegan's effort will always deserve respect but for a sheerly thrilling Ariodante, try Minkowski.
Samuel Barber: Complete Piano Music

John Browning , piano

Music Masters 01612-67122-2 / BMG

Legendary American pianist John Browning (b. 1933), has been staging a comeback at an age when most musicians contemplate retirement. Because Browning's playing is still marvellous, we can count ourselves lucky. I loved his Mozart concerto at New York's Mostly Mozart Festivallast summer and this disc of Barber's solo piano music is equally impressive. Browning is justly regarded as the definitive interpreter of his friend Sam Barber's piano music. Here he plays the virtuosic Piano Sonata, Op. 26 (1949), the delightfully jazzy Excursions (1942-44) and the Nocturne, Op. 33 (1058) which he premiered thirty years ago. Despite claims of completeness, Browning omits the piano arrangement of Barber's Souvenirs op. 28 (1952) which has been recorded by Ruth Laredo (Elektra/Nonesuch) and Parkin (Chandos), among others. Browning's delicate touch , emotional sensitivity and technical prowess make this a treasurable recording. John Browning plays Barber's Piano Concerto (which he has played over 600 times since it was written for him in 1962 ) with the Toronto Symphony Orchestra April 18 &20, 1998. Tel: 416-593-4828.
Penderecki: Violin Concerto No. 2

Bartok: Violin Sonata No. 2

Anne-Sophie Mutter, violin

K. Penderecki/ London Symphony Orchestra

Deutsche Grammophom 453-507-2

Any world premiere recording of a concerto by Penderecki, played by the artist for whom it was written is to be recommended (especially if that artist is phenomenal violinist Anne-Sophie Mutter). Penderecki and Mutter have worked closely to maximize the impact of his concerto, and the collaboration is a success. The concerto is a huge 38-minute densely-textured work with passages of classic Penderecki (trilled clusters on strings, etc.) and long stretches of virtuoso violin writing (as usual, Penderecki treats the instrument as a voice). Deutsche Grammophon's publicity emphasizes the accessibility of this concerto, and certainly there is nothing here to scare the horses. It lacks the immediate visceral impact of Penderecki's earlier, more engagé masterpieces. Still, the disc is an audiophile's dream, well worth having for the London Symphony and Mutter's ravishing playing. Anne-Sophie Mutter will play the complete Beethoven violin sonatas at Toronto's Ford Centre for the Performing Arts April 16, 17, 18, 1998. 20H00. Ticketmaster: 416-872-2222.
The Complete Josef Hofmann: Volume 5

Marston 52004-2 / SRI

Josef Hofmann (1876-1957) fut l'un des plus grands pianistes de la première moitié du 20ème siècle. Dans ses meilleurs moments, son jeu était d'une perfection pianistique insurpassable. Hofmann possédait une technique sans failles, une sonorité d'un raffinement exquis et un sens des couleurs qui n'avait rien à envier à celui d'Horowitz.
La nouvelle compagnie de disques Marston poursuit la réédition du "Complete Josef Hofmann" avec ce cinquième volume (les quatre premiers sont disponibles sur étiquette VAI Audio). Le premier CD de ce volume contient les enregistrements tests que Hofmann fit pour RCA en Amérique ainsi que pour HMV à Londres en 1935. Certaines de ces pièces étaient déjà disponibles sur Appian, avec un transfert peu réussi, dans le premier volume de "Romantic Piano Rarities" (APR 7013). La qualité du transfert de Marston est irréprochable.
Pour RCA Hofmann a enregistré quatre fois la Valse en la bémol majeur Op.42 de Chopin. Malgré quelques fausses notes, la première prise est la plus inspirée avec une coda prestissimo d'une légèreté miraculeuse. Plus intéressants encore sont les deux enregistrements du Nocturne Op.27 no.2 de Chopin. La première prise est malheureusement interrompue juste avant la fin de l'oeuvre à cause d'un problème technique lié à la prise de son. Quel dommage! Car on peut entendre ici le pianiste à son meilleur: jeu noble et aristocrate, d'une sorte d'exaltation élégante qu'on ne retrouve dans aucune autre version de l'oeuvre.
Le premier mouvement de la 3ème sonate de Chopin, où le pianiste évite la reprise, est d'un équilibre exemplaire. L'interprétation de Hofmann est ici beaucoup plus classique et proportionnée que celle de ses contemporains (par exemple, Rachmaninov dans son célèbre enregistrement de la 2ème sonate de Chopin). Quel dommage que le grand pianiste n'ait pas enregistré toute la sonate!
Parmi les enregistrements tests de HMV nous trouvons encore une fois l'inévitable Valse en la bémol majeur dans une interprétation plus décontractée et ludique ainsi qu'un Nocturne Op.15 no.2 tout simplement parfait, d'une beauté sonore inouie. Sous les doigts magiques de Hofmann l'oeuvre flotte dans les airs comme un délicieux parfum.
Si la Valse en la bémol majeur Op.42 était le "leitmotiv" du premier disque, la Valse en ré bémol Op.64 no.1 est celui du second. Dans certaines pièces de ce deuxième disque on constate que la technique du grand pianiste s'est dégradée à la fin de sa carrière. L'articulation n'est pas aussi précise et parfaite que dans les enregistrements des années 20 et les tests de 1935. Hofmann survole parfois les notes et son jeu n'a ni l'assise, ni l'aplomb de ses grands jours.
Moins essentiel que les volumes 1, 2 et 4 de la série "The Complete Josef Hofmann", le cinquième volume reste toutefois un "must" pour les pianophiles sérieux, les collectionneurs d'enregistrements historiques et surtout, les admirateurs du grand pianiste. A. DVORSKI
NAXOS HISTORICAL OPERA SERIES

Gounod: Faust. W. Pelletier / Metropolitan Opera (Naxos 8.110016-7).

This performance, dated April 6th, 1940, was recorded with the Met on tour in Boston. It preserves the Mephistopheles of Ezio Pinza, one of his great roles. Other than a few flat high notes in Act 1, Pinza's performance is a vocal and dramatic tour de force. As Faust, Richard Crooks shows why he was one of a handful of tenors of his generation capable of doing justice to this role. His "Salut! Demeure" could hardly be better, complete with a clarion top C followed by a controlled diminuendo. Valentin is a very youthful Leonard Warren. In resplendent voice, he lingers over the high notes in "Avant de quitter ces lieux." Helen Jepson (Marguerite)'s well schooled, pretty voice sans trill pales in such splendid company. The sound on this Boston broadcast is far superior to the other Met broadcasts in the Naxos series originating from New York. Highly recommended. Joseph So
Johann Strauss II: Eine Nacht in Venedig

Heinrich Steiner \ Reichsender Orchestra (Naxos 8.1110027-8).
In this vintage 1938 recording from Berlin, Johann Strauss' classic operetta is heard just as it should be performed on the stage, with substantial sections of spoken dialogue in between the musical numbers, offering a unique blend of droll comedy and "light" virtuoso singing. The idiomatic performers are consummate actors as well as top-notch singers. The male lead, tenor Marcel Wittrisch, then at the height of his career, had one of the most exciting voices ever to grace the German stage, strong and powerful, yet agile and graceful, and very secure at the top. One must mention that this live radio recording originated in Nazi Germany. History tells us that Hitler himself was very fond of Viennese operetta and that Herr Wittrisch was his favourite singer in that repertoire. There is evidence that the spoken dialogue heard in this recording is based on a special "national-socialist" propaganda edition of the text, which ridicules parliamentary democracy. A difficult allegation to verify since the operetta is in German and Naxos suplies no libretto or synopsis in any language. The recording suffers from surface noise and other technical blemishes but it is above average for the period and Naxos has made an excellent job of restoring the best available source tapes put at its disposal by some mysterious German collector. Pierre M. Bellemare
Mozart: Don Giovanni

Bruno Walter / Metropolitan Opera

(Naxos 8.110013-4)
This performance captures many Met artists at the height of their powers - particularly the charismatic Don of Ezio Pinza and the delicious Zerlina of Bidu Sayao. As Leporello, Alexander Kipnis is excessively buffo in places, while Charles Kullman makes a sweet-toned but short-breathed Ottavio, sorely taxed by the coloratura and the long lines of "Il mio tesoro". Bruno Walter's muscular and stately conducting is more seria than commedia, perhaps a bit too heavy-handed for Mozart, but his command and musical intelligence are never in doubt. It is a shock to hear secco recitative played on the piano, a practice now mercifully rarely encountered. More serious are the bleeding chunks excised from the score, partly a result of standard cuts, such as Elvira's "Mi tradì," but also due to gaps in the original tapes. On the bright side, the results fit on two supercheap CDs. Unfortunately, curtain calls and commentary by Milton Cross are not preserved. Sonically, the opera is quite listenable, though the sound is rather constricted and lacking in clarity, especially compared to the Faust broadcast (Naxos 8.110016-17) recorded two years earlier. This is an important document and a must for fans of the Met. Joseph So
Schubert: Goethe Lieder

Matthias Goerne, baryton

London 452-917-2
Le baryton lyrique Matthias Goerne nous propose un récital de lieder de Schubert sur des textes de Goethe. Sa voix est d'une beauté et d'une étendue considérables et se distingue par sa sensibilité. Son style de chant est d'un extrême raffinement qui parfois frôle l'affectation. Il navigue dans les ultimes piani (surtout dans les trois «Gesänge des Harfners» et l'intime «Nähe des Geliebten»), mais déploie la puissance requise pour «Erlkönig» et «Prometheus». Son accompagnateur, un pianiste discret et fort sensible, fils du ténor Ernst, se nomme Andreas Haefliger. Ce récital, que je recommande chaudement, nous met l'eau à la bouche pour le prochain album de Goerne, Lieder de Schumann, a paraître en avril. Richard Turp
J.S. Bach: The Brandenburg Concertos

Gustav Leonhard. SEON SB2K 62946 (Sony)
Gustav Leonhardt was one of the founders of the early music revival and his colleagues here (Sigiswald Kuijken, Frans Brüggen, Anner Bylsma) are a veritable Who's Who of baroque music specialists. In the first concerto, the sound of the natural horns is a bit brash and the tempo of the Menuet is rather weighty, but these are minor complaints. Special mention must be made of Claude Rippas' trumpet playing in the second concerto and that of cellist Anner Bylsma in the sixth. Leonhardt's direction is informed without being stuffy. Despite the passage of time this economically priced recording remains enjoyable. Casey Ann Reinke
Arie Antiche

Dmitri Hvorostovsky, baritone

Sir Neville Marriner / Academy of St. Martin in the Fields (Philips 456 543-2)

Since his 1988 win in the pretentiously named Cardiff Singer of the World Competition, 36-year old Siberian baritone Dmitri Hvorostovsky's good looks and opera career as a Verdi baritone have kept him in the public eye. Now he offers us an album of Baroque Italian arias and the results are charming, especially in slow, reflective arias such as Gluck's "O mio dolce ardor", Caldara's "Selve amiche" and "Come raggio di sol", Handel's "Chi sprezzando", and Caccini's haunting "Amarilli, mia bella" (arranged by the baritone himself). The voice is warm, resonant, straight (no ragged Terfel vibrato), slightly covered and smoky, with almost no Slavic accent. His Italian diction is very fine and he seems temperamentally suited to the repertoire. Only in the two coloratura Vivaldi arias and in sprightly songs such as Giordani's "Caro mio ben" and Handel's "Già il sole del Gange" (Gigli territory!) does Hvorostovsky lack agility and sparkle.
Antonio Caldara: Maddalena ai piedi di Cristo

René Jacobs / Orchestre de la Schola Cantorum Basiliensis

harmionia mundi (HMC 905221.22 / SRI)

This dramatic cantata won a well-deserved 1997 Gramophone award for best baroque vocal recording. Caldara's score is packed with irresistible tunes and ravishing arias (there are 27 exquisite little da capo arias). Six stunningly fresh young voices including Argentinian mezzo Bernarda Fink and soprano Rosa Dominguez sing the roles of Earthly and Celestial Love, the Magdalen, Martha, a Pharisee and Christ. Countertenor Andreas Scholl sounds as pure and powerful as a silver flute. Jacobs conducts with envigorating dramatic flair. This is a must for anyone even remotely appreciative of baroque musicianship.
Glazunov and Kabalevsky: Violin Concertos

Tchaikovsky: Souvenir d'un lieu cher; Valse-Scherzo

Gil Shaham, violin

Mikhail Pletnev / Russian National Orchestra

Deutsche Grammophon 457 064-2
All four works on this disc are relatively unfamiliar, but if they were always played so ravishingly they would surely be recorded more often. Gil Shaham justifies his formidable reputation with memorable accounts to stand alongside the best. His technique, albeit stunning, is only a means to an end, never an end in itself.
Shaham plays with the kind of wide tonal palette one would expect of a great singer. Interpretively he is very similar to Josef Gingold, former concertmaster of the Cleveland Orchestra. This is extroverted old-fashioned bravura playing, full of liberal portamenti and rubati. These are particularly effective in the playful Valse-Scherzo, where Shaham's finely controlled spiccato permits him to freely indulge in quixotic agogic effects. Mikhail Pletnev draws fine though not exceptional playing from the Russian National orchestra. Added reverberation, though unnatural, doesn't impair one's enjoyment of the music. Heartily recommended. Gil Shaham will play the Barber Concerto with the Toronto Symphony Orchestra April 15 @ 20H00 & April 16 @ 11H00, 1998 (Tickets: 416-593-4828). Shaham in recital at the National Arts Centre May 15, 1998 (Ticketmaster: 613-755-1111). Alan Horgan