Winterreise Feature
Schubert: Winterreise

Thomas Hampson, baritone

Wolfgang Sawallisch, piano (EMI 5564452)

This gorgeous Winterreise, probably the most beautiful on the market, brings American baritone Thomas Hampson's annus mirabilis (he was EMI's 1997 Artist of the Year) to a glorious close. Hampson's warm, personable, eminently phonogenic timbre has made his fortune, and the recording session last March finds him in great voice, smoothly polished throughout its range. Interpretively, Hampson's Winterreise is deliberately nonconfrontational, foregoing the expressive risks that make Fischer-Dieskau's or Prégardien's recordings so much more psychologically harrowing. Hampson's lyrical and lovely narration is more a story-telling in the best sense than an incarnation of the wanderer's suffering. Wolfgang Sawallisch is an expert, deferential (some might say pedantic) accompanist. The recorded sound is superbly balanced and clear, making this a Winterreise to cherish.
Schubert: Winterreise

Peter Schreier, tenor

András Schiff, piano (London 436-122-2)

By his own admission, German lyric tenor Peter Schreier waited until the end of his career to record Schubert's Winterreise. Only with experience and the deepening of his voice did he feel he could do justice to this song cycle. In 1991, at age 55, Schreier and his usual accompanist András Schiff tackled the monster. The result, while full of felicities and insights, is only a qualified success. Schreier knows exactly what he wants to do with these songs, but his voice is no longer sufficiently supple or obedient: soft notes and pianissimi are dusty, and loud and fast passages are blotted by an unpleasant nasal timbre. In short, Schreier sounds his age, which is several decades older than the songs' narrator. Schiff's competent accompaniment on a bright, woody Bösendorfer of unspecified vintage adds little to the production.
Schubert: Winterreise

Matthias Goerne, baritone

Graham Johnson, piano (Hyperion CDJ33030/SRI)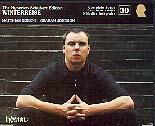 This Winterreise, volume 30 in Hyperion's Schubert edition, stars Matthias Goerne, in many ways the ideal Winterreise interpreter. He has the exact type of rich flexible baritone voice best suited to this cycle, the perfectly easy and idiomatic diction of a native German speaker, and the vocal power of impetuous youth. Goerne is just over 30 (the youngest singer ever to record Winterreise?) but his interpretation shows remarkable maturity. His mood is reflective and internalized, Wertherian yet hormonal. He trusts his broad, rich and still natural instrument for interpretation; the vocal medium is the message here. As a native German, he colours and flavours his words the way a foreigner never can. Graham Johnson's acompaniment is suprisingly routine, but his 108 pages of notes are indispensible, alone worth the purchase price.
Schubert: Winterreise

Christoph Prégardien, tenor

Andreas Staier, pianoforte (Teldec 0630-18824-2)

German tenor Christoph Prégardien delivers one of the most painfully honest performances of Schubert's supreme cycle in many years. A master lieder singer, Prégardien strips Müller's familiar poems of schmaltz and pretence. Few, if any, living tenors can match Prégardien's expressive middle voice and pianissimi, so he is at his best in songs like "Das Wirtshaus" and "Der Leiermann". Naturally his diction and phrasing are of specimen quality. The wonderful intensity that makes Prégardien an incomparable concert recitalist sometimes seems overwrought on disc, especially his shocking swells to forte, mercilessly captured by the Teldec engineers. Andreas Staier accompanies on a Viennese fortepiano dating from about the same time that Schubert wrote Winterreise (1825). The sound is woody and pleasant but with limited colours. Voice and instrument are carefully dovetailed to produce an authentic performance in the best sense.
Schubert: Winterreise

Lois Marshall, mezzo-soprano

Anton Kuerti, piano (CBC PSCD 2011)
The late great Canadian soprano Lois Marshall was primarily a recitalist, having been disabled by polio at an early age. Her high, clear, powerful voice was perfect for singing early music and oratorios. Most of Schubert's Winterreise was originally written for low male voice. It has been tackled successfully by women, notably mezzo Brigitte Fassbaender, but I feel the higher the voice, the less authentic-sounding the Winterreise. In 1977, at about the time she decided to call herself a mezzo because she had lost a few notes at the top after a bad throat infection, 51-year-old Lois Marshall was recorded at the University of Toronto's Hart House singing Winterreise in concert. The result is a valuable document. Her churchy, heroic style — she certainly still sounds like a soprano! — reminds us of her long career as a masterful Bach and Handel interpreter, but it is ill-adapted to the subtle exigencies of Schubert lieder. The "live" conditions take nothing away from what is an impressive, if slightly chilling , interpretation. Audience noise is minimal and the long unedited takes capture few mistakes. The real discovery on this disc is Anton Kuerti's colourful accompaniment, the most witty and poetic I have ever heard.