Donna Brown Comes Home

by Wah Keung Chan and Philip Anson / February 1, 1998

---
CANADIAN SINGERS IN EUROPE: Part I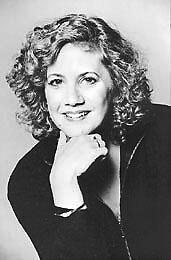 After twenty years in Europe cultivating an international career in recital, oratorio and opera, Canadian soprano Donna Brown has moved back to her home town of Ottawa. Shuttling to and fro between her career in Paris and her significant other in Ottawa was taking its toll, but Brown also feels it is a good time for singers in Canada. "Opportunities are increasing in the Canadian music world," she says. "Canada continues to produce an incredible number of really good singers with great local and international careers. I think more Canadian singers are being hired than back in the 1980s." (photo: Colette Masson/Enguerand)
Brown's return is certainly a plus for the Canadian music scene. We'll now get to hear more of the voice that has enchanted European maestros like John Eliot Gardiner, Helmuth Rilling and Kent Nagano. Last July Donna's solo in Beethoven's Ninth Symphony at the Lanaudière Festival gave us a sample of her vibrant, floating, clear soprano voice. In March she will sing her first Rosina in Rossini's The Barber of Seville with Opera Lyra Ottawa. "I love acting in comedies and I have fun singing coloratura roles. Opera is good therapy: you get to do things on stage that you wouldn't dare do in real life."
Donna Brown grew up in Ottawa where she took private lessons in voice, piano and theory. After graduating from McGill University she studied in France and Austria. "I originally went to Paris for a summer course and it was so interesting I decided to stay." She has fond memories of her Paris student days, sneaking into concerts for free during intermission. Brown supported herself for a couple of years working in the film section of the Canadian embassy. "I didn't want to get a choir job because I didn't think my voice could handle it."
Many young singers train as apprentices in opera companies but Brown started her career on the recital circuit. She made her Paris debut at the Canadian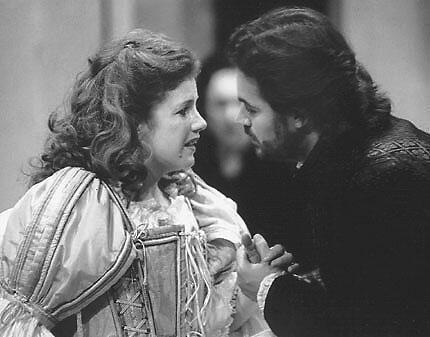 embassy, which led to many more small venue recitals. "Making a living as a recitalist was not easy in Canada at that time. In Europe in the 1980s there were numerous opportunities for beginners in small venues and with small chamber orchestras, many of which unfortunately no longer exist."
Brown's first operatic experience was singing Micaela in Peter Brook's 1982-83 tour of La tragédie de Carmen. "I just loved being onstage, so in 1984 I got an agent and started auditioning for opera houses," she remembers. Before long she landed the role of Papagena. Since then Brown's career has blossomed, with many performances of Pamina, Sophie (in Der Rosenkavalier) and recently Gilda. She attributes her success to continuous studying (she coaches twice a year in Venice), hard work, and adaptability to different conductors' instructions. Brown's discography of 14 titles includes several world premieres of unfamiliar works. She performed and recorded Debussy's unfinished opera Rodrigue et Chimène (Erato) with Kent Nagano and the Opéra de Lyon forces. She toured and recorded Haydn Masses, recorded Leclair's Scylla et Glaucus and Berlioz' Messe Solenelle, all with John Eliot Gardiner. Although Brown's busy recital and oratorio schedule leaves her less time to sing opera these days, she is satisfied with the balance. (Donna Brown as Gilda and Jose Bose as the Duke, Verdi: Rigoletto, Opera de Montepellier, 1995, photo: Marc Ginot)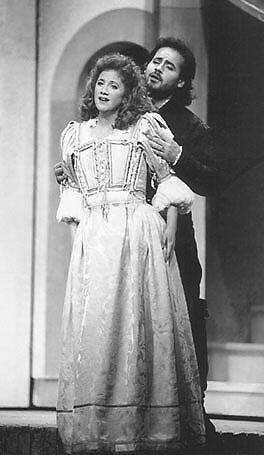 During her European years Brown's voice filled out and darkened. Technically, she learned the importance of proper breathing to achieve optimum projection. "You have to avoid pushing with the diaphragm. Placement is the key to maximum sound with minimum effort." Brown loves to pass on her learning in masterclasses (she has just given two in Edmonton and Calgary), but she is not yet ready to teach regularly.
Having returned to Ottawa, Brown plans to spend about half her time working in Canada. "Europe is fantastic because of the great tradition and great conductors, but Canada is making a lot of progress too." Having established a primarily European reputation means Brown must build up her North American contacts from scratch. Her Rosina will be her first appearance on a Canadian operatic stage since her Servilia in Mozart's La Clemenza di Tito with the Canadian Opera Company in 1991.
Brown is clearly at a happy point in her personal and professional life. She makes time for healthy hobbies including Tai Chi, piano playing, reading, skating, cross-country skiing, swimming and biking. "Having lived all over the world I realize what a great country Canada is. People here are more relaxed and spontaneous. I love the seasons. Deep down I always hoped I would someday return to live in Canada." (Donna Brown as Gilda and Jose Bose as the Duke, Verdi: Rigoletto, Opera de Montepellier, 1995, photo: Marc Ginot)
Donna Brown sings Rosina (soprano version) in Rossini's The Barber of Seville, Opera Lyra Ottawa, March 14, 16, 18, 21, 1998, at 8 p.m. Information: (613) 233-9200. On May 4, 8 p.m., Ms. Brown will sing two Viktor Ullmann song cycles in a special Radio-Canada concert commemorating the birth of the composer to be held at St. Joseph's Church in Alymer, Quebec, accompanied by pianist Andrew Tunis. The concert will be recorded for later broadcast.
---
Version française...