Handel: Messiah
by Philip Anson

Sir Thomas Beecham. Royal Philharmonic Orchestra &;Choir. Recorded 1959 (RCA Gold Seal 09026-61266-2). Beecham's recording of Goosens' orchestration with harp, drums, cymbals, bells and brass is shamelessly melodramatic and old-fashioned. The result? Pure fascination. The set is priceless for tenor Jon Vickers alone. Bass Giorgio Tozzi is also stunning. This oratorio must stand as one of the greatest opera recordings ever made.
John Eliot Gardiner. English Baroque Soloists &;Monteverdi Choir. Recorded November 1982. (Philips 434-297-2). The 31 English Baroque Soloists and 32 voices of the Monteverdi Choir produce a grand, vigorous sound. Tenor Rolfe-Johnson is sweet-voiced and aristocratic. Canadian Catherine Robbin may well be the best Messiah mezzo on disc. Robert Hale has a light, lyrical bass-baritone. Only countertenor Charles Brett is feeble. Among "period" Messiahs this groundbreaking recording is a strong recommendation.
Harry Christophers. The Sixteen Choir and Orchestra. Recorded December 1986 (Hyperion Dyad CDD 22019). This is a superb budget Messiah. The Sixteen is theoretically an authentic instrument group, but you'd never guess it from the round, full-bodied sound delivered by the 19 choristers and 20 instrumentalists. Soprano Lynne Dawson has a crystalline, sunny voice perfectly suited to "Rejoice greatly" and "I know that my Redeemer liveth". Contralto Catherine Denley is competent in the stolid English church singing tradition. Countertenor David James has a reedy, clarinettish voice, clean and steady, without vibrato, though he has intonation problems in the difficult "Refiner's fire" passage. Michael George is a splendid bass with a resonant, pleasant tone and excellent diction. Maldwyn Davies deploys a warm, pleasant, flexible tenor. Altogether a happy, uninhibited performance. Highly recommended.
Paul McCreesh. Gabrielli Players and Consort. Recorded December 1996 (Archiv 453-464-2). Wow! After many years without a new Messiah, Deutsche Grammophon has struck gold. This vigorous, beautiful recording is as good as or better than any other Messiah. The Gabrielli Consort (24 voices) and Players (40) produce a big sound but remain flexible enough to sketch in the subtlest chiaroscuro. Soprano, contralto and tenor are all honest singers. Bass-baritone Neil Davies is outstanding. DG engineers have achieved exquisite clarity and balance between sections as well as seamless blending and maximum dynamic spectrum without stress. McCreesh's forces are professional without losing their humanity. They combine to realize a sophisticated vision of the oratorio as a series of dramatic tableaux, breathing new life into Handel's masterpiece. A joy from beginning to end.

Verdi Oberto
Academy of St. Martin in the Fields
Sir Neville Marriner (Philips 454-472)



Oberto, Verdi's first opera, here gets its second commercial recording, the latest installment in Philips Classics' Young Verdi Series. Cast, choir, orchestra and conductor are all excellent, making this one of the best new releases of the year. Musically there is plenty to enjoy in Verdi's firstborn. The ASMF and London Voices under Marriner generate an irresistable wave of instinctive drama and orchestral excitement. Arias and duets follow in rapid succession in a style obviously indebted to the tuneful formulas of Rossini and Donizetti. This is a soloists' opera and Sam Ramey, Maria Guleghina, Violeta Urmana and Stuart Neill. are all preferable to the cast of the other Oberto, conducted by Gardelli on Orfeo. Tenor Stuart Neill gives a strong, lyrical reading of his belcantoish role as Riccardo. He even pops out a high D which the aging Carlo Bergonzi on Orfeo doesn't dare attempt. Guleghina and Ramey in fine form complete this desirable offering. Sir Neville Marriner includes three of Verdi's alternative arias, making this a complete as well as charming recording. PA
Schumann Piano Sonata No. 1 & Kreisleriana
Murray Perahia, piano (Sony SK 62786)



In his ability to paint extended musical canvases on the scale of Old Masters, Perahia is unique among living pianists. He brings inimitable clarity and coherence to Schumann's long and complex Piano Concerto No. 1, a work that can fragment and meander in the wrong hands. Every gorgeous phrase of this love letter to Clara is accurately weighted and colored. Unthinking pianists often play Kreisleriana fast and hard as a virtuoso showpiece. Perahia brings a subtle wittiness to this most literary of keyboard fantasies. On a technical level his pulsing lyricism reminds one of Horowitz. The deliciously clear Sony acoustics are a huge improvement over Ashkenazy's foggy sound on London-Decca. PA
Le Secret

Gino Quilico, baritone

Alain Lefèvre, piano (Koch KIC-CD-7412)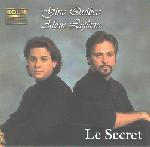 Gino Quilico's first recital disc features French melodies by Fauré, Duparc, and Hahn - not an obvious choice for a famous singer of Italian opera. Quilico delivers a capable interpretation of these delicate French masterpieces despite the weight and condition of his instrument. The sound and technique are comparable to Gerard Souzay's late recordings. Quilico caresses his music with a sincere affection that doesn't blind us to legato problems, frailty in the upper range and a dry, colorless pianissimo, though he does conquer the final notes of Reynaldo Hahn's difficult "L'Heure Exquise". Quebec composer Alain Payette's five-song cycle on poems by Gustav Labbé fills out the program. These pleasant, unimaginative tunes were written expressly for Quilico to display the best aspects of his voice and they serve their purpose. Philip Anson
Musique de Talivaldis Kenins
William Aide, piano. Paul Meyer, violon. Steven Dann, alto. David Hetherington, violoncelle. Robert Aitken, flûte. (CMC Centredisques WRC8-7117)

Le compositeur d'origine lettonne, installé au Canada depuis 1951, fait ici l'objet d'un disque qui a pour but de nous faire connaître trois étapes de l'évolution du compositeur. La première pièce, Sonata for cello and piano date de 1950, soit sa période de jeunesse. Très énergique et tendue, elle est d'esthétique française, pays où séjournait le compositeur à l'époque. La deuxième pièce, Concertante for flute and piano (1966) et la troisième, Piano Quartet no 2 (1979), constituent respectivement la période intermédiaire et la période de maturité de Kenins. De durée moyenne, ces trois pièces tracent un portrait fort éloquent de la façon dont Kenins traite le discours musical. Des lignes mélodiques qui s'entrechoquent et se chevauchent dans des dialogues endiablés, une harmonie constamment en mouvement, des tempo rapides, des rythmes souvent syncopés et l'utilisation de la forme fuguée laissent peu de répit à l'auditeur. Ces caractéristiques stylistiques font peut-être en sorte que la musique de Kenins est moins facilement abordable, mais elles la rendent d'autant plus intéressante. À découvrir si ce n'est déjà fait. Jean-Claude Thériault
Sigrid Onégin: Arias
Pearl GEMM CD 9274



Contralto Sigrid Onégin (née Elisabeth Hoffman, 1889-1943) belongs to the fabulous lost world of pre-Word War II super divas. Born of French and German parentage in Sweden, she married her accompanist, Baron Yevgeny Borisovich Lvov (Onégin). She bowed at the Met as Amneris in 1922. The rest is history as these superb Victor/ HMV recordings, made in 1928-1930 testify. Onégin possesed a huge tubular voice with remarkable flexibility and messa di voce right up to high pianissimi. Every aria on this disc is a roller coaster ride from resonant organ-like chest tones to her trademark rock steady, clarion high notes. Onégin deserves the Jussi Bjoerling Show-Off Award for her extended trills. The exceptionally fine transfers from pristine originals make this a must for every opera lover. Philip Anson
Sigrid Onégin: Arias and Songs
Lebendige Vergangenheit 89027 &;89104
These two Preiser discs contain much material not on the Pearl disc, including Brahms' Alto Rhapsody, thirteen miscellaneous lieder, and arias from La Favorita, Don Carlo and Carmen. Preiser includes the two Samson et Dalila arias in German but not the French versions (Pearl has all four). Preiser also leaves out Pearl's remarkable "Exultate, jubilate". Sources and sound quality are similar on both labels, so the Pearl disc is a good sampler but completists will want all three discs. Philip Anson
Soirée française
Michael Schade, ténor
Russell Braun, baryton (CBC)

Deux jeunes chanteurs canadiens, Michael Schade et Russell Braun, partagent un programme intéressant et visionnaire composé d'extraits de l'opéra français.
Bien sûr, les extraits connus de Hamlet et Les Pêcheurs de perles (oui, ils chantent le célèbre duo "Au fond du temple saint" !) s'y retrouvent, mais il y a aussi des pages rares et attirantes du Roi de Lahore et de Cléopâtre de Massenet, de Sapho de Gounod et un superbe duo tiré de La Muette de Portici d'Auber.

Même si la voix de Schade manque un peu de rondeur et de coffre, il l'utilise avec goût et sensibilité. On remarque qu'il peut sembler affecté et qu'il se réfugie trop souvent et trop facilement dans une voix de tête plutôt blanche. D'ailleurs, on le sent complètement dépassé dans le duo de Moise. Toutefois, il reste que son phrasé et sa musicalité sont remarquables.
Le jeune Braun possède une voix de baryton noble, virile et attachante. Il déploie son timbre riche avec intelligence et raffinement, même si à l'occasion, son legato manque de souplesse. Néanmoins, il peut caresser une ligne, comme dans "Leonor viens" de Donizetti, puis répondre aux critères de virtuosité qu'exige la scène de Barnabé dans Le Maître de chapelle de Paer.

Les interprétations de ces deux chanteurs sont caractérisées par un français presque entièrement idiomatique et un beau sense du style. Enfin, cet enregistrement bénéficie de l'acoustique admirable du Massey Hall de Toronto et du concours de l'orchestre du Canadian Opera Company, dirigé par le sympathique Richard Bradshaw. Je le recommande avec enthousiasme. Richard Turp
Serenade
Susan Hoeppner, flûte
Canadian Chamber Ensemble
Chosei Kmatsu, chef (EMI)
Je n'ai pas osé compter le nombre de disques de flûte « classico-détente » que l'on retrouve sur les étagères ; par contre, en dénicher un nombre aussi volumineux n'incarnant pas le cliché de la flûte « quétaine », c'est un contrat plus laborieux. La canadienne Susan Hoeppner semble avoir un souci de ce léger détail et offre une interprétation qui demeure dans les limites du raisonnable... enfin ! Un beau son, un vibrato pas trop uniforme et une intonation scrupuleuse font partie des points forts de la jeune dame. Par surcroît, on y retrouve une sélection de répertoire qui n'est pas trop conservatrice : tout en maintenant les éternels Fauré, Ravel et Gluck, la flûtiste bifurque vers un Rachmaninov et une Suite Paysanne Hongroise de Bartók qui, tout compte fait, prennent bien leur place sur ce disque. Considérant l'interprète et le répertoire choisi, cet enregistrement peut constituer un choix pertinent. Geneviève Rioux
John Tavener: Svyati
Steven Isserlis, violoncelle
Patricia Rozario, soprano
Daniel Phillips, Krista Bennion Feeney, violons
Todd Phillips, alto (BMG 09026-68761-2)

Ce disque renferme cinq oeuvres composées entre 1989 et 1995 par le compositeur anglais John Tavener. Elles sont essentiellement écrites pour violoncelle et voix de soprano, véhicules musicaux que privilégie par dessus tout Tavener. Né en 1944, il n'a cessé, depuis son premier véritable succès, The Whale en 1968, de nous surprendre avec des oeuvres au caractère méditatif et contemplatif. Cet ensemble de cinq pièces que nous propose BMG Classics ne fait pas exception à la règle. Les lignes mélodiques que l'on retrouve dans Svyati, la pièce titre, et dans Eternal Memory entre autres, sont d'une pureté peu commune. On se laisse bercer par les thèmes pleins de douceur qui sont finement rendus par Isserlis, interprète fétiche du compositeur. Les autres pièces présentent aussi de belles choses. C'est le cas notamment des Akhmatova Songs pour soprano et violoncelle sur six poèmes de Anna Akhmatova, où la voix de Patricia Rozario est on ne peut plus mise en évidence pour le plus grand plaisir de nos oreilles. Un excellent disque pour amateurs de spiritualité. Jean-Claude Thériault
Graces and Pleasures: A Canadian Vocalise (Archiv 457-371)

This compilation of early music arias by Canadian singers is drawn from several complete Deutsche Grammophon operas and oratorios led by Trevor Pinnock and The English Concert, John Eliot Gardiner and the English Baroque Soloists, and Marc Minkowski and Les Musiciens du Louvre. You don't have to be patriotic to enjoy soprano Ann Monoyios's delectable arias from Purcell's Dioclesian, Catherine Robbin's three arias from La Clemenza di Tito and Haydn's Stabat Mater, or Nancy Argenta's "Fairest Isle". Baritone Gerald Finley, who will debut at the Met in Die Zauberflöte on January 24, 1998, delivers two superb Papageno arias and tenor Michael Schade sings Tamino from the same opera. A handy, impressive anthology. Philip Anson
Wagner and Bellini Arias
Jane Eaglen, soprano
Royal Opera House Orchestra/ Mark Elder (Sony SK 62032)

This first solo disc by British soprano Jane Eaglen confirms her potential as the Brünnhilde of tomorrow. Her riveting "Immolation Scene" from Götterdämmerung and a superb "Ho-jo-to-ho" from Die Walküre are indelible highlights. Unfortunately Eaglen tries to pull off the Callas hat-trick, but her Bellini arias and duets, recorded at a different time, are less convincing. Her "Casta diva" is whiny and pinched in the lyric mezza voce passages, and conductor Elder imposes perverse tempi and phrasing. Still, the album is well worth owning for the Wagner alone. -Philip Anson. Jane Eaglen will sing Beethoven's "Ah, perfido", Mozart's "Or sai chi l'onore" &;"Non mi dir", Wagner's "Dich, teure Halle" &;Brünnhilde's Battle Cry at the National Arts Centre with the NAC Orchestra under Yves Abel, Jan. 14 &;15, 1997. Box office: 613-594-9400.
Blind Love, Cruel Beauty: Handel's Vocal Duets
Favella Lyrica (Koch 3-7298-2)

Favella Lyrica is a Boston-based trio devoted to vocal chamber music of the 17th and 18th centuries. Here soprano Pamela Murray, mezzo-soprano Pamela Dellal and harpsichordist Michael Beattie collaborate on Italian chamber duets composed by Handel between 1710 and 1740. These duets are refined, domestic compositions suited to the medium-sized, well-matched voices of the Favella soloists, expertly accompanied by Beattie's deferential but complementary harpsichord. The recorded sound is astonishingly fine, transparent and natural. Handel's pot-boilers can seem monotonous, but if you like the repertoire, you'll love this disc.
Rimsky-Korsakov: The Maid of Pskov
Kirov Opera / Gergiev (Philips 446-678)

Another wonderful recording from St. Petersburg's Mariinsky Theatre. This is the third version (1895) of The Maid of Pskov, also known as Ivan the Terrible. Rimsky takes just two hours to tell the story of Tsar Ivan sparing the rebellious city of Pskov because his illigitimate daughter lives there. All the usual elements of Russian opera are here: martial choruses, bell ringing, gossiping contralto nurses, children's folksongs, and tormented bass monologues. No arias or duets, however, and barely a hummable tune. Just a powerful narrative painted in stark primary colors. No one in the world does this rep as well as the Kirov Opera. All the roles are sung well and acoustic image is realistic. Philip Anson
Beethoven: Piano Sonatas Vol. 5
Annie Fischer, piano (Hungaroton HCD 31630)

How lucky we are that Hungaroton is releasing Annie Fischer's unapproved studio recordings of the Beethoven sonatas. The great Hungarian was in her sixties when she recorded these but her touch is sure and her interpretation is confident. Fischer was eccentric in life but at the keyboard she lets the music speak for itself. Her combination of the utmost simplicity with unabashed emotion removes layers of interpretive obfuscation and brings us back to Beethoven's original conception. The recorded sound is natural and clean. The Bösendorfer has a woody, bright tone reminiscent of a pianoforte, appropriate to this memento of a great tradition. Philip Anson
Beethoven: Leonore
Orchestre Révolutionnaire et Romantique
John Eliot Gardiner (Archiv 453-461)

This is only the second stereo recording of Beethoven's Leonore and in terms of completeness it is nearly definitive. Gardiner's approach is scholarly and impassioned, as reflected in the copious notes which explain his decision to record a version based on Beethoven's 1804-6 scores. The result is a chamber opera bearing little resemblance to the later Fidelio. Gardiner's Leonore is a Singspiel with simple arias and duets, little or no recitative, no coups de theatre, and no big choruses. The scenes are linked by spoken verses declaimed by a narrator to illustrate the evils of despotism. The real interest here is in the relation of Leonore to Beethoven's oeuvre and his epoch, though there is plenty of charming singing by Kim Begley (Florestan), Hillevi Martinpelto (Leonore), Christine Oelze (Marzelline) and Canadian tenor Michael Schade (Jaquino). At once educational and enjoyable, this is a fascinating enterprise. Philip Anson
Puccini: La Bohème
Metroplitan Opera Orchestra/ Giuseppe Antonicelli
Sony MH2K 062762

Here is a fine American Bohème recorded at the old Met in 1947 with the precious Bidú Sayao as Mimi and Richard Tucker in splendid voice as Rodolfo. Baccaloni is a predictably buffo Benoit, Mimi Benzell's Musetta is tart rather than sweet, Marcello and Colline are sung by sturdy but slightly rough old stagers. Antonicelli conducts a traditional reading of Puccini's score, always perfectly phrased and deferential to the singers. Good recorded sound transferred from master tapes make this an enjoyable little classic. Philip Anson
Bach Well-Tempered Clavier: Volume 1
Scott Ross, harpsichord (Pelleas CD-0101/2)

American harpsichordist Scott Ross's only Well-Tempered Clavier on record is a stunning accomplishment. It was studio recorded in 1980 by CBC when the 29 year-old Ross was a professor at the Université de Laval (he moved to France soon after where he was idolised until his AIDS-related death in 1989). The recorded sound is crystalline with superb natural presence, capturing every nuance of Ross's playing - and what playing it is! Ross may have looked like the Rimbaud of early music but he sounds more like the Victor Hugo of the harpsichord. His limpid sonorities and elegant lines conjure the humane aspect of Bach's music. Every one of the 24 preludes and fugues tells its own story. His subtlety is expressionistic but his overall conception is Olympian. Enthusiastically recommended. Philip Anson

Pergolesi: Livetta e Tracollo/ La Serva Padrona
La Petite Bande/ Sigiswald Kuijken (Accent ACC 96123 D)
This fabulous recording of Pergolesi's two crazy musical intermezzi was made at Brussels' Luna Theatre in 1996. Kuijken gives an absolutely flawless, spirited reading of the witty scores, proving that Pergolesi is as good as Mozart anyday. Soprano Nancy Argenta is in peak form as Livetta. and the other soloists are also top drawer. Extremely vivid recorded sound make this a treasured addition to the catalogue. Philip Anson
Le Jardin des Mélodies: Danses et chansons françaises du XVIe siècle
The King's Noyse. David Douglass, chef (harmonia mundi 907194)

Ce Jardin de Mélodies est un véritable Jardin des délices, côté Paradis. Il offre un généreux échantillon (plus de 70 minutes) des "riches divertissements que les ménétriers ont mis en scène pour les monarques français à la fin de la Renaissance", comprenant 27 pièces, dont 6 chansons, interprétées par la soprano Ellen Hargis. La diction est excellente et la voix, ravissante. Bien évidemment, la prononciation est d'époque (ainsi, "roi" se prononce-t-il "roé").
Récipiendaire du Diapason d'Or de l'année, catégorie Musique de la Renaissance, pour les volumes 3 à 5 de l'oeuvre pour luth de Dowland (également chez harmonia mundi), le luthiste virtuose Paul O'Dette s'y distingue dans 7 solos.
De la chanson d'ouverture, "Mon Dieu la belle Entrée", pleine d'un entrain et d'une bonne humeur communicatifs, jusqu'à la complainte finale, "Hélas faut-il que je lamente", à la fois subtile et expressive, voilà un disque exquis, qui procure un plaisir immense. Rodrigue Audet