Ben Heppner - Interview

by Joseph So / November 1, 1997

---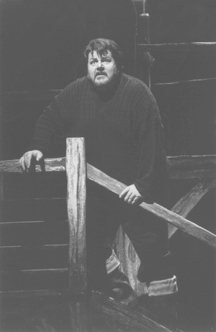 Opera lovers have long recognized Canadian Ben Heppner as one of the most important tenors of his generation. Official recognition of Mr. Heppner's achievement comes later this month in the form of an Honorary Doctorate from the University of British Columbia. Mr. Heppner is also the subject of an upcoming CBC documentary and will soon be embarking on his first North American recital tour that will take him to Kansas City, Vancouver, Calgary, Toronto, Carmel and Washington D.C.. Heppner is currently starring in the Chicago Lyric Opera's production of Peter Grimes, where he was kind enough to speak with La Scena Musicale .(Photo: Ben Heppner as Peter Grimes, Lyric Opera of Chicago, October 1997. Photo: Dan Rest)
SM: Thank you for agreeing to speak with us. I hope you don't mind talking on the day of a performance?
BH: I generally prefer to stay quiet before a performance. I don't like television cameras, but an interview is OK.
SM: How many Peter Grimes productions have you done?
BH: This is my fourth production, after Cologne, Vancouver, and Covent Garden.
SM: Has your interpretation of the role changed?
BH: Yes. The first time I did Grimes I felt like I was merely scratching the surface of this incredibly deep character. And today I still feel there are more layers to explore. No matter how many Grimes productions I do, I am always going to find new depths in the role.
SM: Would you say that Grimes is your signature role, versus Walther in Die Meistersinger or Lohengrin, for example?
BH: Die Meistersinger has certainly been my calling card. I'd be glad if Grimes became one of the handful of roles I am noted for, really fantastic roles that were seemingly written for me. I don't expect to find more than eight or ten roles like that in my lifetime and Grimes fits me easily.
SM: People often note that your Grimes is more human compared to that of Jon Vickers.
BH: I only know Jon Vickers' Grimes from the video. I admire his work, but I don't like to draw comparisons. Each singer has his own way of looking at the role. As for being more human, I am learning to be more vulnerable and open on stage. This comes with the development of my acting abilities.
SM: Are other Grimes productions planned?
BH: There are discussions with a couple of places, but nothing for sure yet.
SM: Will you record Peter Grimes?
BH: Not at present. There are so many new recordings of Grimes on the market, and classic ones like that by Peter Pears. I once heard a rumour that a year or so before Leonard Bernstein died he wanted to record Grimes and that I was a candidate for the lead, but of course nothing came of it.
SM: What are your future recording projects?
BH: I am now an exclusive RCA-Red Seal artist. For RCA I am recording a lieder recital in Toronto in December, in a location not yet confirmed. In May, I am recording a German arias disc which should be released in autumn 1998. We have other disks in mind but not yet scheduled. We will be producing four or five discs over the next three-year period. We had Tristan and Isolde scheduled with the late Sir Georg Solti, God rest his soul, but that project has been cancelled.
SM: Any complete opera recordings on the horizon?
BH: Record companies are not making as many complete operas as they once did. A couple of my projects have been cancelled as a result. However there is talk of Berlioz's Les Troyens in the future.
SM: You have a new recording of Die Frau ohne Schatten coming out this month...
BH: I have an advance copy, but since I don't open the first copy I haven't heard it myself!
SM: Last year you stopped singing for a few months following an indisposition. Can you tell us about that?
BH: I sustained an injury by singing with the flu during the second performance of Andrea Chenier in Buenos Aires. I was very sick, with chills and sweats, but against my better judgement I let them talk me into singing. Of course I gave the performance everything I had and my voice was hurt. It was scary at first, but fortunately there was no permanent damage. I just had to be patient and wait for the voice to return. It took six weeks of physical recuperation and it took time to recover my confidence as well.
SM: Now you are starting on a recital tour with a new program, which will come to Toronto in December.
BH: Yes, I just opened the tour in Kansas City. The main piece was Liszt's Petrarch songs. I also did Beethoven's An die ferne Geliebte, some Schumann and Strauss's opus 27. I hope people enjoyed the lieder but I know some people find the slow songs boring. I have felt that way myself. Lieder is such a high holy art but after all we are trying to entertain people! So I like to add something more amusing to the program, like the Ernest Charles songs.
SM: Will you be recording the popular, lighter stuff?
BH: I would love to record a disc of the fun stuff, but for now I'm just recording lieder.
SM: Do you enjoy doing lieder recitals?
BH: If Kansas City is any indication, I'll enjoy it. I've done a lot of orchestral concerts, so I know I enjoy the close relationship with the audience.
SM: What new are coming up?
BH: Tristan is the big new role next summer in Seattle.
SM: How do you feel about singing eight Tristans with only two-day rests in between?
BH: Very concerned! Tristan is unique and it is more demanding than any of my other roles. It is going to be difficult on me, but we'll find out! Gary Lakes is my cover.
SM: How did the Act 2 Tristan and Isolde go in Geneva?
BH: It went very well. I had a great time with Armin Jordan, who has a droll sense of humour. We got along very well. He knows his music and his orchestra. It was a real joy.
SM Who was your Isolde?
BH: Eva Maria Bundschuh. Petra Lang sang Brangane. Hers is a formidable talent!
SM: Is Siegfried still in the works?
BH: I haven't got anything firm, but I am planning on doing it.
SM: What about Otello?
BH: That is also in the works and at this point it is more firm than Siegfried, so watch this space for further announcement, as they say.
SM Career-wise, is it the right time to sing these roles?
BH: By the time these plans reach the stage I'll be in my mid-forties. I am looking four years ahead. That should be about right.
SM: You seem to be cutting back on your opera performances.
BH: I am limiting the time I spend on the road. I need to take more time to prepare roles and for my family. I still like to sing about 50 performances per year of operas and concerts. It's difficult to sing my repertoire more than three times a week. Gurrelieder, for example, is a big workout.
SM: Do you have any advice for young singers?
BH: It is funny, I don't feel old enough to give advice. A few years ago, I was speaking with a record executive about a project. He was talking about the young talent that they had assembled, and then he said, "as well as established artists like yourself." That was four or five years ago and I thought to myself then, where has my youth gone? Young singers have to figure out who has earned the right to give advice. It is very important for young singers to know themselves and who their real friends are. Too often young artists are led in different directions by friends, teachers and coaches. You have to figure out who has earned the right to say the difficult things. My wife is a big part of that for me. You also need a teacher and management you can trust. I don't read critics because I don't feel they have earned the right to advise me. I have nothing personal against them. I think it works out well because if I have an interview with a critic, I can approach it honestly and openly without feeling resentment about their previous criticisms. But with the advisors you trust, you better listen to them. It may be bad news but that's the only way you're going to improve.
Ben Heppner's Toronto recital is scheduled for December 2, 8 p.m., at Roy Thompson Hall. (416) 872-4255.