Donizetti Turns 200

by Robert Rowat / November 1, 1997

---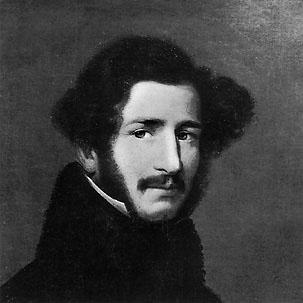 On November 29, the music world celebrates the two-hundredth birthday of Gaetano Donizetti (1797-1848). Donizetti was one of the most popular and influential composers of Italian opera in the nineteenth century, yet today his music (apart from a handful of works) is relatively unknown.
Celebrations of this Donizettiade have been scarce. CBC Radio's Saturday Afternoon at the Opera broadcast three Donizetti operas in August, including documentary features on the composer, but apart from this nod of recognition, very little has been planned in the music community. Neither L'Opéra de Montréal nor the Canadian Opera Company has included a Donizetti opera in this year's season. In New York, the Metropolitan Opera will present its familiar production of Donizetti's comic opera L'Elisir d'amore, in January, but no new production of any of the composer's masterpieces is planned.
So why the neglect? One reason might be the glut of musical anniversaries in 1997: Brahms, Schubert and Mendelssohn have all been fêted this year. Another reason is that Italian opera, especially that of the so-called bel canto school of Rossini, Bellini and Donizetti, is simply not taken seriously by musicologists, music theorists and critics.
Public vogue, singing stars, footlights and well-tried recipes. These are the persistent features that continue to inform descriptions of Italian opera, as though such considerations did not also figure prominently in the operas of Mozart or Wagner, for instance. Other aspects of early nineteenth-century opera usually mentioned include the careless rapidity with which these works were composed, the rampant practice of interchanging musical numbers among different operas, and the unrefined behaviour of Italian opera audiences who talked openly and gambled during opera performances. It would seem history has selected this repertoire as a laughing-stock, a convenient foil for the more "elevated" operas of the later nineteenth century ‹ operas that correspond more closely to our notion of "art music."
Donizetti's operas will not hold up under the same expectations one would bring to a Wagnerian music drama, for example. But in order to appreciate the music of Donizetti, we must consider it in its own context. His music must be placed within the important tradition of Italian opera, which cherished singing above all, and considered opera the ideal vehicle for beautiful, expressive song.
Taking a glimpse at Donizetti's career opens a window on that tradition. Donizetti was born in 1797 into a poor family in Bergamo. His talent was recognized when he was quite young, enabling him to study at institutions that would otherwise have been beyond his financial means. The dominant influence in Donizetti's education was Simon Mayr, a leading opera composer in the generation before Donizetti. Not only did Mayr seek out opportunities for his young pupil, but he also prepared Donizetti for the often frantic circumstances that awaited him in Italy's opera houses. For example, the premiere of Zoraide di Grenata, an early work composed under Mayr's supervision, proved to be a success, despite the death of one of the leading singers shortly before opening night. Donizetti had to change and recompose much of the music at the last minute, revealing a resourcefulness that would serve him well as he embarked on one of the busiest careers in the history of the music business.
Unlike the meteoric careers of some of his contemporaries, Donizetti's rise to fame was rather slow. He worked as a composer in Naples beginning in 1822 and produced some pleasing works in the ensuing years, including L'ajo nell'imbarazzo, and Elisabetta al castello di Kenilworth. But his first major success came only in 1830 with the premiere of Anna Bolena at the Teatro Carcano in Milan. The cast included such operatic luminaries as Giuditta Pasta and Giovanni-Battista Rubini. The work was so well-received, it was soon given as far afield as Paris, London, Madrid, Dresden and Havana.
Full of energetic confrontations and vocal pyrotechnics, Anna Bolena is an early instance of Donizetti's fascination with madness and his preoccupation with England and Scotland, at that time considered remote and darkly romantic. His most enduring opera, Lucia di Lammermoor (1835) also explores these themes. Based on a novel by Sir Walter Scott (whose works, incidentally, have inspired more operas than any other writer except Shakespeare), Lucia depicts the tragic results of an arranged marriage and concludes with the deranged ravings of the heroine and the on-stage suicide of her estranged lover. We can measure the impact of this opera on nineteenth-century audiences through the following account, taken from Gustave Flaubert's classic novel Madame Bovary, in which the heroine, Emma, attends a performance of Lucia:
"Lucia entered upon her cavatina ... She plained of love, she longed for wings. So too Emma would have liked to escape from life and fly away in an embrace ... Emma leaned forward, ... her fingernails clutching at the plush on the box, and took her heart's fill of those melodious lamentations that poured out to the accompaniment of the double-basses like cries of the drowning amid the tumult of the tempest. She recognized the ecstasy and the anguish of which she had all but died."
Like Rossini and Bellini before him, Donizetti moved to Paris later in his career, but not before creating such excellent operas as Maria Stuarda, Lucrezia Borgia, and L'Elisir d'amore for Italian stages. In Paris, his first effort for the Opéra was Les martyres, a recycled version of Poliuto, which had been banned by the Italian censors just months before. A marvellous, effective opera based on a play by Corneille, Les martyres points ahead to the grandeur of its better-known cousin, Samson et Dalila by Camille Saint-Saens. But Donizetti's crowning achievements in Paris were both written for the comic stage: La fille du régiment and Don Pasquale, the latter composed for the Théâtre Italien in a matter of two weeks. While composing Don Pasquale, Donizetti wrote: "When a subject is pleasing, the heart speaks, the head races forward, and the hand writes."
In the 1840s, Donizetti accepted a position in Vienna, despite the fact that Austria was occupying a large part of Italy at that time. Unlike Giuseppe Verdi, whose operas bear strong political messages, especially his 1848 opera La battaglia di Legnano depicting the Italian resistance to foreign - i.e. Austrian - domination, Donizetti payed little attention to political scores.
Donizetti's years in Vienna were troubled with illness, and by 1845 he was no longer able to work. Suffering from syphilis, he lost the ability to speak. An invalid, unable to walk, Donizetti became the prey of his own mind and suffered now from mental disorders - ironic, considering his lifelong fascination with depictions of madness on the dramatic stage. He was moved back to Paris, under the care of his nephew, Andrea.
Donizetti died in 1848, in Bergamo, where he was born. During his twenty-five-year career, he composed sixty-seven operas, only five or six of which have remained in the mainstream operatic repertoire. Among his many forgotten operas are some veritable gems, including Caterina Cornaro (1844), Don Sébastien (1843), and Roberto Devereux (1837). The so-called Donizetti revival of the 1950s and 60s, led by Maria Callas and Joan Sutherland, inspired the recordings of his oeuvre that we rely on today. But his works are still largely neglected in opera houses around the world.
---
Version française...
---