Stravinsky: Oedipus Rex and Symphony of Psalm

by Joseph So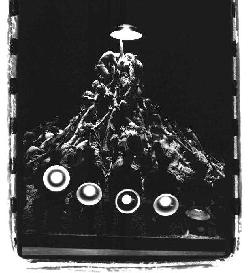 Canadian Opera Company · Sept. 27, 1997
The Canadian Opera Company's reputation for innovative and unconventional productions is strongly reaffirmed by their current double bill of Igor Stravinsky's Oedipus Rex and Symphony of Psalms (presented back to back without intermission). Judging by audience reaction on opening night, this is yet another resounding success. Director François Girard ("Thirty-two Short Films About Glenn Gould") and set/ costume designer Michael Levine (Bluebeard's Castle, Erwartung and Eugene Onegin) have created a daring and powerful reading of Stravinsky's two masterpieces. Symphony of Psalms, which opened the evening, was dedicated to the memory of those who have died of AIDS. The chorus was arranged along the sunken front of the slanted stage. On a scrim above the chorus the names of the dead appeared one by one. Nameless men walked up from the auditorium to write more names on the darkened stage. At the climactic conclusion of the piece, the scrim and floor were completely covered with names. Stravinsky intended this to be a concert (not staged) piece. I found the non-chorus stage movement a bit distracting, though the projections were poignant and evocative.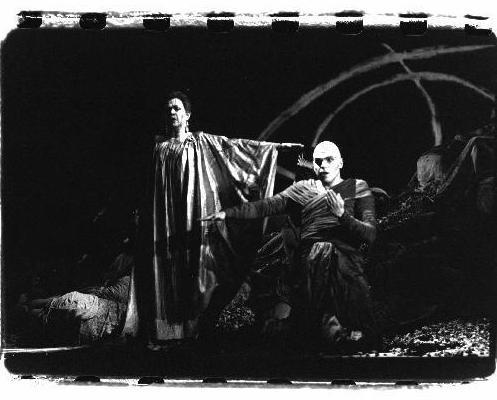 Stratford veteran Colm Feore, who played Glenn Gould in Girard's movie, was a spectator to the Symphony of Psalms before he stood up in the role of the Speaker in Oedipus Rex. At the end of his prologue to Oedipus Rex, he pulled down the name-covered curtain revealing the citizens of plague-striken Thebes piled up in a mountain of writhing, diseased human flesh. The throne of Oedipus sat on top of this mountain of human bodies-as-decor. Stage movements were minimal, gesture and movement were stylized, as Stravinsky specified, though this production dispensed with the masks traditional in Greek theatre. Extras aimed floodlights at the audience with a harsh, aggressive effect. An enormous outline of the crown and eyes of Oedipus, in the style of Jean Cocteau's drawings, was slowly lowered as a backdrop during the opera. At the opera's conclusion Oedipus, blind and reduced to begging, was led back to the stage by a young boy. The only thing I couldn't understand was why women bared their breasts during Jocasta's aria. The cast was uniformly strong. Michael Schade, resembling a latter-day Hare Krishna in his robe and shaved head, sang the difficult title role with considerable grace. It is hard to imagine a better Jocasta than Judith Forst. All supporting roles were fine, with honorable mentions to James Westman (Messenger) and Yves Saelens (Shepherd). The chorus sounded much bigger than their relatively small numbers.
The COC orchestra brought the astringent score to life, and Richard Bradshaw conducted with a power and sweep perfectly befitting Greek tragedy. My only reservation has to do with Girard's parallel between AIDS and the plague inflicted by the gods on Thebes as punishment for Oedipus' sins. The moralistic suggestion that AIDS is divine retribution for sinful behaviour is an implication of his mise en scene that Girard does not seem to have grasped. Intentional or not, it seriously undermines one's pleasure in this esthetically impressive production.
(Performances continue on Oct. 3, 7, 9, 15, & 19 at Toronto's Hummingbird Centre. Tel: 416-872-2262)