Mozart: Four Horn Concertos and Horn Quintet

David Pyatt, horn

Sir Neville Marriner

Academy of St. Martin in the Fields

Erato (Warner)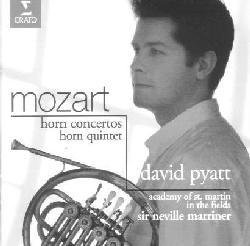 Young horn player David Pyatt was the Gramophone Young Artist of the Year in 1996. Here with the very fine ASMF orchestra, he offers Mozart's familiar and lovable Concertos K. 412, K. 417, K. 447, K. 495 and the Horn Quintet K. 407. From the very first bars, there is no doubt Pyatt is a performer of sensitivity and distinction in the great English tradition. He deploys a soft, warm tone without any hunting-horn brassiness. His splendidly clear and steady sound is best appreciated in slow lyrical passages. However, his intonation and execution falter just a bit in fast, ascending runs and on high notes (the Rondo of K.417 and the Allegro of K. 447). Pyatt's tuckets are not as neat as Barry Tuckwell's or Dennis Brain's, and his interpretation is conservative. Not for him the smutty Mozart-Leutgeb jokes that enliven Karajan's jocular, cantabile set with Dennis Brain (EMI). My major complaint with this disc is technical: Pyatt's horn is recessed back into or behind the orchestra. I prefer the solo instrument to stand front and center, as it does in the rawer, crisper classic Dennis Brain recording. Pyatt's new disc is a keeper, but for repeated listening I prefer Tuckwell's version with the English Chamber Orchestra (London). Philip Anson
---
Dance of the Angel

Slava Grigoryan, guitar

Sony SK63011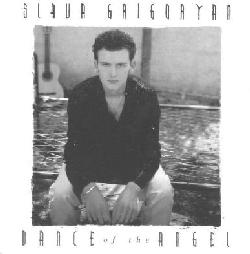 Slava Grigoryan's first recording, "The Spirit of Spain", was a best-seller in Australia, where the 21-year old Khazakstan native now lives. His new album, "Dance of the Angel", featuring Latin American guitar music, should be a big success as well. This is a thoroughly laid back, relaxing recital by an extremely sensitive guitarist with a great lyrical gift. The program is balanced between Piazzolla's Nuevo Tango ("tango more for listening than for dancing") and catchy Bossa Nova dance rhythms. The compositions are reflective, nostalgic, siesta tunes with a wee bit of new age improvisation thrown in as a concession to the Zeitgeist. Grigoryan draws charmingly balanced, subtle effects from his Ignacio Fleta guitar and is accompanied on a few tracks by his violinist-father Eduard. The recorded sound is clear and warm without any reverb or fakery. This beautiful offering will appeal to classical guitar lovers as well as to anyone seeking soothing but intellectually respectable background music. Highly recommended. P.A. (Slava Grigoryan will play at Centre Pierre-Péladeau, Thursday Oct. 16)
---
Angelika Kirchschlager: Mahler and Korngold Lieder

Helmut Deutsch, piano

Sony SK68344
We must now add Austrian Angelika Kirchschlager to the group of remarkable mezzo-sopranos which includes Cecilia Bartoli, Jennfier Larmore, and Anne-Sophie von Otter. Judging from this debut recital disc Kirchschlager has it all: sultry good looks, abundant musicality, intelligence, sensitivity and, oh yes, an exceptionally beautiful voice. Her unfamiliar but interesting program includes the world premiere recording of Erich Korngold's Songs of the Clown, Op.29, a setting of Shakespeare texts that shows the composer at his most melodically beguiling. Five songs by Alma Maria Schindler-Mahler are perhaps a bit derivative but no less pleasing to the ear. The rest of the disc is devoted to songs by Gustav Mahler. Kirchschlager's is a high mezzo in the style of Frederica von Stade, naturally placed and with a ravishing middle. Throughout the program Kirchschlager impresses us with unfailing beauty of tone, genuine charm and individuality. Unlike many young singers today, she is not afraid to interpret. Her only fault is her tendency to occasional hardness at the highest notes. Helmut Deutsch offers sensitive, sympathetic support and the recorded sound is clear and spacious, if a bit reverberant. This disc makes one wish for more from Kirchschlager soon. Joseph So
---
Al-Hamra: Music of Montañés, Evangelista and De Falla

Odette Beaupré, mezzo-soprano

Ensemble contemporain de Montréal

Atma ACD 22146 (SRI)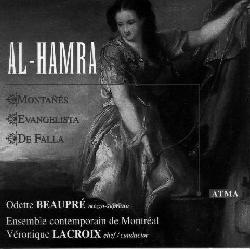 The latest disc from the Ensemble contemporain de Montréal features Spanish music of the 20th century.
The title track "Al-Hamra", commissioned from José-Manuel Montañés by the ECM, is an instrumental piece in three sections, the first two richly atmospheric and the last highly percussive. The outer sections are united by a single descending melodic theme which undergoes various transformations. The predominance of the oboe is undoubtedly intended to recall the middle-eastern shawm. Unfortunately, from the initial melodic statement, the phrase, as played by this particular instrument, occasionally lacks musical impetus, marring an otherwise striking performance.
Mezzo-soprano Odette Beaupré tackles José Evangelista's "Ramillete de canciones populares" (Little Bouquet of Popular Songs) with great character. True to the liner-note description of being "both devoid of harmony or counterpoint", the songs achieve their charm through melody and Beaupré's chatty interpretation. She finds great humour in the fast songs, but in truth, they all end up sounding alike: more differentiation would be an improvement. Beaupré's warm, hushed tone in "Adiós, meu homiño" is her most effective reading.
The ECM pulls out the stops in its rendition of the original version of De Falla's El Amor Brujo. As the gypsy Candelas, Beaupré deploys exciting vocal colours to tell her story of betrayed love. The ECM provides a multi-textured landscape to show off her bold work. Particularly passionate is the spoken "Fisherman's Romance" supported by a mournful accompaniment, followed by the surprisingly salon-like "Intermezzo". Though the absence of text or translations in the liner notes will leave non-Spanish speakers in the dark, there is much to enjoy in the spirited music on this disc. Peter Phoa
---
Vivaldi, Marcello, Platti: Concertos Pour Bois

Bruce Haynes, hautbois baroque

Frans Brüggen, flûte et direction musicale

l'Orchestre du XVIIIe siècle

Sony SEON SBK 62945 ADD 78'02''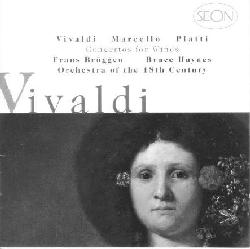 Les six concertos pour flûte traversière et cordes, opus 10, de Vivaldi, constituent l'essentiel de cette réédition dans la collection SEON. Brüggen nous en propose une interprétation qui témoigne d'un souci musicologique certain (instruments d'époque, etc.). Auréolée d'un Diapason d'or en 1979, cette version saura plaire aux puristes baroqueux. Elle nous semble cependant moins vivante que l'interprétation des Solisti Veniti sous la direction de Claudio Scimone, avec le flûtiste Jean-Pierre Rampal. En comparaison, les rythmes métronomiques de Brüggen apparaissent plus académiques que véritablement inspirés. La différence est particulièrement frappante dans le premier mouvement des concertos numéros 3 et 5. Les Solisti Veniti et Rampal y font preuve de finesse et de subtilité, alors que Brüggen se contente d'un travail certes soigné, mais somme toute assez compassé. C'est toute la différence entre jouer et faire de la musique. Évidemment, toutes les formations n'ont pas la chance de bénéficier d'un soliste de la trempe de Jean-Pierre Rampal. Considerant son prix très abordable, toutefois, la version de Brüggen peut s'avérer un choix judicieux pour les budgets serrés. Rodrigue Audet
---
Puccini Arias

José Curas, tenor

Philharmonia Orchestra

Placido Domingo, conductor

Erato 0630-18838-2 (Warner)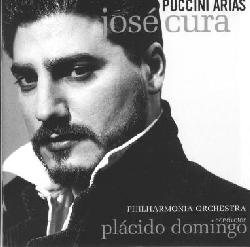 The most surprising aspect of this new participant in the tenor sweepstakes is that the advance publicity hasn't been bigger. When you think of the excessive hoopla surrounding Roberto Alagna's arrival a few years ago, you'd expect that a tenor as good and gusty as 35-year old Argentinean José Curas would deserve a push. Regardless of how Curas sounds in live performance, on disc he is the real thing. He has the heft and lilt of a Puccini and Verdi tenor apparently without having progressed through the lighter repertoire. Of course, Domingo's approval of Curas counts for something, but the sound is its own recommendation. Detractors may criticize the voice as a bit rough and heavy, and Curas's shameless sobbing went out of fashion in the 1950s (well, maybe not in Argentina). Still, voice lovers will find this an exciting and promising disc, much more than a mere curiosity. P.A .
---
Manuel de Falla: El Amor Brujo & El Retablo de Maese Pedro

I Cameristi

Naxos 8.553499
This bargain coupling of de Falla's two mimodramas is the perfect preparation for the Montreal Symphony's upcoming performances of these two works (see calendar Oct. 7 & 8, Nov. 25 & 26). The superb Italian chamber ensemble performs the spicy, longer 1915 version of El Amor Brujo with complete dialogue. The Gypsy girl Candelas is sung with idiomatic gusto by the excellent Spanish mezzo-soprano Nancy Fabiola Herrera. Though "The Dance at the End of the Day" may not be as rhythmic as the Montreal Symphony's own recording on London, the rest of the performance is of outstanding purity, authenticity and sophistication. El Retablo de Maese Pedro is equally rewarding. The recorded sound is perfectly natural, rich and balanced. Helpful notes and texts in Spanish, French, English and German complete the package. This is one of Naxos's most successful efforts to date. Very highly recommended. P.A .
---
On The Muse's Isle: Songs &Sonatas by Henry Purcell

Daniel Taylor, countertenor

Da Sonar

Atma ACD 22133 (SRI)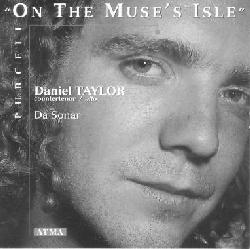 For his first solo disc, 27-year old Canadian countertenor Daniel Taylor has rightly chosen the Purcell songs and arias which he has performed locally to great acclaim over the past few years. Purcell's lyrics are the solemn, ceremonious, sensitive voice of Tudor England: no mad scenes or Farinelli-style showpieces here. These delicate domestic songs include favourite masterpieces such as "Music for a while" and "Fairest isle" as well as the dirge-like "Now that the sun has veiled his light". Taylor offers two versions of "O solitude", one accompanied by the full Da Sonar ensemble and the other by lute. My favourite piece on this disc is Blow's An Ode on the Death of Mr. Henry Purcell because it comes closest to Daniel's superb live performances. Those of us who cherish memories of Daniel's recent live concerts may miss something of his warmth and communicative delicacy on this disc, but that is merely the quibble of a devoted fan. The Da Sonar ensemble, made up of Montreal's best baroque instrumentalists, gives flawless performances of four Purcell sonatas. By any standard, this is one of the most important Canadian releases of the year, a charming portrait of Canada's greatest countertenor, which whets our appetite for Taylor's future releases on Atma. P.A.
---
Beethoven: Piano Concerto No. 2 & No. 5

Evgeny Kissin, piano

Philharmonia Orchestra/ James Levine

Sony SK 62926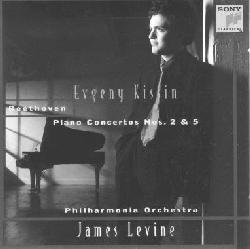 This recording is Russian pianist Evgeny Kissin's first recording of Beethoven piano concertos. Kissin and Levine play Piano Concerto No. 2, Op. 19, almost like chamber music, while Concerto No. 5, Op. 73, is given a more grandiose symphonic treatment. Levine conducts Op. 19 like a Mozart overture, sprightly and cantabile. Kissin's characteristic light attack and precise fingering are well suited to this approach, and frankly the whole concerto is most remarkable for Kissin's note-perfect execution at every tempo. The "Emperor" Concerto (No. 5) is given a bigger but by no means barnstorming treatment. The "quiet before the storm" transition to the last movement could have been more pastoral. Anyone expecting Levine's usual big sound and slow tempi will be surprised by the Philharmonia's quasiperiod instruments sound. The piano is woody-sounding, dry and closely miked. The sonic effect of strings split left and right then united in ensemble passages (first movement of Op. 19, second movement of Op. 73) is impressive at first, then a bit gimmicky. The Philharmonia is competent, but ugly scraping from a violin in the Rondo of Op. 19 and elsewhere seriously compromises this recording. In short, a must for Kissin buffs, but optional for the rest of us. Martin Kamela