Jacques Lacombe: A Conductor, at Last!

by François Carrier / September 1, 1997

---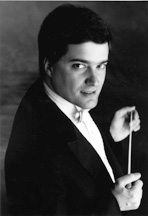 Today the major Canadian orchestras are led by illustrious foreign conductors: the Swiss Dutoit at the Montreal Symphony Orchestra (MSO), the Fin Jukka-Pekka Saraste succeeding Britain's Andrew Davis at the Toronto Symphony, and Englishman Trevor Pinnock at the NAC. Since Ernest MacMillan and Wilfrid Pelletier left their mark on Canadian musical history, this country has not had a maestro who could be compared to such giants as Karajan, Bernstein, Solti or Kleiber. Could Quebec's Jacques Lacombe be the great Canadian orchestral conductor we've been looking for?
Jacques Lacombe, a native of Cap-de-la-Madeleine, studied piano and organ before turning to conducting. "I studied with Noella Genest, the organist of Notre-Dame Basilica, before she left for Quebec City", Lacombe explained. "At the time, I did not intend to pursue a musical career. I wanted to study aeronautics." It was Raymond Daveluy, who took over Noella Genest's job, who introduced Lacombe to conducting: "Though young, I was already earning a good living playing the organ in churches, teaching, and so forth" Lacombe explained." After high school I came to Montreal where I completed my organ studies and started to study orchestra conducting."
How did he feel facing an orchestra for the first time? "Actually, it was rather funny. I was at a rehearsal of the Mozart Requiem in Trois-Rivières and Father Thompson [choirmaster of Les Petits chanteurs de Trois-Rivières] wanted to hear how the Mass sounded from a distance, so he gave me the baton. I stepped up on the podium and all of a sudden I felt I was going deaf! Of course I didn't know that the podium is probably the worst place from which to hear the orchestra. Because you are so close, it is difficult to hear what is in tune and what isn't. I was thinking, 'My first big break and I go deaf!'"
Jacques Lacombe completed his organ and conducting courses in Montreal and then left for Vienna where he completed his training. "My Montreal teachers had studied in Vienna," he told me. "At the end of my studies, I worked for a year at the 'Maîtrise du Cap'. Then thanks to a scholarship from the Conseil des arts, I was able to study in Vienna with my professor's teacher."
Lacombe spent almost four years in Vienna and took full advantage of Vienna's musical life. "I was able to conduct an orchestra every week, which was not possible in Montreal at that time. During my first year in Vienna I saw over 80 opera productions. I saw Karajan, Kleiber and Bernstein conduct. In Vienna students can get very cheap standing room and special seats. I was able to hear the best singers for one or two dollars. In very few places in the world can such a rich musical life be found."
At that point, Lacombe decided to conduct orchestral works from memory. "If I was so tough on myself, it is not really because I had role models ‹ Karajan conducted from memory, Kleiber as well ‹ but because I realised that I had forgotten almost all the repertoire I thought I had learned in Montreal. At that time, I became interested in speed-reading and memorization to develop my own method. I was not taught how to memorize a musical score ‹ memorization is not something that is usually taught, so I had to find the most efficient way of doing it on my own."
Lacombe doesn't beleive in memorizing a score by starting with the first bar and proceeding bar by bar to the end. "That way, by the time you get to the third bar you've already forgotten the first. My method is very personal, relating to my musical knowledge, so there is no guarantee that it will work for everyone. First, I try to get a general idea of the structure, and then move on to the details so that in the end I know the whole work by heart. Like an architect, you must have a plan onto which you can graft the various elements. Those who learn all the notes, bar by bar, may not get the same comprehensive overview."
Contemporary music is usually difficult to memorize, but "classical" composers pose their own problems. Take the example of Schumann: "Sometimes scores are not at all clear from a visual point of view. In some Schumann works, the orchestration is regular except for minor changes ‹ for example, a certain phrase is repeated, but with a slight variation. This is really difficult to remember. On the other hand, Schubert, Haydn and Mozart are easier to memorize. Mozart is conservative and offers the conductor fewer surprises than Haydn who constantly renews his structure. My method of working is the same for every composition, whether it be a work by Haydn, Stravinsky or even a contemporary piece, like Hétu's Trombone Concerto that we premiered at Lanaudière. For the Hétu I memorized the score and rehearsed from memory but I used the score in concert because the soloist was using one too."
Lacombe finds working with vocal and intrumental soloists increasingly to his taste. He has his own opinions but he tries to respect the soloist's wishes. "Of course it is easier to work with singers I know, like Lyne Fortin and Aline Kutan. Because we have established a certain compatibility, we can make music right from the start."
Jacques Lacombe has conducted ballet, opera and symphonic music and refuses to limit himself to any particular style: "Of course, ballet is more severe and offers less freedom. When a dancer jumps, you have to wait until he lands before you can play the note! This somewhat reduces the possibilities but it is a new challenge." Opera and symphonic music permit freer conducting but Lacombe finds different styles complementary: "Symphonic music lets you work more in detail compared to opera where you sometimes have to compromise with the staging. Symphonic music allows me to reach and maintain a certain level in the orchestra pit. On the other hand, when working with singers, you have to follow the breathing and the musical phrase. When I go back to symphonic music, I sometimes render musical phrases as if they were being sung."
It is opera, at the moment, that gives Lacombe the opportunity to conduct abroad. Lacombe led a well-received Traviata at the Opéra-Théâtre in Metz and will return there to conduct Tosca: "I have a good rapport with the Metz orchestra and the working conditions are interesting. It is a small, Italian-style theatre with 800 seats which permits a different approach than in a huge 3,000 seat hall like Salle Wilfrid-Pelletier. In SW-P it is sometimes necessary to compromise with the dynamics, for example, which leads to loss of colour and clarity in the sound structure."
Lacombe has already conducted in the United-States at the Milwaukee Florentine Opera, an engagement he got through Maestro Joseph Rescigno, artistic director of that company and Montreal's Orchestre Métropolitain. Lacombe conducted the Opéra de Montréal's production of The Barber of Seville. He will conduct Donizetti's Daughter of the Regiment in Philadelphia next March. "The stage director of the Magic Flute which I conducted in Montreal is the General Director in Philadelphia. We got along very well and he invited me to conduct La Fille du Régiment ."
Currently assistant conductor of the Montreal Symphony, Lacombe is expected to move on and take charge of his own orchestra one day,. and create his own sound. He is being considered for posts with the Quebec Symphony Orchestra, the Austin (Texas) Symphonic Orchestra and the Orchestre Philharmonique de Lorraine. Many wonder if some day Lacombe will not return as principal conductor of the MSO.
"Maestro Dutoit will be here for quite a while yet. Of course I would be thrilled to lead the MSO, which is one of the world's great orchestras. If I led the MSO I would work on developing the orchestra's audience and pay particular attention to their taste. As a Quebecer I think I know what the public here likes. I wouldn't want to be hired just because of my origin, however. I don't believe in that kind of hiring. Just as I prefer working with quality ensembles, I also want to be hired on merit. Since the MSO is a world class institution it would be a wonderful post and maybe one day it will happen but you know, it is not my decision to make."
---
Version française...