American Gothic and Greek Revival

by Philip Anson
Splendid Summer at Glimmerglass Opera

Fully-staged opera in Montreal and Toronto dies during the summer, which forces Canadian opera lovers to look elsewhere for their lyric theatre fix. This can lead to some wonderful revelations. Three years ago I made one of the most important musical discoveries of my life at the Glimmerglass Opera near Cooperstown in upstate New York, and subsequent seasons have confirmed my initial enthusiasm. Here at last is opera as it should be!
Every summer Glimmerglass offers four productions in the intimate 900-seat Alice Busch Opera Theatre. This year's operas - Madama Butterfly, L'Italiana in Algeri, Iphigénie en Tauride and Of Mice and Men - were stylistically balanced, provocatively staged and brilliantly sung.
My favourite was Gluck's Iphigénie en Tauride, the great reformer's French masterpiece. The set (the same for four acts) by Maria Draghici was a shadowy chamber representing the temple where Iphigénie has been ordered by the Taurian tyrant Thoas to sacrifice all strangers to Diana. Draghici has respected as far as modernly possible the Greek conventions of a stage (orkestra) backed by a skene (a wall with one door for actors' entry and exit). The set also had a few religious elements: a pool of water for rituals of purification and sacrifice, a statue of Diana (the goddess behind the plot) in a niche and a movable sacrificial table, something like the ancient Greek ekkylkema.
Working within the confines of Draghici's claustrophobic space, director Francesca Zambello gave us action resembling Greek theatre in modern costume. Euripides was known for exploiting dramatic entrances; Zambello has the barbaric Scythians crash through the door dressed in the masks and combat fatigues favoured by terrorists and SWAT teams. At other times the civilian chorus sang through a long window at the level of the skene roof (the Glimmerglass chorus, fortified by members of their apprenticeship program, sang and moved irreproachably). The soloists were exemplary - in fact I have yet to find a commercial recording that betters Glimmerglass' Iphigénie en Tauride. Soprano Christine Goerke was every inch Diana's reluctant priestess. Canadian soprano Isabel Bayrakdarian lived up to expectations in her brief intervention as Diana. She is clearly ready for bigger and better things. Tamara Hummel, another young Canadian soprano, had a strong cameo as the Greek Woman.
Plot-wise, director Francesca Zambello sprang a controversial surprise. Traditionally Iphigénie en Tauride is assumed to revolve around the title character's woeful fate, but director Zambello focussed instead on the friendship between Pylades and Orestes. As Thoas's prisoners, Pylades and Orestes must decide which of them will die to save the other. Zambello has gone right back to the ancient Greek implication of friendship. By stripping Pylades and Orestes (tenor William Burden, a fine artist, and baritone Nathan Gunn) down to loincloths and chaining them back to back, Zambello foregrounds what is latent in sentimental arias such as Pylades' "Unis dès la plus tendre enfance". Once one accepts the friends' same-sex spousal devotion, their dilemma becomes as poignant as that of other doomed operatic couples like Madeleine and Chénier. I had already been impressed by Nathan Gunn's splendid baritone solo in a Mendelssohn choral work at the Lincoln Center Festival earlier in the month. His Orestes confirmed an exceptional talent. Gunn's recital debut at New York's Weill Recital Hall on Feb. 20, 1998 should be a remarkable event.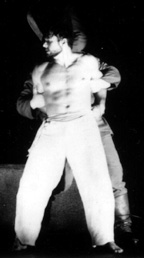 Gunn Undone

Rossini's L'Italiana in Algeri was the summer's biggest crowd-pleaser. The glitzy modern staging by Carol Bailey and John Conklin and the breathless direction by Christopher Alden guaranteed the success of this zany, action-packed spectacle. I can't praise it more than to say that many Glimmerglass employees went to see it repeatedly. Kevin Glavin's vocally robust and dramatically gifted Mustafà was a pillar of the production. The crucial tenor role of Lindoro lay a bit high for Kenneth Tarver. Mezzo Phyllis Pancella starred as Isabella. Pancella is one of America's most personable and gifted young mezzos. Her gamin charm and vocal gift remind me of Cecilia Bartoli. Unfortunately I found her less vocally robust and flexible than she was as Irene in Glimmerglass's 1995 Tamerlano.
I hit Madama Butterfly on a bad night. Perhaps soprano Isabelle Kabatu (Cio-Cio-San) had overtaxed herself on previous nights, which were by all accounts remarkable. Rafael Rojas was a better Pinkerton than many I've heard recently. Canadian soprano Anita Krause's Suzuki had all the elements of success but her acting could have been more nuanced. Period costumes were the best part of this visually ravishing Butterfly.
This summer's modern offering was Carlisle Floyd's Of Mice and Men. I didn't think that I would like this American creation but I was pleasantly surprised. After a feeble first act it made quite compelling theatre. Based on the tawdry and subversive Steinbeck novel that everyone had to read in high school, Floyd's opera pulled no punches. We were treated to a Dostoevskian picture of Depression-era America populated by bimbos, rednecks and cretins. The arias about the dead mouse, dead dog and dead wife were almost redeemed from campy self-parody by Floyd's score. John Conklin's sets, Rhoda Levine's direction and the cast's wholehearted attempt to enter into this macabre scenario deserve high praise.
Next year's Glimmerglass season tentatively includes Handel's Partenope with phenomenal countertenor David Daniels, Verdi's Falstaff, Puccini's Tosca and Virgil Thomson's Mother of Us All. Box Office: 18 Chestnut Street, Cooperstown , N.Y. 13326. Tel. 607-547-2255. Fax: 607-547-1257. e-mail: glimmer@magnum.wpe.com. Web: http://www.Cooperstown.net/glimmerglass .