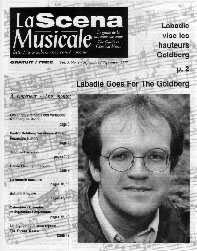 Message d'Éditeur - Message from the Editor

FEATURES - ARTICLES DE FOND

Labadie vise les hauteurs Goldberg
Petit historique des enregistrements des Variations Goldberg de Bach

Labadie Goes for the Goldberg
Bach's Goldberg Variations: A Brief Recording History

Jacques Lacombe : un chef, enfin!
Jacques Lacombe: A Conductor, at Last!
Renée Fleming: A New Manon; Interview: Part I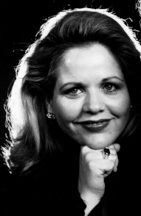 A Three-Dimensional Woman: Chants Libres Liberates Frida Kahlo
Musique vocale ­ Aperçu de l'automne 1997. Voici les principaux concerts de musique vocale donnés cet automne dans les régions de Montréal, Québec, Ottawa et Toronto.
Musique instrumentale - Aperçu de la Saison automne. Voici quelques-uns des grands concerts de cet automne, regroupés par type d'instrument ou d'ensemble.
Vocal Music Preview: Autumn 1997. The following are the vocal music highlights for the autumn season in the Montreal, Quebec, Ottawa-Hull and Toronto regions.
Autumn 1997 Instrumental Music Highlights. These are just some of this fall's instruemntal highlights

Le Larynlogue vous répond - Ask the Throat Doctor. Par/By Dr. François Chagnon.
Allergies
---
Les Notes
by W.K. Chan

Français - English
---
REVIEWS - CRITIQUES
Une TURANDOT «moderne» à l'Opéra de Montréal par Jacques Desjardins
Altamira No-Load Opera: Harbourfront Concert, Toronto by Joseph So
American Gothic and Greek Revival: Splendid Summer at Glimmerglass by Philip Anson
Rossini: La Donna del Lago: Bel Canto at Caramoorby Philip Anson
Poulenc: Les Mamelles de Tirésias: Tanglewood Music Center Orchestra and Soloists by Philip Anson
Renée Fleming in Recital by Philip Anson
Lake George Opera by Philip Anson
CD Reviews
La Divina donizettiana - Maria Callas par Eric Legault
Anton Kuerti - Beethoveen Piano Concertos 3,4 & 5 by Martin Kamela
Songs by Hass, Krása and Schulhoff by Alki Sarantinos
Stephen Hough: The Piano Album 2 by Stephen Ch'in
---
Guide des cours et ateliers reliés à la musique à Montréal
Guide to Music Lectures and Workshops in the Montreal Area
Classified Ads - Petites annonces
---
---
Page prepared by: Andrew Steinmetz / Wah Keung Chan