Reviews

by René-François Auclair, Marc Chénard, Joseph So et Kiersten van Vliet / April 1, 2016

---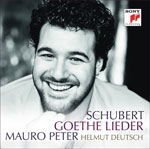 Schubert: Goethe Lieder
Mauro Peter, tenor
Helmut Deutsch, piano
Sony 88875083882. 53 min 20 s.



Swiss tenor Mauro Peter is a rising star in the world of opera and song. He studied in Munich with Fenna Kügel-Seifried, and was a member of the Young Singers Program in Salzburg in 2012, taking classes from Thomas Hampson and Michael Schade. That same year, he won first prize at the Peter Schumann Competition, and is currently in the Ensemble of Opernhaus Zürich. Sony signed him to a contract – a rarity these days. This new disc follows his excellent first solo disc, Die schöne Müllerin on the Wigmore Hall label, recorded live in 2014. This Goethe Lieder reaffirms the earlier impression of a beautiful instrument that's at once lyrical and aristocratic, used with abundant musicality, and ideal in Lieder. From the first song, Ganymed, one is immediately drawn in. Most of these Goethe songs call for youthful ardour and ecstatic impulse, and he is up to the task. Some are really chestnuts, like Heidenröslein, and his singing is fresh and engaging. To be nitpicky, occasionally there's a bit of unsteadiness especially in the slow songs, and the occasional forte high note can sound effortful. In the famous Erlkönig, his vocal resources are noticeably stretched, and the four voices (the child, the father, the Erlkönig, and the narrator) lack differentiation. But what he does have is sufficiently winning, and the interpretive excellence will likely come with maturity. Helmut Deutsch offers the singer impeccable support. This is an important disc for Lieder fans, and for those looking to discover a new voice. JS
R Murray Schafer: Apocalypsis
David Fallis, conductor; A Luminato Festival Production
Analekta AN 2 8784-5. 1 hr 53 min 24 s.



For its 10th Anniversary last June, Toronto's Luminato Festival staged its most ambitious work to date, R. Murray Schafer's Apocalypsis. Over 1000 performers from across Canada, both professional and amateur, united to realize this historic music-theatre work, which was performed and recorded in the Sony Centre for the Performing Arts. Due to the massive scale of the work, this is only the second time it was performed (the first was in London, Ontario in 1980), and the first time it had been recorded in its entirety.
The work is divided into two parts: Part One: John's Vision, Part Two: Credo. The Credo is often performed without the first, so it was important that they be reunited in this two-disc set. Jörn Weisbrodt, the artistic director of the Luminato Festival first listened to Schafer's Credo while driving. He was gobsmacked, recalling that it was a miracle he did not have a fatal accident.
Though not in a car, I had a similar first experience with Apocalypsis. From the cacophony during John's proclamation to the music of the spheres in the Credo, I was completely enraptured. One of the highlights of this recording is undoubtedly Tanya Tagaq's lengthy solo as the Old Woman in the final movement of John's Vision. The JUNO-Award winning virtuosic throat singer plays the sole survivor of the apocalypse. The peaks and valleys of Tagaq's lament traverse an entire landscape of human emotion, from breathless heartache to howling mania.
The recoding manages to capture the sheer scale of the production, giving a haunting image of space and scope, in spite of the missing theatrical aspects. Though this is perhaps not easy listening for an afternoon drive, Apocalypsis is good company while you muse about the end of the world and the birth of a new universe. KVV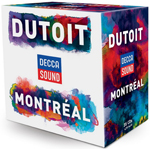 Dutoit/Montréal
1980-2000
Decca. 35-disc box set



Much has been said about Charles Dutoit and the Montreal Symphony Orchestra. The beginnings, the consecration, and the abrupt end of a relationship that lasted almost 30 years. And then, the unexpected yet long-dreamt-of return to the Maison symphonique in February 2016. Two concerts later, we still remember that kiss on Martha Argerich's forehead, an affectionate sign that we can understand as a final reconciliation with the musicians and the audiences that always idolized him.
The consecration came when Decca/London became interested in the MSO, in quest of an orchestra with a "French sound." Dutoit, already renowned for the quality of his direction, was put under contract. The only problem was the poor acoustics of Place des Arts, which didn't meet Decca's requirements at all. In 1980, the Église Saint-Eustache, in a Montreal suburb, was chosen. For the sixty recordings that would be produced in the magnificent space, the surrounding streets had to be closed in order to avoid unnecessary noise.
From this colossal work accomplished by the MSO, Decca squeezed out 35 CDs, each presented with care and chronologically ordered. The sleeves are all decorated with original images. The program contains many French composers, of course. Emphasis is put on Ravel, Debussy, Bizet, Berlioz, Saint-Saëns, Fauré, as well as a few Hispanics, a little Tchaikovsky, Mendelssohn, and Stravinsky. There's something for every music lover, as these discs have almost all remained references. We remember Dutoit for his elegant baton, his somewhat aristocratic looks, but especially for the approval and satisfaction felt in each measure. This is an indispensible box set. RFA
Translation: Rebecca Anne Clark
Book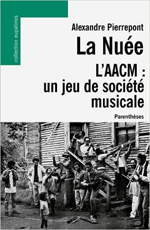 La nuée – L'AACM: Un jeu de société musicale
Alexandre Pierrepont
Editions Parenthèses, Collection Eupalinos – Jazz et musiques improvisées
Paris, 2015, 431 p. ISBN 978-2-86364-669-4
The AACM (Association for the Advancement of Creative Musicians) is a collective of Chicago-based African-American musicians that marked the 50th anniversary of its founding last year. A unique phenomenon, given its durability, it has spawned several noteworthy names in the American jazz avant-garde. One of them is trombonist George Lewis, who published an in-depth historical study in 2008 (A Power Stronger than Itself, Chicago University Press). Last September, a second book, authored by Alexandre Pierrepont appeared in France. An academic, journalist and concert promoter all rolled into one, the author embraces an anthropological viewpoint, more specifically an ethnological one. His study rests on a concept elaborated in a previous work of his entitled Le champ jazzistique (the jazz field). This new monograph, prefaced with more than a hundred pages of theoretical discussions, is an extension of the earlier work, a kind of case study which examines historical, sociological, philosophical and musical considerations. As rigorous and exhaustive as the treatment is, it would have been nice to have some visuals (of which there are plenty in Lewis's tome) to offset the density of the text. More puzzling is the absence of an index and a bibliography (though there are copious footnotes), both of which are part and parcel of any scholarly work. In spite of these shortcomings, a translation would still be a welcome addition to the literature on the subject. For a more extensive review go to www.pointofdeparture.org MC
---
Version française...