Montreal Church Organs

by Caroline Rodgers / December 1, 2015

---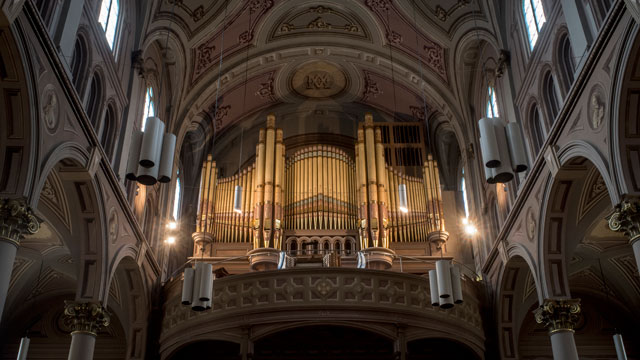 The organ at the Centre Gésu. Photo: Nicolas Dufour Laperrière
In October, some colleagues from La Scena Musicale were invited by the Canadian International Organ Competition to go on a guided tour of the church organs of Montreal. We got to know five of them in the downtown area. It was fascinating, and made us think: you cannot claim to know Montreal properly if you haven't seen inside its loveliest churches and heard their organs. And we can help preserve this heritage by visiting them. Whether you're religious or not, you can still appreciate them in this holiday season by going to concerts.
Daquin's Noëls at the Gesù
L'Église du Gesù celebrated its 150th anniversary in 2015. It has a Casavant/Guilbault-Thérien organ dating from 1901, restored in 1954 and in 1986. François Zeitouni has been principal organist here for ten years, and this will be his eighth presentation of a Christmas classic: the Noëls by Louis-Claude Daquin, variations on popular carols. December 13 at 3 pm. www.legesu.com
St. Joseph's Oratory, Mount Royal
All Montrealers have seen the oratory dome from afar. But how many have actually been inside? They'd find a splendid Beckerath organ inaugurated in 1960 that has five keyboards, 78 stops and 5,811 pipes. On Sunday afternoons you can hear a free concert at 3:30 pm, with an accompanying screening. For the holidays, the series Noël à l'orgue will present principal organist Vincent Boucher, playing the Daquin Noëls on December 6. On December 13, Swedish organist Hans-Ola Ericsson will play Noël chez les Bach. December 20, Noël improvisé with William Porter (United States), December 27, Noël romantique with Julie Pinsonneault, and on January 3, Noël français with Jean-Michel Grondin. Also, on December 20 at 2 pm, the Petits Chanteurs du Mont-Royal will present a Christmas concert in the crypt. www.saint-joseph.org
Notre-Dame Basilica
In 2016, the Casavant organ in Notre-Dame will be 125 years old. With its 92 stops, it's one of the largest in any North American church. Every Sunday the "Florilèges de l'orgue liturgique", musical anthologies played by principal organist Pierre Grandmaison or assistant organist Martin Boucher, take place from 10:30 to 10:55, just before Mass. From December 27 to 31 at 2:30 pm, Pierre Grandmaison will play a concert entitled "Prenez place à l'orgue – Spécial Noël" to an audience seated in the gallery. Only 60 places are available, so we recommend you reserve. www.basiliquenotredame.ca
Église de la Visitation
Well away from downtown is one of the oldest and finest churches in Montreal: the Église de la Visitation de la Bienheureuse-Vierge-Marie, situated in Ahuntsic and built in 1749. Here you'll find a 23-stop organ made by Wolff et associés in 1993. On December 13 at 2:30 pm, tenor Marc Hervieux will sing Christmas carols accompanied on the organ by Marc-André Doran, principal organist. www.accesculture.com. Also worth mentioning, though no organ is involved, a concert on December 6: Noël impérial de la Renaissance, with ancient music both sacred and profane. www.momentsmusicaux.ca.
Petits Chanteurs benefit concert
To kick off celebrations of the 60th anniversary of the Petits Chanteurs du Mont-Royal, there will be a big Christmas benefit concert at Saint-Viateur d'Outremont Church. Conducted by Gilbert Patenaude, with the Quatuor Bozzini and organist Dominique Lupien. December 13 at 3 pm. www.pcmr.ca
St. James United Church
The St. James organ, a 1889 Wadsworth & Bros., is unusual because it's one of the few pipe organs situated at the front, in the choir. On December 4 at 7 pm, there will be a benefit concert for the church, with the Choir of St. James United Church, the DivertisSon vocal ensemble, and the People's Gospel Choir of Montreal, with Philip Crozier at the organ. www.stjamesunitedchurchmontreal.com
Christ Church Cathedral
The public is invited to sing Handel's Messiah as part of the Sing-Along Messiah on Saturday, December 12 at 4:30 pm. On the 19th, Patrick Wedd, principal organist, will play La Nativité du Seigneur by Olivier Messiaen. www.oasismusicale.blogspot.ca
St. John the Evangelist
On December 6 at 5 pm: Christmas carols and advent procession with Federico Andreoni, principal organist of St. John the Evangelist. www.redroof.ca
St. Matthias' Anglican Church, Westmount
Sunday, December 13 at 5 pm: Christmas lessons and carols, followed by a Christmas party in the church basement, with Chelsea Barton, principal organist of St. Matthias'. www.st-matthias.ca
The Planets at l'Église des Saints-Anges
After the holidays: Of all the works by Gustav Holst, The Planets is probably the best known and most spectacular. The Buzz Brass Quintet join organist Philip Crozier and the powerful sounds of the organ of Église des Saints-Anges for a majestic interplanetary journey. Narration by actor Éloi Archambaudoin. January 31 at 3 pm. www.buzzcuivres.com
Translation: Cecilia Grayson
---
Version française...